Victory High School Students

1917-1973

Compiled by Sharon Sprouse Bramhall, Class of 1960

Copyright©2011 Sharon Sprouse Bramhall. All rights reserved.

Links to this website are encouraged.

These lists are not only of graduates, but all those known to have attended Victory High.  Also included are those students who concluded their high school years at Liberty High School.   Use EDIT/FIND to locate a name.  

Introduction by Fred G. Layman, Class of 1946, who supplied the majority of class lists:

                The first graduating class at VICTORY attended Washington-Irving High School in their Freshman, Sophomore and Junior years. After completing their Junior year and a vacation of three months, they entered their new school building which was named VICTORY. This name was chosen as it was built during World War I and completed after the war was over.

         When the first senior class entered VICTORY in the fall of 1919 they were greeted by an unfinished building. In some places they had to walk on construction planks to reach their classrooms. The gymnasium was not completed until early January, 1920. The manual training class, known as shop class today, didn't have any tools for the students to use for approximately six weeks into their school term.

            Also, due to the incompleteness of the building, the school was only able to have a small band consisting of a director and six members. There was a glee club organized but only a few songs were sung because being the first year music had not had a proper chance.

            Two years of sewing was offered in the new school which at that time was known as Domestic Art. The Domestic Science class was considered the most useful subject taught at Victory.   Years later the title was changed to Home Economics. Victory also had a cafeteria, and the lunches were made by the girls in the Domestic Science class.

            When Victory High School opened its doors for the first time, it was a four year high school. As the years went by the Freshman Class was discontinued because of the ever increasing number of upper classman.

            Over 7,400 students graduated from VICTORY... Roughly 230 teachers served on the faculty along with seven permanent principals.

                There were two state basketball championships won. The first was the 1933 team coached by Farley Bell and the second team coached by Howard "Doc" Hutson won in 1941. Seventeen students lost their lives in the armed services during World War II.

            At the time VICTORY was closed as a high school, students were attending from the following communities: Adamston, Arlington, Big Rock Camp, Catfish, Chiefton, Crooked Run, Dawson Mine, Edgewood, Erie, Farnum Road, Flag Run, Glen Falls, Glenwood Hill, Gore, Hepzibah,  Katy Lick, Liberty Addition, Little Rock Camp,  McIntyre, North View, Olive, Perry Hollow, Perry Mine, Reynolds Siding, Reynoldsville, Sardis, Summit Park, Whiteman Addition, Wilsonburg, and  Ziesing.

Those who graced the halls of Victory High…..

Class of 1920          First Graduating Class: 

James Cottrill, Ralph Crimm, Hazel Cunningham, Pearl Drummond, Walter Floriana, Marie Grapes, Orville Hurst, Paul Johnson, Gladys Price, Neva Reeves, Ben Reynolds, Harold Smith, Dale Strother, Paul Trunick.  The first orchestra (1919-20) which included students from later classes, were:  Carmen Charles ('24), Erma Crimm ('21), Ralph Crimm ('20), Alden Merryman ('21), Harold Smith ('20), Arthur Whitener ('23). Director: Bonnie Lynn. <![if !supportFootnotes]>[1]<![endif]> Courtesy, Fred G. Layman

Class of 1921

Charles Brand, Kermit Barton, Chester Bussy, Chester Cottrill, Erma Crimm, Alta Cunningham, Donavin Dailey, Flossie Davis, Garnet Fittro, William Gatain, Beatreice Grapes, Orpha Haley, Rose Haley, Madeline Heater, Kenneth Hurst, Lena Keaster, Dorothy Logue, Joy McClung, Margaret McClung, Madge McDaniel, Alden Merryman, Leona Musgrave, Albert Powell, Lyda Props, Harry Scott, Wilmer Scott, Brady Simms, Josephine Smith, Lyle Strother, Cassell Sullivan, Helen Thompson, Mabel Williams, James Zehfuss.  Courtesy, Fred Layman

Class of 1922

Lillian Ash, Beatrice Barnes, Clyde Barnes, Carrie Berger, Mildred Brown, Edna Bussey, Claude Conner, Zella Davisson, Ruby Dennison, Gay Dougherty, Glenn Gifford, Charles Goodwin, Virgil Hall, Lucy Hamilton, Howard Johnson, Vivian Johnson, Vance Keaster, Mary Kelley, Madison Lyon, Marjorie Marshall, Lois McBride, Beulah McClung, Joseph McKelvy, Charles Miller, Edward Minter, Harry Minter, Carl Nichols, David Nichols, Dale Nutter, Harold O'Neil, Walter Plant, Fern Quinaut, Cynthia Rardin, Gladys Redfox, Chester Reid, Frank Follins, Marcella Schmidt, Edward Smith, Mildred Smith, Alma Snider, Irene Strother, Lynn Swiger, Effie Trunick, Arden Wadsworth, Claude Walker, Robert Zehfuss.  Courtesy, Fred G. Layman

Class of 1923

Russell Adams, Elizabeth Adcock, Margel Armstrong, William Barth, Lyle Bates, Quincy Beard, Hubert Bever, Irene Bever, Louis Bitonti,  Pauline Bond, Clarence Bow, Everett Brand, Ruth Corbin, Glen Cox, Pauline Cox, Noreen Criss,  Joe Cummins, Wayne Cunningham, Paul Davis, Virginia Davisson, Marie Dean, Vivian Drummond, Edison Fittro, Lester Fitzpatrick, Lena Fultz, Clemence Gerard, Alice Gillott, May Hall, Lucy Hilton, Jean Hamrick, Mildred Harper, Wayne Harvey, Arthur Kickel, Viola Kirkpatrick, Boyd Madill,  Walter Martin, John Mayes, Beulah McBee, Clifton McClung, Virginia McFarlin, Edwin Meredith, Christine Moine, Isabell Morgan, Oddie Musgrave, Alma Newbrough, Marie Pritchard, Velma Reed, Herman Reuter, Lucy Reynolds, Jennie Rosanna, John Scott, Birdie Smith, Noel Sommerville, Paul Stewart, Marion Strong, Bertha Strother, Elizabeth Swiger, Mary Ruth Taylor, Marie Talkington, Carl Tawney, Gladys Upton, Arthur Whitener, Forrest Wilson, Susie Wilson, Mason Windon, Mildred Wolverton, Hazel Writesel, Marguerite Wyckoff.  Courtesy, Fred G. Layman

Class of 1924   

Harold Barnes, Fred Baxter, Mary Bever, Raymond Boyles, Hallas Brown, Ruth Bussey, Carmen Charles,  Mabel Cunningham, Vivian Drummond, Andrew Ferrando, Allison Fittro, Virginia Fitzpatrick (Sec., Historian), Stacie Fornash,  Raymond Greathouse (Class Prophesy), Dove Griffith (Treas.), Irene Heater, Ellen Hooper, Opal Hooper, Warren Hooper, Paul Hudkins,  Clifford Huffman,  Julia Jenkins,  Harold Jenkins, Robert Johnson, Arline Kirby, Sarah Lieuliette, Irene Mason,   Lillian McCloud, Edna McIntyre, Thelma Merryman, Alice Metz, Leona Metz, Virginia Morgan,  Wilma Nicholson,  Forrest Poling<![if !supportFootnotes]>[2]<![endif]> (Pres.), Eugene Powell (V. Pres),  Mildred Powell, Marie Propst, Guy Radcliffe, Manuel Sareigo, Fred Scanes, Beryl Schutte, Haysel Shaffer, Kenneth Shaffer, Louise Smith<![if !supportFootnotes]>[3]<![endif]>Mary Stenger, Ruth Straley, E. Marie Strother,  Ethel Sullivan, Maple Swiger,  Samuel Urso, Audra Vancourt, Lillie Walters<![if !supportFootnotes]>[4]<![endif]>, Zula Weaver, Evert Whitener. "In Memoriam: Louise Smith, Class of 1924, Manayka, W.Va.,<![if !supportFootnotes]>[5]<![endif]> born Nov. 3, 1906; died Sept. 13, 1923".   1924 Victory Annual, Courtesy, FGL; List - SSB.

Class of 1925    

Frankie Mae Barnes, Louis "Curly" Bauld<![if !supportFootnotes]>[6]<![endif]>, Neil "Bennie" Bennett, Lester Bohlman, Edward Bond, Fernand Bormans*, Blanche Brasseur*, Phillip Cammer,  William Carr, Constance Corbin, Gladys Crimm, Harold Crim,  Marvin Davisson*, Thomas Douglas*, Claude Drummond*,  Donovan Faust, Adjenor "Adj" Fevrier, Flora "Flo" Floriana, Robert W. Ford, Eythel "Shorty" Fornash, Lelia "Scottie" Forinash<![if !supportFootnotes]>[7]<![endif]>, Lena "Night" Fox, Mary "Maris" Fox,  George Gill, Pauline "Bobby" Goff, Beulah "Boots" Grapes, Nellie Greathouse*, French Hamilton*, Charles Hamrick, Marie "Happy" Haptonstall, Clay "Mud" Hardesty, Glenna Frieda Haskins, Rose "Toodie" Heater, Burline Huffman*, Kathryn "Pet" Huffman, Flossie "Flo" James<![if !supportFootnotes]>[8]<![endif]>, Anna "Spit Curl" Johnson, George Keaster*, John "Pow-wow" Kirkpatrick, Virgil "Jack" Leaf, Dorothy Lynch*, Noel Maderia, Albert Malfregeot*, Virginia "Ginia" Martin, Fulvia Maxon*, Harold "Mick" "Michie" McClung, Mildred Frances McDaniel<![if !supportFootnotes]>[9]<![endif]>, Hensel "Hen" McDaniel, Katheryn Twyford "Katty" McIntyre, Florinda Menendez,  Fred "Buss" Minter,<![if !supportFootnotes]>[10]<![endif]> Freda Minter, Betty E. "Major" Morrison, Elizabeth R. "Betty" Morrison, Lyle Murphy, Nellie Murray, Charles Newbrough, Leonard Nolan, Wilburn Phares, Dorothy Ann "Dott" Powell,  Guy Powell, Marie Prim*, Guy Radcliff*, Myrtle Amelia Redfox, Brooks Reed, Howard "Happy" Robinson, Jessie Rodriguez*, Irene Jane Rolland, Louis Schmidt*, Mollie Oleta Shaw, Sophia Shiffra*, Karl Showalter, Octavia "Tave" Sims, Frances Smith*, Mamie Smith, Rose Smith, Dora Strong, Glenn Talkington*, James Lee Taylor, Ona Marie "Nanie" Tomes, Elizabeth "Betty" Warner, Forest Wilson, William Wolf*, Lawrence Wright*.  1925 Victory Annual, Courtesy Larry Knight, Class of 1959;  * - Additions, 1924 Victory Annual - "Juniors" , Courtesy FGL.  (Some nicknames may refer to the senior class play.- ssb)

Class of 1926

Frank Adams, Albino A. Aimar, Newton Samuel Anderson<![if !supportFootnotes]>[11]<![endif]>, Burgess Ashcraft*, Sarah Barile, Birdie Lucille Barnes, Iris Ruth Barnes, Anna Bartos, Cleora Beaver*,  Donald Beard, Nell Bennett,  Ottie Pearl Bennett, Ruth Bow*, Harold Dorsey Boyce, Violet Bragg, Lonnie Bray, Alice Brummage, Mildred Bush*, Jessie Evelyn Bussey, Lester Bussey, Alfreda Butler, Laura Carnes,  Edgar Carnes*, Frank Ciaccerella,  Thelma Coburn*, Lilas Hazel Cottrill, Jewel A. Cox, Mary Elizabeth Crimm, Hazel Thelma Criss, Irene Crissman, Ralph L. Courtney, Amanda Elizabeth Davidson, Pearl Daugherty*, Tony DeLuca*, Paul Eakins*, Virgil Eakins*, Paul Kenneth Funk, Arthur Fittro*, Helen Fittro*, Clarice Ford, Charles Ford*, Mary Agnes Gaines*, Paul Gill, Robert  Glenn, William Grapes,  Donna A. Groghan, Edward Gump, Maple Hamrick, Ralph Harbert,  Harry T. Heaton, Alma Helmick, Alma Helmick*, Bruce William Horton, Enid Lucile James, Anna Mae F. Keller, Jennie Marie Keller,  Beulah Kerns*, Anna Blanche Kerr, Ralph Lamb*, Lucile Lawson, Helen Lindsay, Nancy Jane Lyon, Lucille Madill*, Geneva Marshall, Katherine Matheny*, Harvey Mayse, Laco McCauley*, Mary McClung*, Arlie McClung*, Ruby McDaniel*, Elizabeth Annette McFarlan, Donovin G. McKeen, Louise Meleche,  Mildred Wynette Mittong, Seymour Newbrough*, Vera Virginia Nicholson, Luke Olean,  Stanley Pasternak, Virginia Perine*, Beatrice Phares*, Rene Phillipart, Harry Primm, Garnette Mae Pitts, Mamie Inez Pitts, Alice Lucile Rardin, Lempi Eline Rauhala, Edgar Reed*, Flora Maxine Reynolds, Russell Rice*, Deloras Rowan*, Mildred Rebecca Robinson, Ralph Robinson, Kelley Rodriguez,  Mary Deloran Rowan, Byrl Scott*, Pearl Scott, Liss Shaffer*, Mollie Shaw*, Harper Shreve*, Amanda Smith<![if !supportFootnotes]>[12]<![endif]>, Margaret May Smith,  Alverta Sommerville, Eleanor Snyder, Jessie Snyder, Lucile Vilena Snyder, Virginia Snyder*, Pete Spatafore<![if !supportFootnotes]>[13]<![endif]>, Octavia Springer*, Amiel Sroka<![if !supportFootnotes]>[14]<![endif]>, Virgil Srodek*, Thelma Muriel Straley,  Charles E. Summerville, Verta Summerville*,  Wilma Talkington*, Donald Tawney*,  Lillian Virginia Tate, Robert Thomas*, Frances Elizabeth Upton,   Beulah Jane Walker, Grace Marie Walsh, Sarah Rebecca  Ward, Ralph Watts*, Harold Weaver*, Keith Weaver*, Ruby Elaine Westfall, Bencile Williams, Charles R. Williams, Virginia Williams*, Norman E. Wineinger,  Helen Wyckoff.   1926 Victory Annual, Courtesy Larry Knight, Class of 1959; *- Additions, 1924 Victory Annual - "Sophomores", Courtesy, FGL; List - SSB.      "In Memoriam:  Amanda Smith, Class of 1926, Daumont, W.Va.  born Aug. 26, 1907; died Nov. 17, 1923."  - Quote, 1924 Victory Annual

Class of 1927

Vaniah Baldwin*, Raymond Beatty*, Wiliam Beaver*, Arnette C. Bell, Lillian Doris Bly, Mary Margaret Bond, Beatrice Brown*, Mildred Busch, Virginia Cammer*, Mary Elizabeth Carnes, Leona Cirulia*, Carl Clark*, Juanita Alice Clifton, Carrie H. Codish, Lucille Gertrude Costilow, LeEtta V. Cottrill, Thorne Craig*, Mary E. Cunningham, Leona Daniels*,  Reon Davis, Wilfred Davis*, Paul Drummond*, Ernest Dussart*, Cecil Enochs*, Madeline Fitzpatrick, Frank Flaherty*, Edna Wilma Fleming, Cora Evelyn Freeman, Edna Fox, Hazel Genevieve Gaines<![if !supportFootnotes]>[15]<![endif]>, Agnes Gearst*, Lance L. Gillespie, Dorothy Gloss, Marguerite Goff, Mary Granato*, Bessie Griffith*, Loy Hartman*, Kathleen Sylver Hannah, Dorsey Heinze*, Edward Hood*, William Hutchinson, Sam Iaquianta*, Margaret James, Lucille Jeffries*, Burton Johnson*, Mabel Lillian Keaster, Beulah Lenise Kidd, Glenn A. Kimmell, Louise Lambert*, Rose Lepon*, Nellie Lynch*, Lucille Mainsell, Marshal Martin, William A. Maxwell, Samuel A. Mazza, Katherine Lucille McCartney, Aline Meek McClung,  Ellsworth Richard McClung, James Guy McClung, Josephine L. McIntyre, Marjorie Virginia McIntyre, Ruth Lane McIntyre, Trella Lois Menear, Julia Ann Mezzaros, Oris Kenneth Mittong<![if !supportFootnotes]>[16]<![endif]>, Maude Morris, Willis McClung, Jennings Nicholson*, Thelma Patterson*<![if !supportFootnotes]>[17]<![endif]>, Alice Louise Pferdehirt, Virginia Pferdehirt*, Sarah Elizabeth Pitts, Genevieve Polesk, Carl Powell, Horace M. Powell,  Raymond Quinant*, Jennie M. Rauhala, Herley Richards, Snow Ritter*, Loren H. Rogers, Madeline Romine, Mary Scotchie*, Paul Scott, Gladys Evelyn Shahan, Edward Shawan*, John C.  Southern, Jr., Pete Spatafore<![if !supportFootnotes]>[18]<![endif]>, Virgil J. Srodek, Edward Sroka*, Victor Strother*, Fred Stump*, Charles Paul Sutton, Bertha Merle Teague, Ruth Vancycle*, Elza Walters, Margaret Lavina Warner, Harold Westfall*, Ethel Loraine Whitman, Lucy Williams*, Kenneth Eugene Willison, Tressie Williams*, Virginia Williams, Edward Winas*, Freda Zoe Geraldine Wolfe, Mabel Wolf* , Harry Wyckoff*,  Lawrence Zinn*. 1927 Victory Annual, Courtesy Larry Knight, Class of 1959;  *- Additions, 1924 Victory Annual - "Freshmen", Courtesy, FGL

Class of 1928                                                                          

Bernard Paul Ashcraft, Joslyn Rigby Bailey, H. Virginia Bauld<![if !supportFootnotes]>[19]<![endif]>, William Bever, Sarah Blackshire, Paul Boyles, Ralph C. Boyles, Walter Bumgardner, Wayne M. Bussey, Bertha Muriel Cain, Tressie Burnice Cook, Halley F. Cottrill, Mildred Christine Crites, Lois Daugneaux, Kathleen Ernestine Davis, Druza Nell Davisson, Richard Devoge, Paul Eakins, J. Alfred Faust, Arthur Ernest Fittro, Eugene Ford, Thomas Gill, Goldie Greathouse, Nellie Helmick, Dorsey Barrett Hines, Mildred Pauline Honc<![if !supportFootnotes]>[20]<![endif]>, Mary Elizabeth Kirby, George A. LaChapelle,  Charles E. Jenkins, Roy Gail Lamb<![if !supportFootnotes]>[21]<![endif]>, Elizabeth Ann Lucas, Jerome Malfregeot, Harvey D. McClain, Mary Ruth McDaniel, William G. McFarlin, Denver R. McKeen, Ethel Florence McOlvin, John Hall Morrison, Martha Morrison, Beulah Ocheltree, Evelyn Virginia Ogden, William Petit, Enes Lorretta Picco, William T. Picco, Alice Mae Florence Powell, C. Harry Primm,  Wilma Augustine Radcliffe, Fannie Redfox, Willa Macel Richards, Paul D. Rogers, Irene Romine, Helen Edna Rutter, Marshall W. Rucker, Gladys O. Scott, Angel San Julian, Edna E. Shinn, Mabel L. Smith, Virginia Margene Smith, Ruby Talkington, Edgar J. Terneus.  1928 Victory Annual, Courtesy, Larry Knight, Class of 1959, and FGL  

Class of 1929                                                                                       

Paul William "Shike" Anderson, Hansford Barnes<![if !supportFootnotes]>[22]<![endif]>, Joe C. Bielak, Harry Blackshire, Marshall Boyce, Mildred G. Bussey,  Lena Capicola, Norma Carpenter, C. Burdine Caussin, Mary Jean Cebek, James Howard Chrisman, Geraldine Ruth Collins, Harley Maxwell Collins, Charles Costilow, Berneice Louise Cottrill, William H. Courtney, William Dodd, Avice B. Finley, Robert Fitzpatrick, Oral Freeman, Henry Gillespie, Joe Golas, Keith Gould, Robert B. Haller, Kermit E. Halstead,  Corbin G. Hannah, Lowell Francis Hannah, John Harry, Jr. Dollie Mae Heater, John Hollister, Clarence E. Hood, Nellie M. Jenkins, Stanley Jeranko, Arthur G. Kerns, Wilbur S. Koontz (Treas.), Joy Lorraine Lamb, Clarence LeDoux, Mary Lepon, Paul D. Lough, Paul J. Lovell<![if !supportFootnotes]>[23]<![endif]>, Eleanor Lyon, Fanny Mainsel, Ella A. Martin, Vaughn F. Martin, Willis J. McClung, Bessie McDaniels, Marian McIntyre, Anna Mildred Morgan, Catherine Flynn Morrison, Marvin Murphy, Richard Murray, David Nuzum, Edmund Pasternak, Wilbur Calvin Perine, Hugo Picco, Virginia Lee Pitser, Lotta Valera Polesk, Ada Pouch, Edmund E. Powell (Sec.), J. Edward Powell (Pres.),<![if !supportFootnotes]>[24]<![endif]> Virginia Rardin<![if !supportFootnotes]>[25]<![endif]>, Louis A. Reymond, Marion Rossana, Gladys Ryan-Chandler,  William Sroka, Carroll Swindler, Lilburn Otis Talkington, August Louis Terneus, Robert Tichenal, Emmett Tipper, Rose Tricroce,  Gail White,  Leona Wolfe.  "In Memoriam Virginia Rardin, Hansford Barnes". 1929 Victory Annual, Courtesy, Fred G. Layman and, SSB; also Larry Knight, Class of 1959.

Class of 1930                                     

Dorothy Allman, Floyd Ashcraft, Mildred Ashcraft, Hulda Barnes, Rosa Bearette, Gerald Bennett, Beatrice Bennett, Beatrice Branetti, Blondie Brown, Charles Brown, Lucile Cain, Justin Carr, Earl Charles, John Cirillo, Hylbert Clifton, Mary Clingan, Lora Crim, Harry Criss, Vivian Davisson, Eugene Davis, Worthy Devericks, William Dodd, Roy Duncan, Silvia Enochs, Joe Fernandez, Georgia Fincham, Mabel Fincham, Louis Fittro, Lena Fitzpatrick, Arthur Floriana, John Fowler, Nestor Freeman, Frances Gaines,  Mary Gerasko, Mary Frances Gocke, Oscar Gould, Evelyn Gregorie, Ruth Hamilton, Pearl Heater, Glen Hoff, Marcel Huet, Lucy Huff, James Hughart, Lelio Insani, Leon Insani, Vernon James, Cornelia Ladwig, Howard Lamb, Dominick Loretta<![if !supportFootnotes]>[26]<![endif]>, Mary Laugherty, Tony Lobise, Joe Marra, Mary Martin, Angelo Mazza, Millard McCloud, Preston McDaniels, Samuel McKeen, Edith McOlvin, Elizabeth Michael, Clifford Monk, Genevieve Monti, Harry Morrison, James Paul Morrison, Lorraine Newlon, Kenneth Nicholson, Harry Null, Lillian Pferdehirt, Yvonne Philipart, Charles Pickens, Pearl Pizler, Robert Plant, Billy Powell, Carmen Quinaut, Mary Redfox, Virginia Reed, Horace Rice, Ray Riffle, Harold Ritter, Creed Rucker, Mable Rucker<![if !supportFootnotes]>[27]<![endif]>, Florinda Sariego, Eugene Schmidt, Beatrice Schmitz, Earl Scott, Rose Secret, Clifford Selden, Albert Smith, Clover Smith, Edna Smith, Esther Smith, Garnett Snyder, Ester Sommerville, Margaret Somerville, Sarah Speen, Bernard Sullivan, Clifford Summers, Mary Summers, Carroll Swindler, Mary Swisher, Clayce Talkington, Charles Thompson,  Charles Tayler, Joe Tipper, Irene Tomes, Reuben Vannoy, Lela Wagner, Virginia Walters, Madeline Wolfe, Martha Ziotowsky.  1929 Victory Annual - "Juniors" , Courtesy, Fred G. Layman and SSB; - (The yearbook once belonged to  Mable Rucker, Class of 1930).  

Class of 1931                                                                                     

Hazel Albright, Niellie Aley, Zula Allen, Eva Ashcraft, Ruth Ashcraft, Casto Ball, Tony Barill, Loyal Barnes, Mary Bartos, Arthur Bertholdo, Maxine Bever, Fred Brummage, Pete Brunnetti, Jennie Buffington, Gladys Bussey, Ralph Calabrese, Mildred Carr, John Cirillo, Samuel Cirillo, Mary Cottrill, Nutter Cottrill, Delores Cummings, Myrl Cummings, Myrtle Danley, James Davis, Opal Dodd, Madison Drummond, Agnes Duncan, Raymond Ferendez, Mary Fersise, John Findley, John Flaherty, Lee Flint, Clyde Foster, Rolond Freeman, Edna Furbee, Fred Gabriel, Paul Gaines, Erma Gainer, John Gonzales, Opal Goode, Carl Gorell, Mildred Gregorie, Ray Grapes, Mary Gill, Robert Green, Denver Greathouse, Evan Griffith, Leola Haggerty, Viola Haggerty, Phyllis Haley, Hal Harper, Ruth Hines, Paul Husk, John Iaquinta, Joe Jermont, Robert Johnson, Mary Kimmel, Harry Koontz, Nina Kipsey, Jeannette Kugler, Florienda LaChappelle, Thelma Lawson, Arthur Layman, Russell Lepon, Frank Lopez, Harry Loria, Edgar Lynch, John Marra, Ethel Marsh, James Matheny, Byrl Maxon, Orpha McCartney, Mary McGarvey, Frances McGuick,  John McIntyre, Ray McNemar, Opal Monk, Lorraine Morris, Paul Morrison, Chloe Mowery, Harley Myers, Wilson Nuzum, James Ogden, Thelma Ogden, Lugre Oliver, Nola Pitts, Reta Poling, Ruth Powell, Vonda Powell, Pauline Primm, Kenneth Randolph, Norman Schively, August Schmitz, Shirley Shaffer, Maurice Smith, Carl Somazze, Patsy Spatifore<![if !supportFootnotes]>[28]<![endif]>, Clyde Steele, Clifford Summers, Joe Tipper, Herbert Townsend, Dorothy Upton, Joe Valente, Gertrude Westfall, Elizabeth Whiteman, Lynn Williams, Flossie Wilson, Geraldine Wolfe, Raymond Wright.  Courtesy, Fred G. Layman, no source cited

Class of 1932

Known:    Lou Carnes, Audie Cottrill, Eugine Hammond, Imogine Hammond,  Farmer Wilson, Helen Huger.   Courtesy, Fred G. Layman, no source cited

Class of 1933

Known: James L. Drummond, Mary Estep, James L. Findley, Jack Ghocke, Mary Godfrey, Mary Iaquinta, Franklin Martin, John B. McIntyre, Mums Olean, Emilio Scalopio, Russell Trupo.  Courtesey, Fred G. Layman

Class of 1934 

Known: Mary Louise Crimm, E. Moine Diaz*,  Evelyn Garrett*, Paul Huger*, Martha Marie Iaquinta*, Lula Mae Lasure (1),. Mary L. Lawson*, Bernice Elaine Pitts (2), Madolyn Rieser*, Lucy Suarez*.  * - Courtesy, Fred G. Layman;  (1) - Submitted by Lula Lasure's daughter, Carolyn Thorne Reid, Class of 1960; (2) Bernice Elaine Pitts - mention on VHS Alumni Facebook, 2011

  Class of 1935

Frank Annie, Tony Annie, Rose L. Barberio, Elmer James Bauld, Helen Eileen Bennett, James A. Bissett, Mary Lorraine Blackshire, Margaret Blanco, Neva Mae Caldwell, Pete Calipetis, Goldia Madeline Carpenter, Thelma Marie Carrico, Dominick T. Carrillo, Carleton Barnes Childers, Rose Marie Congi, Frank Cortez, Jr., Eleanor Ruth Cox, Charles Theron Cummings, Lora Gladys Cunningham, Mary Virginia "Gin" Davis, Maudeline Agnes Davisson, Sebastian Samuel DeMicco, Pauline Roe Elbon, William Frank Erickson, William Earl Fankhauser, Carl Fernandez, Cregia Marie Fiands, Robert N. Fittro, Winifred Flaherty, Goden Bailey Flint, Ruth Jean Floriana, Mary Martha McAtee Garvin, Genevieve George, Theda Marie Glaspell, Virginia Granett, Harold Carter Gregoire, Elizabeth Griffin,  Roy Haggerty, Jr., Virginia Elizabeth Haldeman, Frances Elaine Haller, Wilma Ernestine Harbert, Georgette Huge, Carl Earl Hughes, Homer Hupp, Dominick Roland Jervose, Jerald J. Johnston, William N. Kenney, Jr.,  Morris B. Kyle,  Paul Kyle,  Mildred Bernandine Lake, Blanche Marie Layman, Willard Bill Lefkowitz, Francis Edward Leuliette,  Anna Lillian, Dominick Lopez, Sam J. Lopez,  Rosa Elizabeth Lucian, Mildred Waldeck Lynch, Mary Martino, Tony F. Martino, Alexandra Maschas, Angeline K. Maschas, Gladys June McClung, Sarah Ellen McIntyre, Kenneth McQuaid, Edie McShaffrey, Lalah Mae McVicker, Irene A. Miller, Fannie Nardelli, Margaret E. Nicholson, John Oliverio, Nola Oliverio, Charles D. O'Neil, Mary Granett Panetta, John Pokrzywa, Edward William Poncesz, Dorothea Alvenia Powell, Gladys D. Poynter, Helen Josephine Rittenhouse, Evalene Robinson, Everett Robinson, Maxine Lyndall Robinson, John Russell, Mariann Sabatelli, Joseph V. Saliga,  Pat Gene Secret, Veta Second,  John E. Shkatula, Perry G. Stull, Arthur G. Summers, Kathleen Summers, Gertrude E. Sutton, Darlene Elizabeth Marie Swick, Betty Jane Thomas, Elnor L. Thompson, Howard M. Thompson, Edna Mae Tipper, Loretta Costilow Tipper, Tony H. Tricroce, Marie Yolanda Trupo, Janice Dorothy Vostack<![if !supportFootnotes]>[29]<![endif]>, Alice Mae Walker, Margaret A. Waller, Ellis Westfall, Virginia M. Williams, Carleton Paul Willison, Glenn O. Wilmoth, Naomi Ruth Wine, Margaret Virginia Wolfe, William Lawrence Worcester, John D. Wright, Alexander S. Xenakis. (118)  Principal:  Henry L. Ash;   Advisors:  Clifford M. Davis, Mrs. Lucy Bailey, Mrs. Ruth Pyle, Mildred Harper Bailey. Diplomas dated May 24, 1935, were signed by A. P. MORRISON, president Harrison County Board of Education.  W. H. Coffindaffer, County Superintendent, Secretary Board:  Henry L. ASH, Principal; and S. Key Dickinson, Asst. Superintendent High School Department.  Class Motto:  If  We Rest, We Rust:  Class flower:  Sweet pea; Class colors:  Silver and orchid.  <![if !supportFootnotes]>[30]<![endif]>  1935 Diploma List of Graduates, Courtesy, Alice Walker Ashcraft Hall, Class of 1935, and her daughter, Patti Ashcraft Hickman, Class of 1959; Advisors were also submitted by Brenda Insani Bryan, Class of 1965, from a 1983 Reunion booklet covering several classes.

 

Class of 1936

Josephine Mary Alvarez, Irene Anderson, Ruth Arthur, Ben Ash, Wanema Barker, Joseph Boshnett, William Boyce, Geraldine Boyles, Grace Bruno, Ulysses Buffington<![if !supportFootnotes]>[31]<![endif]>, Porter L. Cain, Victoria Capicola, Madelon Carrico, Theresa Cirillo, Edmond Coberly, Freda Collins, Mary Cominsky, Lorraine Costilow, Harold Crimm, Harold Anderson Davis, Bernice Day, Mary Ann Deco, Angela DeMaria Bryant, Dorothy Dennison, Evelyn Dennison, Eugene Douglas, Jennie Ergonis, Carl Fernandez, Henry Fitzpatrick, Jr., Pete James Fragale, Roscoe Flint, Anthony Fratto, Sadie Gaines, Frank Gallo, Eugene Gary, Garnett Eugene Gerrard, James Glaspell, Josephine Hammond, Margaret Hankins, Lois Hathaway, George Hedrick, Martin Hickman, Mary Himes, Mabel Hooper, Ruth Hupps, Helen Keister, Delford Kerns, Aline LaChapelle, Robert LaChapelle, Carleton C. Lake, Barbara Lamm, Charles Frank Mazza, Alphonso McBee, Jr., Eulah McClain, Carl McDaniels, Ester McDaniel, Ira Morris, Wilma Murphy, Della Musgrave,  John Nale, Christopher Nardella, Charles Newell, Goldie Nicholson, Homer Nicholson, Stacel Nicholson, Ercel Norman, Guy Norman, James Nuzum, Katherine Oliverio, Filomena (Phyllis?) Olivetto, Robert Powers, Charles Pratt, Margaret Randolph, Freda Reeves, Charles Richards, Florence Samail, Lillian Sandy, Clifton Scott, Dorsey Shreve, Catherine Simon, Arthur Smith,  Ernestine Smith, Margaret Snyder, Joseph Southern, Rose Spatafore<![if !supportFootnotes]>[32]<![endif]>, Ruby Springer, Charles Starkey, Joseph Stopiak, Paul Sturm, Hugh Swiger, Annette Talerico, Altovilla Tanzy, Beatrice Thompson, James Weatherford, Ruth Whiteman, Mildred Williams, Madge Williams, Gladys Woodell, Margaret Wyatt, Eldon Wyckoff, William Yates, Elinor Yerkey.  Advisors:  Ann Boring, Garnett Fittro, George Lazenby, Lenore Norman, J. Edward Powell.  Reunion booklet, 1983, Courtesy, Brenda Insani Carpenter Bryan, Class of '1965, daughter of the late Robert and Alice (Rieser) Insani, both of the Class of 1937. <![if !supportFootnotes]>[33]<![endif]>

Class of 1937                            

Mildred Alexander, Wilma Aley, Julie Alonso, Anna Anguilli, Bernard Bailey, Frank Barberio, John Barberio, Virginia Barile, Margaret Barrett, Francis Lawrence Bartos, Isadore Benda, Sally Blanco, Marie Brand, William Orpheus Brissey, Genevieve M. "Chick" Capicola, Dorothy Carpenter, Lena Carrilo, Joseph Emil Chicknell, Vonda Clark, Hylmar (Tommy) Clifton, Mary Concha,  Rose Costa, Herman Cueto, Gwendolyn Davis, H. Wade Davisson, Guy Devono, Delores Diaz, Helen Dingo, Nellie Dysh, Adelaide Elbon, Constance Elbon, Halen Frances Fairfax, Liney Fazzini,  Betty Ferguson, Anna Ferrise, Eugene Fisher, Ruth Lee Fitzpatrick, Frances Frashuer, Augustine (Whip) Gabriel, Dorian Gain, Ruth Gaines, Pete Gallo, Celia Garcia, Nadine George, Thurman Gerrard, Jr., Loverne Glaspell, Louis Gluhak, Poldo Gonzalez, Carl Greene, Rose Huge, Carl E. Hustead, Robert Insani, Harold Kyle, Emogene "Perk" Lamb, Teddy Lambrow, Michael Lasko, Jr., Manuel Lauderman, Maxine Lefkowitz, Selby Lefkowitz, Thomas Lynch, Mary McBee, John McFarlin, Mary McIntyre, Helen McKeen, Thresa Madia, Marcel Malfregeot, Edith Malone, Rose Marino, Mary Marra, Pakita Menendez, Samuel Meranda, Edward Moore, Samuel Morasco, Edmire Morel, Charles Morrison, Doris Murphy, Frances Murphy, Anthony Mustard (Mastrodone), Lucy Nery, Walter Pasternak, Marguerite Payez, Paul Pernell, Andrew Pollock, Irene Powell, Jules Powell, Edna Pugh, Beatrice Rapp, Francis Raymond, Robert Rector, Robert Reger, Nelson Richards, Nina Lee Richards, Alice Rieser, Evelyn Robey, Fannie Romano, Adeline Rossana, Marianne Sabatelli, Mario San Julian, Bernard Schmidt, Virginia Secret, Alexander Sherman, Hazel Shokey, Hugh Shriver, Pete Simonette, John Skendelas, Lloyd Smith, Nellie Smith, Wilma Snider, Lucille Snopps, John J. Snyder, Margaret Snyder, Emerson Sommers, Anna Spatafore, John Spino, Jr., Harlan Sponaugle, Bernice Stutler, Isaac Suarez, Ruth Sullivan, Patricia Swain, Juanita Swisher, Mamie Talkington, Joseph Tarantino, Kenneth Tate, Louis Trupo, Stella Valilse, Joe Vargo, Fernand Vilain, Charles Wacowski, Ester Walker, Joseph Martin Walsh, Carl J. White, Jr., Ruth Whitehair, (Whip - see Gabriel), Myrtle Ruth Williams, Bessie Wilson, Kathleen Worcester, Lillian Wright, William Wyatt, Helen Yost.  Class Advisors:  Clyde E. Beckett, Lillian Bly Bond, Lillie Walters Morgan,  J. Edward Powell, Roy Straight, Grace Van Horn.  Reunion booklet, 1983,  Courtesy, Brenda Insani Bryan, Class of 1965, daughter of the late Robert and Alice (Rieser) Insani, both of the Class of 1937   <![if !supportFootnotes]>[34]<![endif]>

Class of 1938        <![if !vml]>

<![endif]>   Italized names:  Silhouette  created  by  classmate, Paul Barton                                                                     

Lucille Abbot, Mary Virginia Adams, Ida Alvarez*, Joe Edward Alvarez, Joe Eugene Alvarez, Dr. Joseph Alvarez, Mildred Alvarez, Betty Jane Ash, Marguerite Barberio, Harry Barnes*, Paul Barton*, Rudolph Bartosh, Paul Bastin, Maxine Baxter, Annabelle Bennett, Daisy Mae Bennett*, Daisey Bitoni, Marina Blanco, Walter Bork, George Bragg, Wm Brookover, Mary K. Brown, Mary Cain, Eleanor Carrico, Juanita Clark, Morley Cochran, Gertrude Codish Mylonas, Lavern Costilow, Ralph Cowgill, James Cox, Fannie Crawford, Julia Cueto, Marguerite Cueto*, Robert Daugneaux*,Ruth Davisson, Harry Dawson, Lucy DeVono, Thomas Diaz, Ray Drummond, Bruce Erickson, Eugene Estep, Joe Ferrando, Jr., William Fiands, Franklin Fragale, Anthony Fratt, Virginia Garcia*, Thelma Gatrell, Raymond George*, Jack Gill, Anna Gillespie, Chas. Glenn, Jesse Gonzalez, Robert Gregg*, Mary Hall, Eugene Hammond*, Georgia Hammond Weber, Olive Hammond Moore, Va Hammond Hyatt, Paul Haney*, Bernice Harbert, Glyndon Hedge, Thomas Hedrick, Lucille Himes, Wm Hitt, Hazel M. Hughes, Lorraine Junkins, Charles Kenney, Verda Koon, Daniel Koontz, Jr., Anthony Lambrow*,Virginia Lambrow, Robert Lanham, Geraldine Lawrence, Edward LeMasters*, Flora Lemon, John Locke, William Lockhart*, Mary Va Lopez-Gary, Ernestine Lovell, Julius Maseda*, David McDaniel, Donald McNemar, Max McVicker*, Flossie Madia, Grace Marino Golden, Anthony Martino, Velma Maxwell*,  Edna Moore, Richard Nale, Betty Nardelli, Alice Nay, Bonnie Norman, Lewis Oliveria, Ruth Owens, Arthur Paletti, John H. Palmer*,  Iona Panteloukas, Edward Patterson*, James Pearcy, Helen Perkins, Mary Louise Perkins, Leo Picco, Mary Adalaide Pitser, Nick Plakatoris, Thaddeus Pokrzywa, Thelma Powell, Dr. Domenick Preston, Christine Rittenhouse, Freda Romine, Anna Sabatelli, Frances Sartoris, Madaline Scolopio, Frank Secret, Kenneth Sheets, Eileen Short, William Silcott, Pete Simonette*, Mary Frances Smallridge, Genova Snider*,Joseph Snider, Rose Marie Spatafore*, Evelyn Louise Stansberry, Thelma Stansberry, Mildred Stull, Maxine Suttle Smith, Harry Tanzy, Mintie Tomes, Glenn Toothman, Jr., Virginia Trader, Tresa Tricot*, Tresa Trupo, Irene Valise, John Veltri, Mary Louise Vincent*, David Waller, Charles Walsh, Mary Kathleen Walters, Dominic Ware, Mary Olive Wickenhofer, James Wright, Mary Katherine Yates, Sam Zannino <![if !supportFootnotes]>[35]<![endif]>  Principal:  Miss Lucy  Bailey; Advisors: Miss Cornelia Ladwig, Miss Virginia Linger, Mrs. Leontine Barnett Nuzum, Mrs. Ruth Ann Pyle, Mr. Leland Westfall, and Ruby Westfall.<![if !supportFootnotes]>[36]<![endif]> ~~~The Commencement address was delivered by Congressman Jennings Randolph.  ~~~~ITALICIZED NAMES indicate the 145 students and advisors whose profiles were carved into silhouettes by senior Paul Barton, when there was no yearbook published due to the Great Depression.  The Victory Optic newspaper published the images that year, a copy of which was preserved by Fred Layman & scanned by Sharon Bramhall. A few years later, Captain Paul Barton, son of the Rev. & Mrs. Berlie L. Barton (pastor of the Northview U. B. Church) lost his life during an air battle in Europe.  Featured profile above, "Perkins".                        *Deceased members as of 1983 (reunion booklet)

1983 Reunion Booklet, Courtesy,  Brenda Insani Bryan, Class of 1965, daughter of Robert & Alice (Rieser) Insani, both of the Class of 1937;  Graduates list  from silhouettes drawn by senior, Paul Barton, as published in the Victory Optic newsletter, May 20, 1938; 1938 Newsletter; Newsletter, courtesy,  Fred G. Layman;

Class of 1939                                 

Luz Mary Alverez, Irma Ash*, Verma Loraine Baker*, Lois Eileen Barlett* (Bartlett?),  Edward S. Barnett*, John Beasi, Jr.*, Laura Alice Bishop*, Charlotte Brake*, Julius Blanco*, Margaret Ann Blanco, Frank Bonnett, Robert L. Boyce, Le Bonnett, Leonard Barrett, George Brand*, Charlotte Brown*, Lucille Brown, Marlie Brown*, Ruth Buffington, Phyllis Bumgardner*,Thelma Ruth Caldwell, Evelyn Carpenter*, Paula Clayton*,  Margaret Clingan*, Mary Codish*, Jack Coffman*, Charles S. Cooper, Geraldine Courtney*, John Robert Cox*, Hale Crim, Mary Ann Cueto, Kathleen Marie Darquenne*, Richard Daugneaux, Edna Marjorie Davidson, Edward H. Davis*, Hayward Maurice Drummond*, Millicent Irene Dussart, Mildred Elbon, Frank Ergonis*, Henerietta Shirley Evans*,William Everett*, Lorraine Lois Everson, Lucy Ann Ferrise*, Cleo Junior Frasheur, Jr.*, Florine Sarah Gallo, Ralph George*, Charles Green*, Kathleen G. Gillespie*, Virginia E. Griffith*, Warren Haggerty*, Mary Elizabeth Harmon*, Edward B. Hitt, Clair Hornor*, Violet Huge*  (Huger?), Clarice Genevieve Hughes*, Mary Huger, Joseph S. Hyman, Raymond Insani*, Harry Ray Johnson*, Sadie Kaleel, William King*, John Kish*, Charles F. Koontz*, Margaret Kuhar, Sarephie M. Langlett, Mary Jean Lanham, John Adolfe Lasko, Helen Louise Lemon*, Lawrence Lewark, Mary Virginia Linville*, Angeline Marie Llanesa, Andrew Lopez*, Elveria Louise Lorie, Giovannia M. Loria*, Ruth Virginia Loudin, John Edward Louzy (?) *, Guy B. Lucinano, Elizabeth Ruth Lynch*, William Lyon*, Ruth Eleanor Lyons, Clara Louise Malong*, Rosalie Mainsel*, Rose Mary Marra, Tresa Marozza*, Della Lucy Marshall*, William Matheny*, Paul Mathews <![if !supportFootnotes]>[37]<![endif]>Edith Virginia McClain, Mildred Murlene McCue, Keith McGee, June Deloris McShaffery, Frank Menendez,  Virginia Maxine Monk, George Moore*, Janet Marjorie Moore*, Andrea Louise Myers, Joe James Nardelli, Bonnie Dee Nay*, William Newlon*, John Nicholette*, Mary Catherine Nicholette*, Ralph Olean, Robert, Payez, William Phares*, Fred Picco*, Merrill Pickens, Jr., Blair Nelson Pratt, Dorsey Pribble*, Mildred Price*, Margurte A. Props*, Anna Lois Rardin*, Peter Joseph Raymond, Juliann Ritter, Ann Louise Robinson, Raymond Rogers, Anthony "Pete" Rome*<![if !supportFootnotes]>[38]<![endif]>, Eva Ann Ross, Artie Rowan*, Thelma Jessie Rowan, Virginia Sabatelli, James Salentro*, Steve Saliga, Mary Second*, Charles Sevick*, Mildred Viola Shaffer*, George Simon, Samuel Simonette*, Ethyl Jean Smallridge*, Ethyl Marie Smith*, Ray Bernard Smith, Roy Smith, Christine Virginia Snyder*, Ella Marie Snyder*, Leo Richard Somazze, Tresa Louise Starface, Mary L. Strother, William Jerome Stuart*, Dale L. Suttle*, Dennis E. Sutton*, Christine Stumpo, Thelma Swiger*, Elsie Ellen Tate*, Maxine Thompson*, Mary Tiano*, Mary Imogene Tillman*, Mary Frances Titchenal*, Christine Veltri, Genevieve Wacowski*, Annamae Elizabeth Wells, Edna Corrine White*, Warren White, Samuel B. Whiteman*, Juanita Evelyn Williams, William H. Williams*, David Wilkins, Dorothy Gail Wilson, Evelyn Marie Wilson, Helen Virginia Windon*, Kenneth Wiseman*, Holbert Ray Wolf*, Harold Bell Wright*, James Xenakis, Stanley E. Xenakis*, Mary Margaret Yost, Patsy John Zannino*, Sammy A. Zannino*   Reunion List for the Class of 1939, Courtesy, Mildred McCue Harmon and Andrea Myers Atha; Additions - FGL   *- Deceased

Class of 1940

Frances Adams, Joe Alevato, Sam Alevato, Jack Alonso, Angelo Amodio, Willis Andre, Rose Audia, Ruth Bailey, Dorothy Barker, Joy Barton, Norman Beebe, Sarah Bellotte, Alma Bennett, Pauline Bennett, James Boyce, John Bragg, Marietta Brown, Millie Bruno, Mildred Caldwell, Mary Capicola, Angelo Capozzi, Clifford Carder, Leslie Carpenter, Jeannette Cirullo, John Circullo, William Carl "Trapper" Connor, Eugene Coulson, Mary Costa, Betty Cox, Pauline Zenna Crawford, Wilma Crimm, Monalee Crutchfield, Frances Danley, Elizabeth Davisson, Elizabeth Dawson, Irene DeBock, Charles DeMaria, Frankie DeMarko, Germond Devericks, Louis Diaz, Lorraine DiSalvo, Eva Dotson, Mary Frances Douglas, Rosalie Duarte, Jack Elliott, Lucille Everson, Angel Fernandez, Earl Fernandez, Jenny Ferrise, Richard Fowler, Stuart Freeman, Melba Funk, Robert Funk, Lester Gain, Rosie Gallo, Aurelia Garcia, Charles Gerrard, Maxine Gerrard, Robert Gerrard, Stuart Gerrard, Lyle Gillenwater, Paul Gillespie, Peggy Goff, Leatrice Glaspell, Maxine Glass, Millie Gluhak, Mary Grant, Leon Greathouse, Lyle Greathouse, Robert Harper, Jane Hayes, Richard Hill, Betty Lee Himes, Ruth Hoover, June Houlillet, Jack Hurley, Jules Ianglett, Elaine Iaquinta, Leona Jacobs, Richard Jacobs, Eugene James, Ann Janicak, Frank Jervose, James Jervose, Wilma Jones, Balint Karnis, Mary Kanteamparis, Tina Kidner, Virginia King, Lela Knight, Tasso Lambro, Ann Layman, Harold Leachman, Mary Leachman, Iris LeFevre, Charlotte Leuliette, James Leuliette, James Lichillo, Robert Linch, Vera Lipscomb, Margaret Liptak, Electa Jean Lockhart, Angeline Lopez, Charlotte Lopez, Virginia Lopez, Sarah Lucente, Donald Lynch, Geraldine Malcomb, Paul Albert Marano, Elbert Markley, Roger Martino, Mike Masto, Mary Maston, Lucille McBee, Francis McClung, Martha Jane McDaniels, Virchia McKinney, Wanda McKinney, Angelo Miller, JoJohn Meranda, James Mihaliak, Vera Monti, Betty Lee Moore, Dorsey Moore, Jules Moore, Philip Moore, Wanda Morrison, Henry Muniz, Ruth Musgrave, Tommie Mustard, Josephine Nale, Teresa Nash, Ralph Newlon, Anthony Oliverio, John Orlando, Ervin Pasternak, Elsie Plamer, Rose Polagina, Janice Powell, Warder Powell, Bernice Randolph, Dale Richards, Mary Rogers, Pete Rome, Julia Rosetta, Wanda Ross, Walter Rutherford, Freda Sandy, Julius San Julian, Virginia San Julian, Sylvester Sartoris, Flora Scarnati, James Scott, Nicholas Simonette, Virginia Skinner, Ruth Smith, Louise Spatafore, Delores Springer, Collette Stiers, Mary Suarez, Juanita Sumpter, Katherine Swiger, Martha Swiger, John Tarantino, Robert Terneus, Walter Thompson, John Tiano, Lee Toothman, James Urso, Sam Veltri, Elva Vincent, James Walden, Harry Wallace, Josephine Wallace, Mary Jane Walsh, Marjorie Wells, Bernard Williams, Grace Willison, Richard Wine, Margaret Wittman, Dorothea Wyatt, Naomi Yeager.   Faculty:  Lucy Bailey, Principal; Richard Dyer, Wanda Martin, Edward Powell, Grace Van Horn, Lillian Bly, Louise Cresap.   Courtesy, Fred G. Layman - from a class picture. 

Class of 1941

 M. Abruzzino, C. Alastanos, Twyla Allen, Donald Alvarez, Louise Andre, Ralph Anguilli, Catherine Annie, Mary Armodio,  Gustie Armodio, Joe Audia, Susan Audia, Ernestine Barnes, Anna Basile, Pauline Bastin, Maxine Baxter, Virginia Beasi, Tony Belcastro, Sam Berile, Louis Blanco, Raymond Bond, Fred Brand, Charles  Bragg, Mary Britton, Nilah Brookover, Ruth Brown, Rose Bruno, Rex Bumgardner<![if !supportFootnotes]>[39]<![endif]>, Ernest Caldwell, Mary Carder, Eugene Caussin, Virginia Charles, Tulla Chenoweth, Walter Clifton, Robert L., Clonch, Sr., Neysa Corathers, Catherine Corteese, Betty Costilow, Alice Cottrill, John Coulson, Donald Cox, William Crawford, Jean Criss, Madolyn Criss, Carmella Jacqueline DeFazio, Homer Diaz, James Ellison, Robert Everson, Flora Fillippni, Grace Fittro, Ira Fittro, Nina Foltz, Betty Fortney, Tressie Fragale, Doris Freeman, Genevieve Garcia, Fradeline Gary, Robert George, Harry Gerrard, Robert Gerrard, Ray Gill, Lavoo Goodwin, Lorraine Greathouse, Kathleen Greene, Ida Grimm, Burleen Guiterrez, Ivorine Hammond, Paul Hammond, Betty Hart, Paul Haymond, Anna Heaton, Regina Heaton, Laura B. Himes, George Holt, Gertrude Holt, Florence Horner, Josephine Huerta, James Iaconis, Frank Iaquinta, Leon Jacobs, Jerry James, Frank Jenio, John Jerome, Blaine Jones, Bert Kennedy, Clayton Kerrigan, Frances Knight, Myrtle Koon, John Andrew Kovach, Wilma Kulina, Darce Lamm, Robert Layman, Bonna B. Leep, Berniece Leftkowitz, Francis Leroy, Joseph Leuliette, Glenna Linch, Mary Linch, Frances Linsbeck, John Liptak, Louis Loretta, Louis Loria, Victoria Lopez, Harold Lovell, Alveria Lucian, Virginia Madia, Robert Martin, Virgil Matheny, Clenna Maxwell, Lawrence Maxwell, Mildred Maylee, Ruth Maxwell, B. McCartney, French McClung, Margaret McCoy, Clyde McIntyre, Winnifred McKinley, Doyal McNemar, Mary McWhorter, Louie Medina, Joe Menendez, Lola Menendez, Mary Menendez, Lucy Meranda, Wilbur Mick, Charlene Moine, Caroline Moontz, Richard Moore, Robert Moore, Ruby Moore, Paul Morrison, Rose Nardella, A. Nardelli, Carmella Nash, Mabel Nickolson, Frank Oberhaussen, Carmella Palagino, Anthony Panteloukas, Katherine Paris, Julia Perez, Frankie Perrie, Lawrence Phares, Eva Picco, Wanda Poling, Winnifred Pope, Joseph Powell, Gayle Price, Bernard Reeder, Carmella Reynolds, Thomas Reynolds, Martha Lee Rieser, Christine Robey, James Robey, Harold Robinson, Domineck Salentro, Esther Scott, Flora Scott, William Scott, Jean Secret, Mary Secret, Betty Jean Sharpe, Helen Sherman, Irene Shivley, Anna Ruth Shreve, Esther Sims, Jack Skinner, Betty Smith, Marvin Smith, Mary Smith, Ella Somazee, James Southern, Mary Spatafore, James Spence,  Joe Spence, Harvey Starkey, Eldred Stout, John Stopiak, Evelyn Sturm, Herman Suttle, James Suttle, Robert Swain, Jack Swiger, Louis Thomas, Anthony Tiano, Burleen Genevieve Tiano, Kathleen Tiano, Raymond Travis, John Treccoci, Katherine Veltri, Paul Vincent, Eugene Walker, Martha Wallace, John Walsh, Elinor Ward, William Ward, Eleanor Wickenhofer, Robert Windon, John Wilfong, Hellen Xenakis, Stanley Xenakis, Margaret Yerkey, Charles Yost, Mary Frances Zinn.   Faculty:  Miss Lucy Bailey, Principal; Mr. Walter Holden, Miss Cornelia Ladwig, Mrs. Ruth Ann Pyle, Mr. Paul Hess, Miss Marjorie Null, Mrs. Winnifred McIntyre.  Courtesy, Fred G. Layman - from a class photograph.

Class of 1942  

Elmo Adkins, Henry Alvarez, Manuel Alvarez, Anna Amodio, Pauline Anderson, Michael Anguilli, Beatrice Arbogast, Manuel Arias, Virginia Armstrong Nuzum, Delmer Ashcraft, Victoria Astrino, Mary Virginia Audia, Angeline Barberio, Samuel Barberio, Harvey Barger, William Bartlett, Emuel Bartosh, Clara Mae Bell, Angeline Belvedere, Pauline Boyce, Mary Boyles, Christine Bray, Helen Brown, Irene Bruno, Nina Merle Bussey, Christine Cain, Joseph Capicola, Rose Capozzi, Medford Carrico, Kathryn Cavalle, Anna Christafore, Harold Cochran, Patricia Coleman, Lucy Costa, Florence Cox, Anthony Cueto, Charles Cueto, Harper Cunningham, Joseph Curia, Margaret De Fazio, Mike De Fazio, John Demarco, Robert Demick, Josephine Diaz, James Dixon, Thelma Doolittle, Harold Duty, Irene Edgar, Paul Ellison, Ralph Fankhouser, James Fazalare, Delores Fernandez, Faust Fernandez, Mary Fernandez, Samuel Filippini, John Fitzpatrick, Lyle Flaherty, Annette Fortney, Mary Ann Frum, Ruth Frush, Mary Fucate, Walter Gabbert, Violet Gainer, Albert Garcia, Manuel Garcia, Lela Garner, Manuel Garoia, Alva Hiram Gaston, Clayce Gerrard, Lee Gerrard,  Parker Gower, Jr., Clarence Grose, Sterling Hall, Bette Haller, Margaret Hardman, Danton O. "Ted" Hays<![if !supportFootnotes]>[40]<![endif]>, Freda Mae Hayes, Dallas Hedge, Robert Hibbs, Sterling Hill, Wilma Himes, Wilma Hinton, Carl Holcomb, Betty Hoover, Betty Huffman, Ray Hurley, Lora Insani, Genevieve Janicak, Susie Jerome, Mary Jervose, Mary Jervose, Ted Kerns, Bernard Kidd, Catherine King, Freddie Knight, Betty Kyle, Arnett Lamb, James Lambrow, Frances Lasko, Richard Leachman, Mary Zane Lefevre, Lillian Leroy, Anna Lee Leuliette, Robert Lee Linville<![if !supportFootnotes]>[41]<![endif]>, Donald Little, Albert Llaneza, Josephine Lopez, John Lucente, Neva Lucian, Nancy Malone, Kathryn Marano, Anthony Marino, Jewell Marshall, Robert Martino, Joseph Marozzi, John Masto, Ada Mae McAtee, Beulah McCoy, Arthur McDaniel, David McGee, Elizabeth McGee, Ralph McIntyre, Jules McVaney, Alphonso Mendez, Angeline Mendez, Pikita Menendez,  Pauline Messenger, Reatha Mick, Angeline Mills, Earl Mills, Emma Jean Mills, Rose Moore, Loretta Morrison, Joseph Moss, John Mustard, Josephine Nardelli, Jean Nash, Julia Nemish, Francis Newbrough, Robert Newlon, Donald Nicholson, Matthew Nicoletti, Luella Nutter, Eugene Palma, Arlene Pernell, Russell Perri, Virginia Perrie, James Pethtel, Eugene J. Pokrzywa, Wanda Poling, Eugene, Elizabeth Prather, Nina Belle Pratt, Teresa Prestininzi, John Paul Rapp, Alma Riley, George Ritter, Virginia Rogers, Betty Rucker, Teresa Amanda Rutherford, Virginia Sartoris, Rosemary Schetzel, Jesse Schlicker, Norman Schweinebratan, Anna Second, Joseph Secret,  Betty June Shreve, Norman Waken Simon, Avis Skinner, Frances Skinner, Paul Sleeth, Mary Shingleton, Eula Rose Short, Leona Smith, Robert Smith, Dorsey Snyder, Dorothy Spatafore, Eleanor Stansberry, Marcel Steele, Andy Stopiak, Thomas Stuart, Mary Summers, William Summers, Madalou Swiger, Mildred Townsend, Virginia Townsend, Geraldine Tyler, Florentine Valdez, Charles Vannoy, Mary Vargo, Armand Villain, Violet Vincent, John Wallace, Webster Weaver, Burton Webb, Janet Webb, Lawrence Webb, Howard Whaley, Eleanor Whiteman, Ruby Wilson, Janice Williams, Luther Williams, Kathleen Willison, Eleanor Winters, Jane Winters,.Ada Wolfe, Franklin Wycoff, Betty Yates, Betty Yost, Mary (Zane) Lefevre, Raymond Zitella;  Faculty:  Miss Lucy Bailey, Principal;  Mr. Lane Daugherty, Miss Helen Davisson, Mr. Charles Taylor, Miss Eleanor Curry, Mrs. Wilma Norman, Miss Susan Montgomery.  Courtesy, Fred G. Layman - from a class photograph. 

Class of 1943                   

Pearl Adkins, Mary Jean Alevato, Harvey Alexander, James Allen, Manuel Alvarez, Olga Alvarez, Ruth Jean Alvarez, Josephine Amodio, Pete Amodio, Patricia Amsler, James Anastasakis, Irene Anderson, Kenneth Arbogast, Darrell Ashcraft, Percy Ashcraft, Charles Bailey, Caesar Bango, Dominick Barberio, John Barberio, Paul Barker, John Barr, Margaret Bartosh, Amelia Basile, Phyllis Beebe, Rose Belcastro, Alvin Bell, Betty Lou Bell, Rosalie Bellotte, Genevieve Belvedere, Louise Brannon, Betty Lou Bray, Blanche Brown, Lois Brown, Minnie Caldwell, Betty Caloccia, Oscar Casto, Elizabeth Caussin, Daniel Cole, Leighton Costilow, Kemper Courtney, Hartzel Crickbaum, Betty Criss, Mary Criss, Robert Crutchfeld, Gloria D'Annunzio, Duane Davisson, Eugene Drummond, John Duarte, Lester Elbon, Beraldine Elliott, Cleo Ellison, Lawrence Ellison, Sam Ergonis, Richard Fazalare, Emery Fazzini, Adolpho Fernandez, Warren Fittro, Helen Flavion, Eleanor Fragale, Virginia Fragle, Anna Fratto, Louie Fratto, Eleanor Grace Freeman<![if !supportFootnotes]>[42]<![endif]>, Betty Frum, Ruby Gain, Catherine Gallo, Dina Garcia,  Ila Garrett, Aaron Guy Gillespie<![if !supportFootnotes]>[43]<![endif]>, Pauline Gillespie, Stella Mae Givens, Margaret Gonzalez, Mary Jean Gonzalez, Lucille Greathouse, William Griffith, Paul Grose, Audrey Irene Gumm, Betty Hamilton, John Hardman, Mary Hardman, Ruth Harrison, Betty Lou Hays, Hayward Heaton, Fred Hickman, James Huger, Ethel Hyman, William Jenkins, John Jermont, Hazel Jones, Joe Karnis, Wanda Kearns, William Kellison, Leatrice Kennedy, Dennis Kern, Steward Kesling, Alice Knight, Charles Knight, Edith Koontz, Joseph Kovach, Lindsay Layfield, Dorsey Linch, Roy Lipps, Angeline Lomas, Florine Lopez, Margaret Lopez, Sara Lopez, Tony Lucente, Sarah Lucian, Mary Frances McCall, Raymond Marks, Bertha Maseda, Ellen Maxwell, Francis Maxwell, Paul Maxwell, Thelma Maxwell, Mary Maylee, Robert Mazza, Mildred Mechinsky, Rose Merandi, Velma Merritt, Thelma Moine, Robert Moore, Betty Moran, Tony Moss, Robert Murphy, Kenneth Nale, Rosa Nash, Charles Newbrough, Mary Newbrough, Ray Newlon, Joseph Nicoletti, Betty Elliott Nutter, Annette Paciotti, Gladys Palmer, Amor Perez, Evelyn Phares, Edwin Poling, Russell Posey, Mary Rachel Pratt, Virginia Prim, Lucille Radcliff, Ellen Randolph, Virginia Rardin, Keith Reger, Betty Rieser, Roger Romain, Joseph Romano, Mary Ellen Ross, Virgil Russell, Jimmie Sams, Mary San Julian, Carleton Scheirman, Donald Schetzel, James Second, Andrew Sevick, Charles Skinner, Harold Smith, Mary Alice Smith, Blanche Sneed, Anthony J. Spatafore, Dominick Spence, Mina Stenger, Denzil Stewart, Jack Stires, Winifred Strong, Ruth Strother, Elizabeth Summers, Cora Sutton, Norma Swager, Betty Ruth Swiger, Dorothy Swiger, Evelyn Swiger, Cecilia Thomas, Lucille Tomes, Rose Torjak, Chester Trunick, Barbara Veltri, Rose Vilone, Bonnie Wallace, Arthur Ward, Leona Westfall Wareham, Clark Webb, Bernice Westfall, Maxine White, Betty Williams, Billy Joe Wolfe, Betty Wyatt, Amelia Young, Matilda Zippilli.  Class advisors:  Grace Van Horn, Chairman, Lillian Bly, Wanda Martin, Corma Mowerey, Edward Powell, and Bernard Sullivan.<![if !supportFootnotes]>[44]<![endif]>

This was the first year for home room basketball tournaments.  Bertha Georgeadis was voted "smallest player";  Kathleen Pierce was chosen "best cheerleader";  Basketball captain Dick Marks was chosen "outstanding player".  Band members:  Cleo Ellison, Bernard Pasternak, Blanche Sneed.    Courtesy Fred G. Layman, no source cited. 

  

Class of 1944

Evelyn Allen, Margaret Alvarez, Mary Alvarez, Mary Anastasakis, Frank Anguilli, Lenore Ash, Genevieve Ashcraft, Betty Ashcraft, Angeline Agnes Audia, Madelyn Bacceus, Joe Barile, Mary Barbillaro, Juanita Rebekah "Becky" Barnes, Lucille Barrett, James Bartley, Helen Bartosh, Olie Bastin, Sara Blanco, Alice Brand, Lena Blidgett, Jack Bishop, Pauline Bonnett, Jean Bow, Leomi Bramer,  William Brooks, Wanda Brown, Elva Mae Carder, James Carder, Marguerite Charles, Manuel Christafore, Ruth Clarke, Roger Coenen, Rowena Cottrill, June Craig, Eugene Crimm, Frank Curia, Vonda Dalton, Anthony De Maria, Margery Edgell, Helen Evangelinos, James Everett, Mary M. Fernandez, Eleanor Fowler, Delores Frasheur, Sara Pratt, Alice Garcia, Marian Garrett, Bernice George, Betty Goff, Paula Gould, Edward Eugene "Tink" Gower, Dorothy Griffin, Helen Gumm, Angeline Guitierres, Ruth Hammond, Dorothy Hamrick, Warren Harbert, Nora Hayes, Robert Hedrick, Betty Henderson, Richard Hickman, Carl Houilett, Mildred Huffman, Billy Iaconis, Helen Isner, Dale Isner, Helen Janicak, Fred Jerome, Mary Jane Jurewicz, Garnet Karlen, Ethel Karnis, Virginia Kickel, Virginia Kidd, Henry Knight, Margareet Lamb, Casey Lasko, Dorothy Leroy, Betty Lockhart, Mary Jo Loria, Kathleen Luikart, Loretta B. Lowther, Frank Lucente, Joe Lucente, Betty Madia, Sylvia Marozzi, Nina Lee Martin, Virginia Martino, Dorothy Masto, Don Matheny, Ruth Matson, Jean McClain, Betty McClung, Nora McCray, William McDaniel, Warren McIntyre, June Meade, Adeline Mendez, Annie Menendez, Betty Messenger, Delbert Mick, Delmer Mick, Margaret Mahaliak, John Miller, Regina Miller, Flora Minnocci, Viola Minnocci, Eddie Moore, Betty C. Morrison, Kathleen Morrison, Catherine Moss, Jimmie Muniz, George Dale Nutter, Jr., Betty Ocheltree, Geraldine Palma, William Palmer, Kathleen Parsons, Stephen Pasternak, William Patterson, Henry Petitgirard, Alice Perez, Sylvia Philipps, Russel Pitzer, Wilma Pope, Robert Posey, Benny Quinnones, Mona Radcliff, Lillian Reger, Stanley Rittenhouse, Nancy Robey, Margaret Rogers, Walter Romine, Thomas Sabatelli, Phyliss Saccone, Dorothy Sams, Mary B. Secret, Raymond Sehon<![if !supportFootnotes]>[45]<![endif]>, Thurza Sharpe, Doris Shaver, Earl Shipplett, John "Junior" Shipplett<![if !supportFootnotes]>[46]<![endif]>, Josephine Simonette, Elizabeth Skeens, George Skinner<![if !supportFootnotes]>[47]<![endif]>, Patty Smith, Tony Spatafore, Martha Stanton, Paul Stopiak, Richard Stout, Betty Strother, Chester Stull, Mari-lee Stull, Bette Suttle, Connie Swiger, Frances Swiger, Carmella Tenda, Virginia Tiano, Julia Urso, Rosalie Urso, Angel Valdez, Joe Veltri, Barbara Walsh, Dorothy Weaver, James West, Burr Westfall, Raymond Whiteman, Naomi Whitehair, Eleanor Williams, Stanley Williams, Roberta Wilson, Bonnie Wiseman, Barbara Xenakis, James Yeater.  Class Sponsors:  Mrs. Pyle, Mrs. McIntyre, Mrs. Summers, Mr. Holden, Mrs. Leuliette, Mrs. Vincent, Mr. Hess.<![if !supportFootnotes]>[48]<![endif]>   1944 Victory Optic, Courtesy, Fred G. Layman ('46)

Class of 1945

Harley Aley, George Allen, Joe Amodio, Lougenia Andre, Jean Ashcraft, Robert Ball, Mary Barberio, John "Jack" Bartos, Margaret Bartos, Betty Lou Bauld, Ronald Baxter, Doris Bland, Lucinda Boals, Robert Lee Boyles, Charlotte Bramer, Mary Catherine Bramer, Willa Lee Bray, Jannette Bruno, Donald Bumgardner, Martha Callihan, Clarence Cash, Dorothy Lou Casto, Mary Cavalle, Virginia Cheuvront, Gordon Conley, Trellis Jean Conner, Jack Contento,Beulah Ann Corder, Harry Cortese (Pres.), Maxine Coulson, Eugene Criner, Gaspard Criner, Betty Cueto, Samuel D'Annunzio, Karl D'Anselmi, Doris Davis, Harold Davisson, Randall Davisson, Carmella DeFazio, Bernadine Devericks, George Diaz, Norma Diaz, John DeFrances,  James DeMick, John DiFranceschi (V.Pres.), Betty Dixon, Chester Dysh, Alton Fairfax, Mary Kathryn Fazalare, Rudolph Fazzini, Annabelle Fernandez, Mary E. Frush, Anita Garcia, Betty Gerrard, Joseph Giaquinto, Lyle Griffith, Bernice Harbert, Eugene Hays, Vernon Ray Hill, Luella Home, Ralph Howell, Ralph Hurley (Treas.),  Ruth Jarvis, Anna Jerome, Mildred Jones, Ruth Jean Jones,  Angeline Karakiozis, James Keith, Dorothy Kenny, Richard Kyle, Charles Lamb, James Lamb<![if !supportFootnotes]>[49]<![endif]>, Fred Lamm, Ann Lasko, Ronald Layman, John Leachman, Robert Leachman, Robert Leeson,  Marion Linch, Anita Llaneza, Angeline Lucian, Kathleen Lynch (Class Sec.), Daisy Mancina, John Marks, Thomas Matthews<![if !supportFootnotes]>[50]<![endif]>, Betty Lou Maxwell, W. Gale McBee, Edward McCall, Mason McNemar, Anna Mechinsky, Josephine Menendez, Bernard Messenger, Alma Miller, Betty Jean Mills, Mablee Mitchell, Arzie Moore, Thelma Moore, Walter Moore, Robert Nardella, Marie Nash, Margaret Nemes, Arthur Nicholson, Georgia Norman, Joseph Norris, Wilma Nutter, Robert O'Neil, Josephine Orlando,  Billie Dove Orr, Geraldine Palagino, Helen Paris, Kathleen Pierce, Stanley Plakatorius, Nina Lee Pouch, Mary Lou Randolph, Betty Lou Richards, Bob Rittenhouse, Jack Rittenhouse, Peggy Robertson, Bernice Robinson, Ruth Rogers, Mary Roveto, Joseph Rowan, William Salentro,  Annette Sams, Charles Schlicker, Emilio Scolapio, Elsie Scott, John Secreto, Betty Shaffer, Marie Sheaffer, Mary Shiffra, Mary Lou Shipley, Ray Shreve, Tom Simon, Edith Sirk, Lorraine Skeens, Richard Skinner, James Kirk  Smith, John Snodgrass, Martha Jean Snyder, John Spatafore, Joseph Spatafore, Helen Strother, Richard Strother, Samuel Strother, Nina Summers, Earle Swager, Betty Swiger, Eamline Swiger, Louise Syrian, Mary E. Taylor, Dortha Terry, Martha Thomas, Eftihia Topaka<![if !supportFootnotes]>[51]<![endif]>, Maxine Tresize, Frances Trupo, Mary Ellen Turner, William Vannoy, Glenna Wallace, Ruth Webb, Mary Lee Westfall, Clifford Williams, Juanita Williams, Richard Williams, Norma Gene Wilson, Clifford Wolverton, Mary Jo Wycoff, Margaret Yambrick, Verna Belle Yoho.  Class Sponsors: Elma Robinson, Susan Montgomery, Candace Davis, Helen D. Davisson, Thorold Funk, Samuel J. Iaquinta, Mary Bond Showalter, Lucille Summers.  1945 Victory Optic, Courtesy, Fred G. Layman "plus other sources".   

Class of 1946

James Abruzzino, Angelo Alastanos, John Alexander, Lloyd Alvarez, Paul Alvarez, James Amodio,  Frank A. Anania,  Robert Anderson, Edward Antulov, Joseph Barberio, Louella Barnes, Rosalie Barr, Victoria Bartosh, Domineck Basile, Bessie L. Bramer, Mary Caldwell, Nicholas Caletges, Anthony Capozzi, Mary Frances Caroli, Jean Case, Dorothy Cash, Leona Chidester, Raymond Clark, Harley Clayton, Ada Mae Corley, Paul Cox, Wanda Crickbaum, Juanita Cutright, Versel Dalton, Dorothy Davis (Sec-Treas.), Phyllis Hope Davis, Joan Davisson, Lois Jean Davisson, Frank DeFazio, Viola Jean DeMario, Joseph Dericko, Salvatore Devonno, Louise Diaz, Jack Douglass (Pres.), Paul Douglass, Frank Durr (V.Pres.), Robert Enochs, Lawrence Farnsworth, Rose Marie Fazalare, William Fazzini, Shirley Fernandez, Clorinda Filippine, James Fragale, Kathryn Fratt, Iris Freshour,  Joseph Gallo, Sara Belle Gallo, Joseph Garcia, Clifford Goff, Carl Gola, Jack Goldsmith, Betty Griffith, Delores Griffith, Earl Griffith, Lawrence Griffith, Lloyd Grimes, John Paul Grisso, Doris Jean Harvey, Jean Heavner, John Hickman, Alvinna Howell, Berton Hyman, Retta Lee James, Mary Rose Karakozis, Irene Kerns, Annabell Kimberling, Betty Lantz, Mary Frances Layfield,    Fred G. Layman, Emmet Linch, Jack Linville, Anna Llwellyn, Alfred Lopez, Louis Lopez, Velma Lopez, Mary Louise Lough, Marvin Matthews <![if !supportFootnotes]>[52]<![endif]>, Thomas Matthews<![if !supportFootnotes]>[53]<![endif]>, Ruth Ellen McCann, Louise McClung, Betty Marie McCoy, Phyllis McCray, Glenn H. McKinney, Dorothy McNemar, Elizabeth McQuaid, Betty McVaney, Jules Malfregeot, Anna Louise Mancina, Leonard Markley, Thresia Martino, Robert Matheny, Thomas Matthews, Frank Mazzo, Flora Menendez, Robert Mikes, Katie Mitchell, Bonnie Moore, Wilbur Webb Moore, Jerry Murphy, Betty Lou Nay, Joe Nestor, David Newbrough, John Newbrough, Margaret Ann Newbrough, Jack Nichols, Lois Nutter, Cormadeen Pernell, Mildred Plivelich, Melina Powell, Bettie Propst, Raymond Pope, Charlotte Ramsey, Carl Rogers, Eileen Reese, Kenneth Reeves, Mary Catherine Rice, David Robey, Frankie Rollins, Ruth Rollins, Edith Romano, Mary Gay Romano, Francis Schmidt, Helen Sears, Patricia Sharpe, Margaret Shawhan, William Alfred "Freddie" Shipplett, Jewel Shipplett, Russell Shreve, Dale Smith, Harvey Smith, Yolanda Spatafore, Charles Starkey, Olga Stenger, Eugene Stewart, James Stewart, Alice Stout, Robert Glenn Sullivan, Deloris Swiger, C. Jack Swiger, Walter E. Swiger, Jr., Louis Talerico, Samuel Talerico, Willis Tharpe, William Tiano, Louella Jean Vance, Rocco Venziano, Catherine Viale, Alberta Walker, James Waller, Everett Ward, Frank Walsh, Jack Weaver, Harry Wittman, Charles K. Williams, Maxine Williams, Helen Willison, Hilda Yeager, Frank Zontek.  1946 Victory Optic, Courtesy, Fred G. Layman, Class of 1946

Class of 1947

Molly Abraham, Betty Allen, Mike Amodio, Russell Anania, Dorothy Arehart, Edward Lee Ashcraft, Jane Ashcraft, Samuel Audia, Victoria Audia, William Audia, Mary Jane Auvil, June Bailey, Jimmy Barberio, Mary Barille, Daisy Barillaro, Robert Bartley, Martha Bates, Harold Bell, Joe Bellotte, Sam Bellotte,  Anthony Bellotti, Jr., Carolyn Blake, Roberta Bland, Flora Blidgett, Joie Lee Bramer, Jesse Franklin "Sonny" Bray, Eugene Bowen, Betty Brown, Marlyn Brown, John Bruce, Marion Bruce, Romeo Caloccia, Daisy Campbell, Paul Carder, Catherine Caroli, Phyllis Carpenter, Mary K. Caussin, Maureen Chenoweth, Billy Cox, Benny D'Annunizo, David D'Anselmi, Jo Ann Daugneaux, Myron Fay Davisson, Frances Dawson, George Denton, Wilda Dodrill, Thomas E. "Gene" Douglass, Georgia Elbon, Nancy Ervin, Laura Farnsworth, Vancy Fazzini, Margaret Felix, Ross Ferrari, Bernard Fittro, Charles Leonard Fittro, Donald Lee Floyd, Lou Fowler, Emilio Fratto, Bob Gabbert, Stella Garcia, Alfreda Gerrard, David George, Fred Gilbert, Dick Gladwell, Marvin Goodwin, James Grant, Claude Griffith, Phyllis Gumm, George Harrison, Robert Heaton, Jerry Heavner, Virginia Hill, John Holt, Ronald Home, Mary Delores Howell, Doris Hupp, Mary Hurley, Mary Isner, Eddie James, Lena Jerome, Dottie Johnson, Willa Jean Karakozis, Dorothy Karere, Francis Keith, Helen Lamb, Madelline Lasure, Juanita Laulis, Phyllis Lawson, Betty Leachman, Virgil Leeson, Helen Leasure, Charlott Leeson, Albert Lefevre, Arthur LeFevre, Anna Marie Lopez, Frank Lopez, James Lopez, Betty Lowther, Robert Lowther, Betty Jo Loy, Dempsey Madia, Leonard Madia, Doris J. Martin, Gene Martin, Vincent Martino, Ruby Mathews, Freda Matson, Margaret Maxwell, Jack McBee, Jean McKeen, Patty Meade, Anna Marie Merandi, Jack Merandi, Bob Messenger, Ronald Miller, Mildred Moine, Lola Montgomery, Charles Moore, Ruth "Dotty" Moore, Helen Mucha, Ray Nardelli, Virginia Nardelli, George Nemes, Barbara A. Nicholas, Frank Nicoletti, Betty Norman, Wesley Nutter, Mildred Nuzum, Lucy Oliverio, Tony Paletta, Mary Palmer, Kathleen Panetta, Matthew Paris, Lillian Phillips, Betty Rose Pierce, Jack E. Powell, Jack R. Powell, Richard Rader, Richard Radin, Martha Randolph, Bill Reed, Barbara Richards, Charleen Richards, Margaret Imogene Rieser, Mary Edith Rigsby, Betty Jean Rogers, Helen Lee Rogers, Mildred E. Rogers, Jeanie Rolland, Albert Romain, Nick Sakaley, Lavena Shaffer, Bill Sharpe, Mary Lou Shawhan, Gene Shipplett, Kenneth Simms, Larry Simonette, James Skinner, Paul L. Smith<![if !supportFootnotes]>[54]<![endif]>, Sam Spadafore, Evelyn Springer, Elaine Sprouse, Paul Steele, Mary Lou Stewart, Dottie Sullivan, Benny Swiger, Janice Ann Swiger, Mary Talerico, Catherine Tenda, Jean Thompson, Mary Lou Titchenal, Lucille Trigaux, Sam Urso, Eva Vilone, Georgia Voldeck, Jack Walker, Betty Jo Westfall, Margaret Wetzel, John Williams, Norman Williams, Porter Williams, Betty Lou Wilson, Elwood Wilt, Junior Wine, Paul Wyckoff.   1947 Victory Optic, Courtesy, Ruby Mathews Casto, Class of 1947 ; Additions -  FGL  

 

Class of 1948                                                                               

Wayne Aley, Fred Alkire, Elvira Alvino, William Ashcraft, Katie Audia, Tony Audia, Sarah Bailey, Jim Barberio, Miriam Blake, Robert Bland, Ralph Boyce, Barbara Boyles, William Boyles, Virginia Lee Bramer, Charles K. Brooks, Carvel Brown, Rosemary Brunetti, Charles Bumgardner, Nick Carbacio, James Clingan, Beatrice Cooper, Guy Cork, Judy Cottrill, Robert Cottrill, Joan Courtney, Mona L. Cox, Vance Cox, William Craig, Elmer Crites, Lelah Crites, David Cross, Phyllis Cutright, Elouise Dalton, Clarence Davis, Dorothy Davis, Gene DeFrances, Ralph Dennison, Ray Dennison, Betty Denton, Natalie Dodd, Donald Douglass, Pattie Eaton, John Edwards, Robert Emery, Alpherdine Elliott, Jim Ewart, Mary Fazzini, Bernard Ferrando, Carl Fittro, Clayton Fittro, Imogene Fittro, Richard Fox, Anita Jean Fragale, Adeline Fragale, William Fretwell, Donald Funk, Harold Gaines, Patty Gallien, Tony Gallo, Benny Garcia, Delores Gerrard, Jack Gillespie, Grayson Glaspell, James Goldsmith, Marie Griffith, Arnold Grogg, Doris Hammond, William Harvey, William Hurst, Oneda Hurst, Luella Hustead, Richard Hyre, Chester Ingram, Betty Jackson, Richard James, Leonard Jarvis, Angelena Jerome, Robert Johnson, John Karakiozis, Elizabeth Karnis, Betty Kern, Martha Lou Kyle, Edward Lasko, Edith Leuliette, Lucille Lopez, Manuel Lopez, Rose Lucente, Roma Lucian, Betty Mancina, Wilma Rose Markley, Betty Marshall, Jimmy Martin, Roy McCoy, Ronald McIntyre, Stanley McIntyre, Barbara McKinney, Charles McNemar, Willa McVaney, Wanda Michael, Angelo Miller, Margaret Moore, Claude Moore, James Moore, Ramona Muniz, Marie Musci, Paul Musgrave, Lawrence Nale, Robert Nale, Betty Nestor, Robert Newbrough, Rosalie Nutter, Mary Louise Oliverio, Frances Palagino, Max Parks, Betty Patterson, Jack Patterson, Mary Lou Patterson, Betty Paugh, Maxine Phillips, Jack Plivelich, Charles Prather, Jack Radcliffe, Hodge Rebrook, Robert Rebrook, Robert Riberio Ogden, Frances Rice, Charles Edward Richards, Jr., Leroy Rigsby, Richard Robey, Emlia Romain, Delores Jean Ross, Jack Rucker, Margaret Scott, Lona Seamon, Frank Secreto, Helen Sharpe, Betty Shaver, Gene L. "Jocko" Shipplett, Dewitt Shingleton, Norma Shreve, Georgia Shreve, Jean Simon, Lewis Sirk, Bernice Smith, Paul Smith, Margaret Sneed, James Snodgrass, Genevieve Spatafore, Tony Spina, Carroll W. Stull, Joan Stull, Betty Swiger, Norma Swiger, Margaret Tamenne, Chester Tharp, Raymond Thibaut, Julia Thomas, Joe Tiano, George Topakas, Ray Trunick, Joe Trupo, Betty Turner, Sam Veltri, Norma Webb, Vivian Westfall, Barbara Williams, Connie Williams, Mary Williams, James Wilson, Davy Wolford.  Courtesy, Fred G. Layman<![if !supportFootnotes]>[55]<![endif]>    

Class of 1949                           

Richard Abraham, Aurelio Alvino, Jean Andre, JoAnn Andre, Anna Angiulli, Dorothy Angiulli, Betty Arehart, Helen Ashcraft, John Barberio, Ramona Barnes,  Dorsey Baumgardner, Robert Bauld<![if !supportFootnotes]>[56]<![endif]>, Ronald Bell, Anna Marie Bellotte, Samuel Bellotte, William Blake, Amaryllis Bramer, Smiley Caldwell, Frances Caletges, Ruth Caloccia, Gloria Capicola, Nancy Caroli, Beulah Carder, Freda Charles, James Clark, Edna Collins, James Collins, Mary Collins, Patty Collins, Pete Congi, Johnny Conners, Mary Contento, Jack Cottrill, Carl Crimm, Duane Edward Daniels, Charles Davis, Nancy Davis, Mario DeFazio, Connie Diaz, Stephen Drummond, Envangeline Evangelinos, Marceline Fernandez, David L. Ferrando, Rose Marie Fiorenza, Joe Fitzpatrick, Mary Lou Floyd, Wilma Gambazza, Mona Garner, Robert Garrett, Norma Lee George, Pete Giaquinto, David Goldsmith, John Grandstaff, Robert Griffin, Lorena Hamilton, Rosemary Hamilton, Orden Hamrick, Freda Hardman, Tom Harrison, Anna Marie Huffman, Betty Jean Jacobs, Mary Ellen Jenkins, Arthur Karlen, Charles Kennington, Andy Kovach, John Kyle, Martha Lanham, Peggy Lantz, Arthur Lichillo, Warren Lilyea, Paul Llaneza, Pauline Llaneza, Marshall Lopez, Clara Lupas, Oranna Martin, Frank Masto, Glen Matheny, Mary Catherine Mazzo, Sana Lee Mazzo, Alliston McAtee, Bettty Lee Michael, Jack Mikes, Mary Belle Mills, Teresa Minnite, Omar Moody, Colleen Moore, Ada Rose Morrison, Tillie Muniz, Louise Nardelli, Jimmy Nemes, Rutheda Nestor, June Newbrough, Jim Nichols, Bob Norman, Harold E. Nutter, William O'Field, Jim O'Grady, Carmine Oliverio, Johanna Panther, John Patterson, Clara Belle Paugh, Robert Perkins, Patty Pernell, Anna Lou Phillips, Bill Poling, Jack Rebrook, Iris Reeves, Conrad Rhodes, Kenneth Rigdon, Gene Riggins, Billy Robinson, Bob Ross, Sam Scolopio, Sarah Secreto, Flora Shiffra, Argyle Shingleton, Ralph Shipplett, Margie Skeens, Richard Sleeth, Clarence Smith, Emma Smith, Jack Smith, Jean Smith, Ralph Smith, Rhoda Mae Sommerville, Emma Starkey, Elaine Stewart, Onalee Stier, Arthur Strother, Vivian Summers, Lonnie Swiger, Nancy Swiger, Phyllis Swiger, Geneva Talerico, Geraldine Tate, Dave Thompson, Jean Thorne, Everett Trader, Marie Trembly, Angelina Ventura, Marguerite Vilone, Lena Vincent, Jimmy Vizzari, Howard Ware, Jerry Webb, Davy Wetzel, Alma Wheeler, Benny Williams, Kenneth Williams, James Wilson, Robert Lee Wilson, Shirley Woodyard.  1949 Victory Optic, Courtesy Peggy (Lantz) Layman, Class of 1949

Class of 1950                                                                                         

Dale Allen, Rose Marie Anania, Sam Dominick Anania, H. J. "Jack" Anastasakis, Jean Ashcraft, Marie Ashcraft, Mary Jane Barnes, Betty Baumgardner, Marlene Bowen, Patty Bunner, Otha Cain, Vickie Caroli, Edna Carpenter, Donald Casto, Dora Clark, Lillian Coenen, Bernard Costilow, Theresa Cummings, Billy Joe Davis, Kenneth Davis, Joretta Dawson<![if !supportFootnotes]>[57]<![endif]>, Agnes Demastus, Betty Lou Denton, Ethel Dobbins, George A. Earnest, Joan Elbon, Patty Ervin, Fred Fazalare, Gloria Felix, Mary Jo Fernandez, Robert E. Fincham, Betty J. Fittro, Donald L. Fittro, Martha Ann Fittro, Edmund L. Flint, Donna Foutty, Georgiette "Jerry" Fowler, Richard Frame, Joan Gerrard, Frank Geso, Fayetta Gibson, Carol Grandstaff, Sara Marie Grimes, William Golden, Martha Ann Haggerty, Judy Hamilton, John Hamric, Willa Hartman, Rachel Hayes, Paul Heater, Nancy Heenan, Mary Hodgkiss, Nancy Huffman, Ronald Hufford, Helen Hyman, Ann Jarvis, Beatrice Johnson, Ralph Karlen, Edith Kelley, Richard Kennedy, Bill Kerere, Wilma Kern, Clarence Kight, Jack Lanham, Winalee Lantz, Harold W. Layfield, Francis Leep, Louise Loria, John Luikart, Dominick Marano, Robert Marks, Chester Martin, Loretta Matheny, Martha Jean Maxson, Bernard Maxwell, Freda Maxwell, Gary McCauley, Ireta McIntyre, Rex McIntyre, James Mearns, Jesse Medina, Anita Menendez, Louis Menendez, Eugene Merandi, Donna Jean Michael, Carol Moore, Joanne Moore, Kenneth L. Moore, Robert F. Moore, Stephen Moore, Naomi Moran, Eddie Mucha, Carl Norman, Virginia L. Orlando, Carl Paris, Emma Jean Parker, Marion L. Parker, Margaret Patterson, Richard Phillipart, Bernadine Phillips, Delores Mildred Poe, Russell "Buddy" Prince, Donald Rebrook, Basil Wayne Robinson, Mary Ann Robinson, Don Schneider, Carl James Seamon, Russell Shaffer, Marilyn Kay Sharpe, John Shipley, Norma Jean Simon, Jean Singleton, Robert Skeens, Charlotte Skidmore, Monalee Skinner, Jennings Slusser, Edgar Lee Smith, Patty Smith, Jack Southern, Patty Spina, Margaret Stewart, James Stuart, Donna Swiger, Lois Swiger, William "Wig" Swiger, Jim Swisher, Ray Sylvester, J. Donald Talkington, G. Leon Talkington, Carl Tenda, Delores Thibaut, Sadie Thompson, David L. Tipper, Mary Lenora Torch, Theresa Ann "Terry" Urso, Edith Wallace, Stuart M. Walker, Dorothy J. Werner, L. Donald Westfall, James Wilhelm, Carl Williams. Courtesy Fred Layman, no source cited.   <![if !supportFootnotes]>[58]<![endif]>

Class of 1951                           

Betty Abraham, Ruth Ann Alton, Gail Allen, Frances Amodio, Brooks Anderson, Ruth Ann Ashcraft, Frances Audio, Earl Auvil, John Banks, Martha Bates, Robert Bates, Gene Bailey, Ruth Laurence Bellotte, Ramona Bias, Lila Bibbee, Emoline Bonnett, Mary Boyce, Dick Bramer, Dale Cain, Delores Caldwell, Lena Christopher, Catherine Cirullo, Ruth clayton, Betty Coffman, Charlie Compton, Lenora Crawford, James Currey, Lawrence D'Anselmi, James Davisson, Joseph Defazio, Bernice Maxine Dye, Peggy Evans Jimmie Ferrando, Frances Findley, Herbert Frashure, Josephine Fuggiano, Frank Giaquinto, Patty Gould, Dorothy Gray, Clara June Greene, Paul Wayne Haggerty, Robert Hall, Peggy Haller, Joretta Hamilton, Louise Hannah, Ronald Haptonstall, Robert Hardman, Ruth Hardman, Dorothy Hitchcock, Eugene Hitchcock, Frencalene Howell, James Hufford, Oliver Huffman, Jo Ann Huger, Marjorie Hyre, Mary Ingram, Barbara Insani, Phyliss Jenkins, James Jerome, Imogene Johnson, Wilma Johnston, Tony Karakiozis, Barbara Karnis, Katherine Karnis, Clifford Kearns, Sue Ann Kidd, Bernice Kirby, Louetta Knight, Virginia Knight, Ronald Kopp, Bill Kuhar, Charles Leeson, John Lopez, Pete Lopez, Darrell Loy, Jack Malone, Joe Mancino, Mary Catherine Mancino, Betty Marks, Mary Jo Martin, Carl Maxwell, Rose Mazza, Kathleen McGennis, Jo Ann McIntyre, Delore McNemar, Al McQuaid, Gloria Menendez, Ida Menendez, Pat Messenger, Nancy Michaels, Patricia Miller, Louis Mirroto, Jr., John Moats, Betty Montgomery, Robert Moore, Robert Lewis Moore, Charles Morrison, Katie Nale, Pauline Nardella, Helen Nemes, Bill Nichols, Dick Norman, Retta Nutter, Robert Orr, Pete Perri, June Perine, Carroll Phillips, Donald Plivelich, Mary E. Pulice, Harry Pukey, Charles Radcliff, Nancy Rebrook, Richard Ritter, Eugene Roach, John L. Roach, Zelma Robillard, Jack Rogers, James Rogers, Ellen Rollins, Jean Rollins, Roy Sayre, Frank Secreto, Joe Secreto, Robert Sharpe, Leah Skinner, Betty Smith, Annabelle Snider, Joe Spatafore, Allen Stansberry, Harry Stout, Martha Tate, Nancy Jo Tipper.  Courtesy, Fred G. Layman, no source cited

Class of 1952                             

William Allen (V.P.), Thomas Anania, Paul Anderson, Jr., Howard Ashcraft, Myrle Ashcraft, Ronald Ashcraft, Frances L. Bailey, Marvin Baker, Rose Mary Barberio, Theodore R. Barnes, Nathan Bauld<![if !supportFootnotes]>[59]<![endif]>, Elinor Bee, Anthony Bellotte, Jr., J. Maxine Booth, Nancy J. Bow (Sec.), Iona Belle Bryner, Samuel J. Brunetti, Joyce Ann Bullough, James L. Burkhammer, Richard Caldwell, Vincent Carfora, Fred Childers, William M. Compton, Jean Ann Cork, Ernest L. Costilow, Anna Cox, Rosalie Cummings, Dennis Cunningham, James Daughtery (Pres.), Charles Davis, Delphia V. Davis, AugustineDe Fazio, William Desist, Eva J. Dewitt, Shirley Jean Dingo, Mae Louise Dodd, Martha Drummond, Lois-Jean Drumpus, Rondel Duncan, Wanda Eddy, Kathryn Este, Norma Ewart, Dorothy E. Farnsworth, Rachel M. Fazzini, Doris Lee Fernandez, Leslie A. Ferrell, JoAnn Fittro, Patricia Flint, Joyce Floyd, Peggy Joan Fox, Patty A. Frum, Edwin Fultz, Paige Furbee, James Gaines, Andy Garcia, Robert Gaston, Mary Ellen George, Junior Giaquinto, Andrew Goldsmith, Howard Goodwin, Pearl Griffith, Glenn Hamric, Carolyn W. Hanna, Mary Lois Hannah, Nina Hardman, Rosalie Harding, Clovis Heldreth, Norma Lee Holbert, Ralph Holder, Marilyn A. House, Artlene Houser, Carolyn Hupp, James Hurst, Jean Hyman, Mary Ann Julian, Robert Kenny, Norma Jean Kirk, Phyllis D. Knight, Georgean Kourpas, Steve E. Kovach, Roy B. Lamb, Alice Lasko, Kenna Layfield, Norma Jean Layfield, Virginia Linch, Catherine Lopez, Virginia Loria, Barbara Lough (Treas.), Thelma Lough, Alice A. Male, Dorothy Marshall, Hester Martin, Virginia McFarlin, Tom Merandi, Roy Messaris, Patricia Nutter, Sam Oliverio, John Panther, Edward L. Pasternak, Clista Patterson, Mary Martha Perri, Marlene Phillips, JoAnn Piccolo, Mary Poe, Juanita Pratt, John Propst, James Pukey, William B. Reeves, Irene Reynolds, Peggy Reynolds, Margaret J. Richards, Okey Richards, Carl Riggs, Kent Riggs, David F. Roberts, Sue Rogers, Carmen Romano, Philip Rossano, Mary Ellen Sayre, Carolyn Short, Eleanor Smallwood, William Smith, Betty Messinger, John Michael, Cornelius Mihaliak, Pauline Miller, Francis Mirrotto, Jane Moats, Jean Moore, Jon Moore, Kathryn Moore, Nina Moore, Patty Morris, Patricia Newbrough, Maxine Norman, Clifford Nutter, Paul Starkey, Norman Steele, James Stewart, Eugene Streets, Joan G. Sylvester, Gerry F. Tenney, Phyllis J. Tenda, Dorothy Thomas, Donald Tipper, Phyllis Tomes, Thelma E. Traugh, Jo Ann Trusler, Ronald Vargo, Lucy Vizzari, Deloris M. Watson, Wanda Whaley, James Wilkes, Beverly Wolfe, Geraldine Wright, Patricia Wyckoff.  Class Advisors:  Bernard Sullivan, Antoinette Ernst, Lillie Morgan, Charles Childers, Sen. Walter Holden, Grace Van Horn. Courtesy, Fred G. Layman - "from a yearbook".

Class of 1953

Gus Alastanos, Claude Amsler, Nancy Amsler, Mildred Anderson, Ralph Angiuilli, Edwin Ash, Robert Ash, Michael Audia, Gerald Bailey, Robert Barnes, Ted Been, Eleanor Bolle,  Gordon Bowman, Charles Brown, Eatha Jean Cain, Mary Calafatis, Donald Caloccia, Norma Canfield, Carl E. Carr, Janet Caussin, Ruth Ann Chipps, Shirley Ruth Curry, Robert Daughtery, Mary Ann DeMicco, Patty Dennison, Anna Mae Derby, Etta Erwin, Constantine Evangelinos, Carole Lee Drumpus, Edwin Duncan, Michael Faherty, David Fernandez, Vance Fisher, Robert A. Flanigan*, Robert Flint, William Flowers, Marlene Fontaine, Connie Garcia, Charles Garrett, James Gianettino, Janice Gill, Barbara Gould, Andrew "Boe" Greaver, Patty Greynolds, James Griffith, Elda Jo Griffith, Ruth Gulas, Martha Hammond, Leeann H. Riggenbach*, Margaret Haney, Charles Hannah, Jack Lee Hart, James Hamilton, Mary A. Hayes, Donald Hickman, Gene Hickman, Hollis Higginbotham*, Janice Holder, Theodore Hupp, Jr., Franklin Hurst, Patricia Husk, Daniel Francis Janicak<![if !supportFootnotes]>[60]<![endif]>, Dominick Jerome, Clifford Jones, Robert Kern, Eugene Kight, Okey Kimberling, Duane Knight, Robert Knight, Donald I. Kopp, Robert Leasure, David Lefevre, Barbara Linsbeck, Beverly Linsbeck, George (Greg) Liptak, James Lowell, Frank Lucente, Dominick Marano, Rose Marano, Barbara Martin, Hester Martin, Frank Matheny, Otto Matheny, Clarence R. Matthey, June Means, Helen Jean McCarty, James McCoy, Ella J. McElroy, Lowell T. Meyer, Marchetta Moats, Nada M. Montgomery, Charles Moore, Jr., Nancy Jane Moore, Emily Mullin, Harold Napier*, William Parker, Jackson Patterson, Teresa Mae Perri, Glen Perine, Roy Phillips, Marian Jeanette Pierce, John Plivelich, Corrine Lawrence Potvin, Altha Jean Powell, Roy Pratt, Frank Pulice, Wilma Randolph, Judith Sue Rebrook, Kelcel Reed, George Reed, Cora A. Reider, Carl Riley, Barbara Ritter, Jerry Robey, Mary Virginia Robey, Charles Robilliard, James Rogers, Raymond Romain, Helen Sakaley, Connie Sayre, Joe Scardina*, Jim Schmitz, Victoria Secreto, Thomas Sharpe, Robert Lee Shinn, Joyce Shreve, Dorothy Shipplett, Betty June Short, Joe Simonette, John Simonette, Imogene Snodgrass, Mary E. Tate, Rex Talkington*, Betty Tasker, Ralph Thrasher, Faye Weekley*, Shirley Welks, Charles Wells, Patricia Wetzel, Robert Wetzel, Dale Wheeler, Barbara Williams, John White, Harold Wilhelm, Orpha Williams, Richard Wilson, Anna Pearl Wilt, Beverly Wyckoff, Carol Youmans, Nancy Lee Zeck.  1953 Victory Optic,  Courtesy, Imogene Sirk Duncan, Class of 1953;   Additions -  courtesy Diane Felton Liptak, Class of 1957,  wife of George "Greg" Liptak, Class of 1953;   *- Not pictured in 1953 yearbook or may be an earlier classmate.

Class of 1954                                

Barbara Jean Allen, John Roosevelt Anania, Shirley Jo Andre, Lila Lee Arehart, Jack Lee Ashcraft, Ethel Delores Bailey, Okey Adelbert Bailey, Martha Jane Bankhead, Ann Barberio, Felicity Ann Been, Charles Beezel, Dora Louise Bell, Charles Theodore Bow, Shirley Annette Bramer, Clarabell Brown, Julia Bertalee Brown, Donald Frederick Bumgardner, Helen Louise Bunner, Gladys Ellen Burg, Robert Euegene Byrnes, III, Catherine Marie Cain, Patricia Pearl Carey, Ronnie Clem Carey, Barbara Ann Coberly, Faris Woodrow Coffindaffer, Alfreda Mae Compton, Lena Joann Cottrill, Menoka Crawford, Donald Everett Criss, Barbara Ruth Cunningham, Betty Jo Davisson, Larry Davisson, Sylvester DeFazio, Delores Jean Delaney, Martha Elaine Dennison, Carl Edward Duncan, Barbara Evans, Paul Edward Faherty, Clara Sue Flint, Donald Eugene Flowers, Patrick Eugene Fortney, Rosetta Annette Fuggiano, Walter Ralph Fultz, James Keith Gabbert, Pauline Ganoe, Nancy Roberta Gaskin, Archie A. Glaspell, Lula Belle Godfrey, Mary Ann Goodwin, Faye Jean Grandstaff, Delores Jean Greathouse, Margaret Jean Griffin, Jerry Grimes, Ruth Ann Hall, Norman Rudolph Hamric, Jenetta JoAnn Hannah, Walter Noel Hardman, Jacqueline Winona Hays, Gerald Lee Hill, Bertha Glene Hodgkiss, Frederick Kent House, Ernest Edward Huffman, Phyllis Claudette Hurst, Helen Elizabeth Ruth Hustead, Eugene Jaumot, Marlana Sue Johnson, Frances Rae Jones, Olga Karakiozis, Charles Darwin Kearns, Frances Ann Kerns, Wayne Huffman Kidd, Edith Moreth Kimble, David Carl Knight, Eugene Melvin Kopp, Jr., Juliana Mary Kopp, Helen Lambernedis, Clarence Newman Leggett, Shirley Ann Lightner, Anthony Loria, Deloris Ilene Loy, Dorothy Irene Loy, Robert F. McCann, Eva LaVaughn McCarty, Carol June McInnes, Margaret Jean Marano, Ralph Marshall, Helen LaDonn Martin, Virginia F. Mercandino, Phillip DeLyle Messinger, Russel Howard Miller, Helen Marie Moats, Ebbert G. Morrison, Jr., Virginia Ann Moschella, Claudette Dolores Murphy, Harold Ray Napier, Carl Kenneth Nestor, Clarice Ellen Nestor, Dorothea Jean Nestor, Seymour Richard Newbrough, Jerry Okey Newman, Barbara Lee Nicholson, Lester L. Norris, Marvin Ray Nutter, Patricia Rose Oliverio, Henry Clay Palmer, Jr., Marilyn Ruth Parker, James Robert Patterson, Joseph Perri, Barbara Pratt, Connie Jean Rebrook, Harry Edmond Richards, II, James Richards, Robert Roberti, Florence Mary Robilliard, Catherine Sue Rogers, Rhea Rae Rogers, Martha Ann Scotchie, Sarah Belle Scott, Nellie Jane Seamon, Evelyn Virginia Shriver, Anna Theresa Simonette,  Kenneth Skinner, Shirley Mae Skinner, Donald Edward Smith, George F. Smith, Barbara Sue Smythe, Patricia Ann Sneed, John Snyder, John Paul Spatafore, Joretta Patterson Starkey, Sample Houston Stewart, Lucille Marie Stout, Edna Ruth Strother, John William Strother, Donald Eugene Summers, Shirley Ann Swisher, Thomas Vincent Tenda, Ronald Paul Thorne, Archie Todd, Jr., Mary Jean Todd, Jacob Traugh, Hilda Mae Walls, Catherine Walsh, Deloris Ann Watkins, Ronald Lee Watkins, Jimmy Allen Weekley, Patricia West, Chester Louis Whitehair, Minnie Marie Wilcox, JoAnn Ruth Wilson, John Calvin Wilt, Shirley Jean Wolfe, Shirley Jean Wright, John Martin Yambrick, Ronald Eugene Zeck. Class of 1954 Diploma List from the Commencement program,  Courtesy, Jacqueline "Jackie" Hays Lafferty, Class of 1954, via Carl "Buzz" Floyd, Class of 1956;  <![if !supportFootnotes]>[61]<![endif]>

Class of 1955                                                                                      

Douglas Alexander, Martha Ann Alexander, Shirley Jean Alkire, Mary Allen, Delores Allowat, Robert Alton, Pauletta Amsler, John Anderson,  Betty Jean Atha, James Athey, Garland Bailey, Shirley Bailey, Harriet Grace Bauld<![if !supportFootnotes]>[62]<![endif]>, George Mason Beezel, Joy Ann Bowen, Mike Broderick, Annetta Brunetti, Joseph P. Brunetti, II, Marie Buckmeyer, Edward Burnside, Margaret Calafatis, Phillis Canfield, Marcia Carpenter, Delores June Carroll, Frankie Jo Cashdollar, Rose Marie Christafore, Margery Cirullo, Keith M. Clark, Evelyn Clutter, Mary Theresa Conch, Harold C. Conner, Linda Rae Cottrill, Sandra Creighton, Joann Cummings, Philip Cunningham, Norma Jean Dalton, Ella Davis, Shirley Davis, Lyndall Debar, Patricia Deering, Carol Sue Deffet, Elizabeth "Betty" Ann DeLuca, Mary Lou Dodd, Jim Donahue, Peggy Jo Dorsey, Shafter Drummond,  Laura Jane Dunn, Barbara Lynn Eavenson, Norma Marlene Edgell, Loretta Lou Ellison,  James Alfred Este, Beverly Jo Fernandez, Freddie Fernandez, Robert Bob Ferrando, Patricia Gay Fitzhugh, Loren Lee Flanigan, Reta Flowers, David Foltz,  Judith Ann Foppiano, Kenneth Fowler, Martha Patricia Sue "Penny"Fowler, Mary Fuggiano, Nancy Louise Funk, Gloria Jean Gabbert, Charlotte Gaines, Velma Elaine Garrett, Robert Gianettino, Robert Godfrey, Emilio Gola, Joan Goolie, Darrell Gorrell, Ancel Greathouse, Charles Greathouse, Peggy Jo Greynolds, Junior R. Griffin, Mary Jane Grimm, John Gully,  Engle Leslie Hall, Esther Hardman, Claude E. Harris, Sam Hilton, Ronald Frederick Holden, Robert A. Holdsworth, Nancy Jo Insani, Robert Joseph Insani, Wilma Johnson, Yvonne Johnston, Patricia Ann Junkins, Barbara Keith, Sheila Kennedy, Ruth Ann Keys, James Kopp,  Betty Lamm, Virginia Ann Lawson, Loretta Leeson, Mary Frances Lepon, William Thomas Linsbeck, Patricia Looman, Marlene Ann Losh, Donald Lynch, Robert Mancuso, Patricia Ann Mayle, Ronald Neil McClung, Robert E. McNabb, Albert Frank Merandi, Mildred Mercandino, Kenneth F. Mills, Jr., Hubert Modispaugh, Coda Monroe, James Moran, Reva Moran, Pat Costa Morrison, Angelo Moschella, Lavern Murphy, Kathryn Murray, Jane Newbrough, Lanora Jean Newbrough, Thomas M. Nichols, Connie Nicholson, Don Norman, Don Norman, (yes, there were two with same name) Elaine Marie Norman, James Thomas Norman, Carmen Oliverio, Annette Olmsted, Lavoris Jean Pernell, Deloris Jane Perri, Thomas Philippart, Alice Pierce, Louetta Jean Pope, Linda Powell, Ernest Radcliff, Stephen A. Randolph, Robert Reed, Kathryn Reider, Virgil Riffle,  Jr., Ellen Joanne Ritter, Larry Gene Robey, Marilyn Kay Robey, Deloris Roby, Teddy Edward Roby, Mary Frances Romeo, Ronald Sandy, Mark San Julian, Arlene Scott, Jo Ann Sendling, Phyllis Deanna Shiffra, Dave Shingleton, Franklin Shipley, Delores Short,  Margaret Short, Marjorie Shriver, Bill Singleton, Paul Duane Sprouse, Ronnie Sprouse, Robert Squires, Rebecca Lou Strother, Arlen Swiger, Diana Swiger, Harold R. Swiger, Lelia Gay Swisher, Carl Taylor, Patricia Joan Taylor, Sandra Sue Tipper, Warren L. Trimble, Shirley Trusler, Jesse Vasquez, Nancy Ruth Vassar, Leah Ventura, Thomas Walsh, Don Welks, Jack L. Wells, Floyd West, Jacqueline Dale Whitehair, Pleasie Wilcox, Ronnie Williams.  1955 Victory Optic,  Courtesy, Toni Sprouse Erchak, Class of 1957   <![if !supportFootnotes]>[63]<![endif]>

Class of 1956                                                                                         

Jack Adams, Delores Alvarez, Richard Alvarez, Vicki Anania, Charles Anderson, Sherry Arnett, Rosalyn Arthur, Dorothy Bailey, Mary Ann Beezel, Coy Bell, Mary Burg, Tauni Jean Bryan, Anna Bonazzo, Alma Cain, Juania Calafatis, Francis Caldwell, Joe Caroli, Marlene Carpenter, Diane Chatham, Mary Clark, Glenna Chipps, Tom Chrisman,  Joan Clevenger, Orlan Clevenger, Gwen Clifton, Mary Jo Coffindaffer, Sandra Coffindaffer, Louvilla Coffman, Vito Contento, Winona Crislip,  Sandra Criss, Ramona Cropp, Norma Cyphers, Joyce Daughtery, Barbara Davis, David Davis, Anthony DeMicco, Francis Denham, Alice Dixon, Barbara Elliot, Abraham Fazzini, Sheila Fincham, Thomas Fittro, Danny Flint, Robert Flowers, Carl "Buzz" Floyd, Virginia Fortney, Beverly Fowler, Coleman Fretwell, Donald Fretwell, Barbara Furbee, Patty Gaines, Kenneth "Punky" Garrett, Darrell Gawthrop, Sharon Gill, Sandra Glenn, Catherine Gola, Larry Gonzalez, Ronald Gonzalez, David Gould, Norma Gower, Mike Gulas, Nancy Hill, Ronnie Hill, Margaret Holbert, Kay Hurst, Sarah Mae Husk, Virginia Hyde, Ronald Hamrick, Joe Isner, Ronnie Karere, James Karnis, Bill Karrigan, Charlotte Kontak, Mary Jo Kopp, Marie Kourpas, Fred Knapp, Donald Kyle, Nick Lamberdinis, Bill Lawson, Ruth Linger, Mary Ann Liptak, Mike Lucas, Loretta Lyons, Rosemarie Marano, James Marks, David Masto, Eddie Maxwell, Jasper McIntyre, Nancy McKeen, Charlene McKenny, Ann McKown, Roy Mearns, Neva Menear, Roy Menedez, Betty Meriner, Betty Michael, Betty Miller, Ruth Moats, Joe Montgomery, Ann Moore, Judy Moore, Virginia Norris, Charles Murray, Sandra Murphy, Sheila Musci, Nancy Newbrough, Susie Newbrough, Shila Newman, Geneva Panther, Frank Patterson, Junior Perri, Doneta Phillips, Eddie Posey, Donald Pulice, Ronald Pulice, Charles Pyle, Austin Reed, Roberta Reed, Charlotte B. Reeves, Mary Ann Rhoads, Paul Richards, Kay Riggs, Patty Rigsby, Patty Ritter, William "Hooker" Roberti, Judy Romano, Mary Ross, Okey L. Sands<![if !supportFootnotes]>[64]<![endif]>, Judy San Julian, Christine Schmitz, Charles Settles, Kenneth Shinn, Shirley Short, Janie Shultz, Jackie Sears, JoAnne Sirk, Bob Smallwood, Richard Smith, Oscar "Sonny" Smith, Carl Squires, Jerry Stackpole, Bill Sterling, Nancy Streets, Marlene Swiger, Sandra Swiger, Delores Taylor, Richard Tenda, Mary Ann Thomas, David Toothman, Harry Trimble, John Tyler, Caroline Walker, Danny Walls, Ronnie Wamsley, Aneette White, Lawrence Wilkinson, Nancy Ann Wilkinson, Larry Williams, Nancy Williams, Ralph Williams, Robert Williams, Martha Wolfe, David Worstell, Dixie Lou Wyatt, Marlene Youmans, Joe Yambrick, Janice Zeck.  1956 Victory Optic, Courtesy, Larry Knight; Class of 1959; Additions -   FGL

Class of 1957                                                                                           

Jane Adams, Joan Allen, Edward Allowatt, Jerry Ancell, Connie Annie, Mary Ashcraft, Carol Baker, Paul Barberio, Robert Barnes, John Bellote,  Paul Bethel, Richard Bias, Rosemary Boggs, Delores Brown,  Sandra Bryan, Robert Cain, Loretta Carr, Dave Carpenter, Cecil Casto, Jack Casto, John Chatham, James Cistaro, Jean Clark, Shirley Clark, Frances Conch, John Cottrill, Roger Cottrill, Jerry Criner, Keith Cutlip, Arnet Davis, John Davis, Marlene Davisson, Anthony DeFazio, Sam DeMaria, Frances Demastus, Ferrold Devericks, Judy Drumpus, Phyllis Earnest, Arden Elder, Mary Elder, Marian Este, Betty Jo Felix, Diane Felton, Lee Finley, Don Flanigan, Dolores Fowler, Frances Fowler, Daleen Frum, Alice Frye, Robert Fultz, Richard Gabriel, Charles George, Carolyn Godfrey, Betsy Gore, Gary Gould, Valerie Griffin,  Shirley Gump,  Shirley Hammond,  Frank Hamrick,  Sonja Hanna, Judy Holden, Sue Holden, John Hollen, Freddy Huet, Basil Hurst, Ida Hustead, Kenneth R. Insani, Rusty Isner, Norman Julian, George Junkins, Barbara Keith, Helen Kerns, Shirley Kerns, Louis Kidd, Dale Knight, Patty Long, Patty Lawrence, Jean Lemasters, John Paul Liptak, Joyce Looman,  Patty Losh, David Lucente, Jim Lynch, Joan Lynch, Sheila Lynch,  Rose Ann Morano, Barbara Marchurella, William Markley, Shelba Mayle,  Clarence Mays, Rosalind Mazzo, Kenneth McCartney,  Helen McIntyre, Joretta McIntyre, Don Michael, Glenda Mitchell, Martha Moore, Robert Moran, Daniel Nay,  Joy Newlon, Rex Newlon,  Coleen Nichols, Betty Nicholson, Nancy Patterson,  Jerry Pernell, Betty Phillips, Barbara Plivelich, Margaret Pukey, Shirley Pulice, Lorraine Patty Reed, Sandra Reed, Shirley Reed, Sherry Reider,  Helen Roach, Joy Rodriquez, Gloria Roupe, Martha Ryan, Richard Schmidt, Esther Secreto, John Shawhan, Jack Shingleton, Regina Siders, Ann Sines, Dixie Sinnett, Sandra Skinner, Golora Smith, Nancy Smith,  Gene Snyder, Eddie Spatafore, Sharon Sprouse<![if !supportFootnotes]>[65]<![endif]>,  Toni Sprouse,  Jerry Stewart, Shelby Stout, Jackie Summers, Raymond Swiger, Don Talkington,  John Tenda, Sara Tenda, Dolores Thomas, Bill Thompson, Cleo Thompson,  Sandra Tiano, Ruth Ann Todd, Shirley Trader, Manuel Valdez, Jonathan Ventura,  Dave Villers,  Jim Villers, Nancy Vincent, Bob Walls, Mike Warner, Patricia Weekley, Lillie Wetzel, Dixie Whitehair, Eddie Wickenhofer, Dorothy Wilcox, Jean Wilson, Bettie Jo Yeager. 1957 Victory Optic  Courtesy, Toni Sprouse Erchak, Class of 1957  (158 graduates)  

Class of 1958                                                                                          

Ruth Alta, Sam Alvaro, Pete Anania, Albert Armistead, Donald Ash, Barbara Ashcraft, Gladys Belle Ashcraft, Betty Carolyn Bailey, Anthony Barillaro, Karen Sue Bastin,  Neil D. Bennett, David F. Bitonti, Denzil Wayne Blosser, Mary Ellen Bolle, Edward Bottura, Carolyn Sue Brannon, Jerry W. Brown, Anthony Brunetti, Charlotte J. Bumbardner, Russell Wayne Bunner, Mary Louise Cain, Anna Stacea Calafatis, Blaine Campbell, Ronald Eugene Campbell, Charles Carey, Donna Carol Caruthers, Cecil Casto, Carolinda Jean Caussin,  Shirley Jean Clayton, Carol Conner, Delores Jean Cottrill, Thomas Lynn Cottrill, David Allan Criss, Robert R. Daniels, Eleanor Davis, Sue Ann Davis, Marshall Davisson, Sue Ann Davisson, Luther Deem, Loretta Demastus, Sam DeMicco, William Junior Desist, Coletta Dias, Dennis Dale Duncan, James Duncan, Bob Eavenson, Robert Jack Elliott, Barbara Sue Ervin,  Barbara J. Este, Clara Evans, Patty Faherty, Brenda Joyce Felton, Judy Ann Ferrell, Marlene Joyce Findley, Barbara Fittro, James Allen Fittro, Donald R. Fitzhugh, Carolyn Jean Fornash, Ronald Lee Fortney, Alston Funk, Jr., Donald Lee Gabriel, Erseline Leon Gainer, Evelyn Georgeadis<![if !supportFootnotes]>[66]<![endif]>, Mary Ann Gerasco, David Gianettino, Frank Glaspell, Dave Goolie, Barbara (Gower) Walls, Kathryn Granett, Mary Elizabeth Gray, Carol Greynolds<![if !supportFootnotes]>[67]<![endif]>, Rose Marie Guinn, Charles Hall, Norma Hammond, William F. Hardy, Jr., Paul O. Hill, Becky Holden, Gayleen Hornbeck, Cora Jean Huffman, James Allen Hurley, William Hurst, Judith Husk, James Isner, Edison Jenkins, Joan Kerere, Constance Kaye Kiernan, David Allen Knight,  Francis "Turtle" Knight, Doris Kooken, Judy Kucinec, Doris May Johnson, Norma Elaine Johnson, Bill Lamm, James E. Land, Betty Leeson, William H. Lightner, Delores Linville, Lulu Jessie (Lockett) Woods, Carol Leah Loria, Mary Jo Loria, Ronald James Mancuso, Lucetta Maston, Cassel Matthey, Michael D. Mayes,  Janice Ann McAtee, Ronald Paul McVaney, Kenley Lynn Menendez,  Martha Virginia Merandi, Eddie Mihaliak, Lloyd Edgar Nestor, Steve Nicholson, Thurman Ray Nutter, David Patterson, Billie Joyce Pernell, Dean Allen Pernell,  John Perri, Dave Post, Judy Ann Powell, Martha Preston, Bernard C. Ramsey, Jr., Harold Loye Reed, Jesse Reeves, Lorraine Reeves, Mary B. Riddle,  Kay Ritter, Buddy Rogers, Gordyne "Dena" San Julian, Patricia Ann (Scolopio) Villers, Virginia Shinn, Alberta Shipley, Ellen Shultz,  Janice Skinner, Alta Martin Smith, Doris Jean Smith, Fred Logan Smith, Jr., Jerry Sprout,  Linda Carole Snyder, Rebecca Steele, Shirley Strother, Carole Sue Swiger, Janie Swiger, Melvin Swiger, Louise Thibault, Susan Marie Thorne, Kenneth Thorp,  T. Joe Tipper, Jr., Nancy Jane Titchenal, Wanda Trimble, Rebecca Van Scoy, Richard Van Scoy, John Weaver, Paul David Weese, Karren Rae Wells, Sharron Gay Wells, Fairburn West, Louella Whitehead, Don Wilson, Eileen Winning, Richard Lee Winters, Sue Wolfe, Martha Worstell, Dane Zinn. 1958 Victory Optic   Courtesy, Sharon Sprouse Bramhall, Class of 1960

Class of 1959                                                                                          

John Lyle Allen, Ramona Alvarez, Frances Ash, Patty Ash, Patricia B. Ashcraft, Ed Baker, Sam Barberio, Sheila Barron, Martha L. Blake, Margaret Bloise, Mary Lou Brown (Huet), Beverly Boyles, Floyd Burnside, Bill Carder, Alberta Carpenter, Charles Carpenter, Eddie Otto Carpenter, William Harrison Cain, Eddie Chapman, Sara Jean Chipps, John Christafore, Janet Clayton, Winonna Sue Cochran, Sue Conners, William "Sonny" Crislip, Shirley Velara Cutlip, Carolyn D'Anselmi, Harry D'Anselmi, Nancy Jo Davis, Sue Davis, Bill Demastus, Susie Dennison, Barbara DeMicco, Marlene DiMaria, Michael DiMaria,  Roger Diaz, Loretta Dodd, Barbara Duarte,  Fred Durandy<![if !supportFootnotes]>[68]<![endif]>, Carl Wayne Edgell, Donna Finley, Jim Fittro, Sue Flowers,  John Floyd, James Frum, Henrietta Furby,  Margaret Todd Fury, Joyce Anne Gainer, Nancy Gaines, Iona Georgeadis, James Gill, Dave Gluhak, Santina Gola, Jeannie Goodwin, Mary Gould, Larry Griffin, Jess Grimm, Gail Hannah, Betty Jean Hardy, Rose Ann Harvey, Mike Heatherly, Norma Jean Heflin, Richard Hess, John Hickman, Dave Hilton, Robert Huff, Minnie Huffman, Mary Ann Ice,  Bob Jacobs, Catherine Ann Jermont, Sam Jermont, Gary Richard Jenkins, William J. Kaska, Earnest Dixon "Dick" Kennedy, Larry Knight, Micky Knotts, Barbara Kontak, Doris "Dotty" Koontz,  Bob Lachapelle, Jr., Arnold Lasure, Harold Lawson, Vera Linger, Edward Loar, Carol Ruth Lynch, Jimmy Lynch, Donna May MacTavish, Ralph Main, George Masto, Rick McCoy, Jerry McKeen, Francis McWhorter, Verna McElroy (Welch), Ronald Michael, Eleanor Louise Miller, Jerry Miller, Ramona Miller, Carol Moody, Charles Moody, Charles Terry Morrow, Virginia Morgan, Flora Norman, Donald Nutter, Kenneth Oldaker,  Joan Victorio Oliverio, William Nelson "Billy" O'Neil, W. Max Palmer, Paul Patterson, Martha Louise Paugh, Clyde Pierce, John J. Pokrzywa, Mary Virginia Pendlosky, Tyrone Pollack, Sylvia Helen Phillips, Karen Elaine Reeves, Bill Reynolds, Mary Frances Rebrook, Luetta Rhoads, Richard O. tRiter, Janie Robey,  David Romeo, Karen Reeves, Joan Ross, Andrea Rowe, Tom Sands, Bob Schneider, Pat Sirianni, Raydean Sands, Thomas Sands, Orman Shingleton, Ann Shinn, Jerry Singleton,  Eugene Sirk, Joy Sleeth, Carol Redena Smith, Jim Smythe, Patricia Ann Spencer, Davey Lee Strother, Judy Strother, Elizabeth Swiger, Wayne Leon Swiger, Madeline Talerico, Sam Talerico, Anna Lee Terneus, Karen Tharp, Patricia Louise Thomas,  Margaret Todd, Annabel Lee Trusler, Jocelyn Veltri, Sandra Sue Walker, Marian Gay Whisler,  Eleanor "Nortie" White<![if !supportFootnotes]>[69]<![endif]>, Barbara Williams (Arnett), Charles "Bee" Williams, Charlotte Wolfe, (Miss) Eldred Lyni Wolfe, Kimma Wright.  1959 Victory Optic, Courtesy, Sharon Sprouse Bramhall, Class of 1960

Class of 1960                                  

Eugene Allen*, Janet Lucille Anderson, Marlin Ray Ashcraft, Reta Irene Bailey, Mary Ann Barberio, Carol Ann Barnes, Charlotte June Barney, Judith Rae Bartlett, Paul Albert Bastin, Jr., Larry Batson<![if !supportFootnotes]>[70]<![endif]>, Barbara Lynn Ann Beasi, Elaine Bellotte*, Barbara Joe Bennett, Nora Virginia Bissett, John Black*, James Edward Boggs, Charles George Bolle, David Paul Bonnett, Edward Lindsey Buckmeyer, Hiram Eugene "Gene" Burnside, Carolyn Jean Burrows, Karen Sue Callihan, Nancy Sue Capicola, Harold David Carr, Janet Pauline Casto, Trena Rae Cistaro, Ronald Lee Clark, Harry "Rex" Clayton, Jr., Charles Kenneth Clutter, Kathleen Louise Conn, Sandra Kay Cottrill, Anna Rose Crickbaum, Willard Crislip, Mary Lee Cutlip, Carl Eugene Cyphers<![if !supportFootnotes]>[71]<![endif]>, Sarah Ann Daniels, Don Davis*, Gail Davisson*,  Judy Dawson, John DeFazio, Jr., Janet Rae Deffett, Ella Demastus*, Julia Hope Dennison, Avis Derby*, Larry Wayne Dishman, Keith Dodd*, Mary Ann Dorsey, Richard Eugene Drummond, Harold Richard "Pete" Eavenson, Richard Vance Farnsworth, Joyce Fernandez, Susan Mae Fernandez, Alice Lee Fincham, Frances Finley*, David Fiorenza*, Michael Dawes Flaherty, Barbara Ann Flanagan, Ronald David Flowers, Janet Kay Fowler, Evelyn Lois Fox, Warren Dale Fultz, Donald Dale Funk, Barbara Jo Gaines, Mary Wanona Gallo, Thomas Gerrard*, Charles Richard Gill, Ed Gillespie, Larry Gillespie, Zelphia Godrey*, Iris Lawanda Hamilton, Thomas Wayne Hamrick, Nancy Jo Haney, Norman Russell Hardman, Betty Hardy*, Nancy Hardy, Christopher Ladd Harker, Jennifer Lynn Harris, Karen Harris*, Hugh Lloyd "Happy" Heater, Jr., Nancy Lee Heflin, Manuel Heres, Jr., Edward Lanham Hickman, Kenneth Hill, Robert Aaron Hill, Patricia "Sue" Holtz, Norma Irene Hurley, Betty Marie Husk, Charlotte Lou Ellen Jenkins, Carolyn Sue Jermont, Dorothy June Johnson, Karen Sue Jones, Karen Sue "Kay" Kacinec, Vera Karnis*, James Norman Keener, Michael Paul Kennedy, Shirley Darlene Kerns, Roberta Ruth Kittle, Connie Knapp*, Barbara Kay Knight, Mickey Knotts, Sandra Sue Kopp, Judy Ellen Kuhar, Judith Ann Lamm, Carl Marion Lantz, Brenda Jo Lauderman, Bruce Lawson*, David Michael Lawson, Pat Lemastus*, Victor Loserick Leon, Sandra Jo Lepley, Franklin Dewayne Lewark, Thelma Lipscomb*, Rosa Lockett, Velma Jean Lockett, Rebecca Lucente, Wanda Lunsford*, Sharon Kay Lynch, Frances Main*, Billy Pat Martin, James Patrick Martino, Dolores Jean Maseda, Jack Lee Maxwell, Stephen Thomas Mayes, Sharon Sue McAtee, Barbara McCauley*, Clyde Wallace "Wally" McCloud, Paul Lester McNabb, Judith Joette McVaney, Janet Ann Michaels, Richard Dwight Minigh, DeEtta Kay Moore, John David Moore, Junior Morano*, Carolyn Louise Moschella, Dorothy June Murphy, Sylvia Myers*, Argyl Ward Norman, Jeannine Louise "Jeanie" O'Neil,  Sandra Palmer*, Richard Arlen "Dick" Patterson, Sharron Ruth Paugh, Herbert Theodore Phillips, Rosa Anna Pipero*, Elizabeth Arrena Poe, Margaret Diane Powell, Alice Faye Powley, James Edward Pratt, Harvey Lemar Preston, Jr., Ronnie James Prince, Virginia Frances Prince, Mary Jane Rader, Donna Lee Ramsey, William Russell Ramsey, Gloria Charlene Rebrook, Mary Jane Rebrook, Gary Brooks Reeves, George Martin Reeves, Leonard Zane Reger, John Dorsey Rhoads, Patrick Daniel Romano, David San Julian, Linda Rae San Julian, Mary Jane Sayre, Mary Jo Scalise, Mona Blanche Scott, Denzil Sealey*, Rosalie Diane Second, Linda Lee Shaffer, Patricia Shaffer*, Margaret Ruth "Peggy" Shinn, Raymond Brooks Shreve, Fannie Virginia Shultz, Gary Simons, John Calvin Sirk, Leonard Frederick "Fred" Smith, Raymond Lee Smith, Waverly Lou Snider, Gary Sprouse*, Sharon Ann Sprouse, Carol Ann Starett, Ellouise Strader, Karen Ann Summers, Doris Jean Swiger, Rebecca Sue Swiger, Twyla Ellen Swiger, Betty Ann Talkington, Brenda Taylor, Merle Taylor*, Catherine Marie Tenda, Nellie Mae Tenney, Rebecca Kay Tenney, Edward Martin Thompson, Paul Daniel Thompson, Carolyn May Thorne, Charles Kenneth Todd, Jerry Tomes*, Margaret Ann Utter, Linda Marie Valentine, Linda Lou Van Scoy, Bill Ventura*, Rebecca Marlene Walls, Joyce Carol Wanstreet, Robert Ray Watson, Donald Lee Webb, Shirley Alice Westfall, Patricia Lucille Whaley, Juanita Carol Whisler, Eleanor White<![if !supportFootnotes]>[72]<![endif]>, West Edward Williams, Kenneth Paul Wilson, Valerie Anne Wilson, Ellen Jane Wilt, Harry Richard Wright, Fred Wilbert Wyatt, II.  1960 Victory Optic yearbooks,  * -  Earlier classmates from the 1958 and 1959 Victory Optics;;  Courtesy, Sharon Sprouse Bramhall, Class of 1960; .

Class of 1961                                                                                           

Bill Allawat*,  Roy Ernest Armstead, Crandall Lee Ash, Raymond Ash, William Baker,  Sue Barker, Shirley Barnes*, Paul Barron, Bill Bates, Frank Baxter, William Bee, Janice Bennet,* Harley Bissett*, Charles Blake, Sandra Sue Bork, Paul Brady, Barbara Carolyn Brewer, Rose Bright*,  Mary Ann Bronick, David L. Bryan, James Bunnell, Paul Burrows, Sue Ann Caputo, Connie Casto, Karon Clonch*, John Conch, Clara Crawford, Marilyn Crawford, Ronnie Cross, Don Davis, Eugenia Lee Davis, Lorraine Davis, Sandra Davis, Donna Davisson, Janet Delaney*,  Rebecca Donohue*, Lucinda Dussart, Gary Bill Devericks,  Gary Dodd, Lois Edgell,  Karol Elliott, Wayne Teann Fernandez, Joy Lee Fincham, Colleen Kay Findley, Robert Fittro, Linda Fowler, Margaret Frame (Scardina), Sharon Virginia Frum, Columbus Gainer, Tommy Gaines, Joseph Gerasco, Marybelle Gerrard, Kenny Gianettino, Sam Gianettino,  Larry Gillespie, Peggy Goldsmith, Gary Gonzalez,  Larry Gray, James Greynolds, Sheila Ann Guinn, Roylene Kay Haggerty, Gary Hammond, Sheila Jane Hammond,  June Anne Haney, Judy Hannah*, Toni Jo Harbert, Waneta Eleanor Harper, Robert Harris, Marion Louella Harvey, Martha Hawkinberry, Martha Hawkins*, Florinda Carmen Heres, Howard Heflin, Grace Charlotte Hickman, James Hill*, Carolyn Hines, Rodney Hollar, Carolyn Huffman,  Brenda Joyce Hughes, Charlene Hummel, Judy Hurley, Linda Kay Hurley, Judy Ice, Sue Jones, Ella Patricia Joyce, Norman Lawrence Karis, Robert P. Kile, Ronnie Kimble, Walter Grant Knight, Wilbur Brent Knight<![if !supportFootnotes]>[73]<![endif]>, Pete Kulick*, Connie Lachapelle, Mike Lawrence, Gloria Jene LeBenne, Parke Leggett, Pat Lemasters*, Frank Leone, Jr., Truman Lipscomb, Frank Liptak, Dominick Marano, B. Lewis Marino, Judy Marks, John S. Marra, Susan Marston, Donna Martin, April Mayle, Carolyn Mayle, Larry McCracken*, Ruby McDaniels*, Bonnie McVaney, Angel Medina, Andria Menendez, David Mihaliak, Ann Moats, Peggy Moffett, Mykel Moore, Grover "Sonny" Moore, Nancy Moran, Ann Morris*, Paul Morris, Carolyn Myers, Janice Nay*,  Perry Nay*, Cheryl Newbrough, Marlene Newbrough, Jim Nicholson, Bernice Sue Ogden-Mick, Don Patterson, Robert Paugh, Eugene Perine, Neil Ellis Pernell, Margaret Ann Perri, Susie Perri*, Diana Pierce, Mary Kay Pitts*,  Ray Poling, Edward Ray Pouch, Martha Pratt*,  John Pulice, Carole Frances Pulliam, Ed Radcliff*, Linda Reynolds, Vicki Rebrook, Carrol Rhoades, Loretta Riley, Ronnie Robey, Shirley Rome,  Ralph Edward Russell, Mary Kay Sands, Kenneth Gordon Scott, Barbara Secreto, James Secreto, Havonda Shaver, Kay Shingleton*, Leta Sharon Shingleton, John Lee Shinn, Sharon Sue Shipley, Nancy Jewel Shreve, Beverly Sinnett*, Douglas Smith*, Ernest Smith, Bill Spino*, Billy Snyder, Veronica Stalensky, Vera Kay Stevens, Constance Strother, Mary Jane Strother, Orlett Rando Strother, Roger Strother, Karen Joyce Swiger, Charles Edward Thornhill, Helen Thorp, James Toothman, Robin Dale Toothman, Mollie Trimble, Winona Valentine, Patricia Ann Vargo, Sara Ventura, Nelly Vilain, Richard Warner, Gary Weber, Robert Wetzel, Peggy Whisler, Richard Wickenhofer, John Perry Wilcox, Kenneth Wilhelm, Eugene Williams, Mark Williams, Richard Williams, Dan Winans*, David Wolfe*, Seymour Wolfe, Roger Lee Wright, Bill Wycoff, Mary Ann Yambrick.  1961 Victory Optic, Courtesy, Wilbur Knight Class of 1961,  and Larry Knight, Class of 1959;  *- Additions - 1960 Optic - "Juniors" , Courtesy Sharon Sprouse Bramhall, Class of 1960

Class of 1962                                                                                       

Linda Allawat, Larry Allison, Brenda Ammons, Sharon Ash, Carol Ashcraft, Norma Ashcraft, Larry Bailey, Trena Barberio, Karen Barker, Lawrence Barker, James Barna, Carol Barnes, Ed Bartlett, Sharon Bartlett, Robert Bee,  Sandra Bennett, Dennis Beezel, Janice Beezel, Charles Bies, Bill Bishop, Sharon Bissett, Christine Blake, Ray Bond, Danny Bonnett, Susan Bow, Karen Boyce, Susan Boyles, Richard Brady, Evelyn Brown, Charles Burnside, Bob Butcher, Gail Cain, Wilma Capicola,  Carolyn Caputo, Connie Carpenter, Joe Cash, Nora Casto, Charlotte Caussin, Wendell Chipps,  Beverly Chrisman, Dan Cleavenger, Dan Clonch, Cliff Cochran, James Cochran, Brenda Conner, Clara Crawford, Jane Cutright, Kenny D'Anselmi, Beverly Davis, Carolyn Davis, Connie Davis, Doris Davis, Nancy Davis, Rick Davis, Ricky O. Davis, Robert Davis, Janet Dennison, Howard Dodd,  Cecil Douglass, Dorthy Drummond, Robert Drummond, Shirley Eakle, Carole Eakles, Lorin Elder, Linda Elliott, Sandra Ervin,  Jerry Fernandez, Barbara Ferrando, Juanita Finley, Karen Finley, Delmes Flint, Eugene Fortney, Janice Fortney, Sally Fowler, Lorraine Fury, Delores Gabriel, Richard Gallo, Sarah Gallo, Oretta Gaston, Keith George, Virginia George, Linda Gerasco, Bill Gillespie, Judith Gines, Jim Goodwin, Michael Goodwin,  Sharron Goolie, Steve Hammond, Tim Harker, Willard Hawkinberry, Beverly Hickman, Bill Hickman, Carla Hefner, Inez Holder,  Elma Holliday, Carla Houston, Douglas Hurst, Karen Jarvis, Richard Jenkins,  Bill Joyce,  Steve Karstetter, Barbara Keener, Danny Knight,  Gary Knight, Ronnie Kootz, Nick Liptak, Michael Lockard, James Losh, Ralph Mayer, David McCauley, Jack McClung, Bob McDaniels, Neil McDaniel, Mike McLean,  Gary McWhorter, Nancy Lamm, Linda Langford, Elberta Markley, Fred Martin,  Elizabeth Marshall, Roger Maxwell, Ronnie Maxwell, Maureen McCray, Janet Minigh, Tim Morton, Dorothy Moore, Lyle Newman, Carl Nichols, Judy Nicholson, Robert Paugh, Daniel Phares, Randall Pierce, Gladys Pitts, Hazel Plaugher, Bill Pulice, Rita Rhoads, Dewayne Rhoades, Sheila Richards, Kenneth Queen, Sheila Quickle,  Frances Riley, Danny Robey, John Rock,  Roy Rogers, Carole Roy, Jeff Sandy, Mary Ellen Schmitz, Kenneth Scott, Larry See, Betty Shinn, Karen Shipplett,  Dorsey Shreve, Paul Seftick, Everett Shiffra, Kay Sines, Jim Singleton, Linda Singleton, Carla Sisler, Nellie Sites, Ann Smith, Bill Smith, James Smith, Rando Strother, Mary Stutler,  Catherine Swiger, Mabel Swiger, Sandra Swiger, James Talerico, Jackie Taylor, Judy Thrasher, Diane Toothman, Judy Trusler, Sharon Van Scoy, Mariam Ventura, Larry Verbick, Barbara Walker, Gary Walls, Barbara Ward,  Jeanne Marie Watkins, Gary Watson, Lou Watson, Roger Waybright, Linda Wells, Sue Westfall, Nora Lou Williams, Richard Williams, Clem Wilson, Linda Wilson, James Winning.  1960 Victory Optic - "Sophomores", Courtesy, Sharon Sprouse Bramhall, Class of 1960

Class  of 1963                            

Class of 1964                                                                                    

Lawrence Abraham, Vanessa Alonso, Margaret Darlene Amodio, Sam Annie, Jr., Kenneth Lee Arbogast, Michael Atha, Jocelyn Bernadette Arthur, Howard Dale Bailey, Janet Irene Baker, Patti Ann Bark, William H. Barna, Linda Dell Barnes, Brenda Been, Margaret Ann Bissett, Tina Bohlman, Patti Ann Bork, Gerald Lee Bower, Steve Brady, Barbara Darrelene Bramer, Larry Bramer, Gary Britton, Dorothy Leoma Broadstone, Jerry Brown, Sharon Elaine Brown, Larry Bunch, Charlotte Carlene Bunnell, Joe Bunnell, Helen Jean Burns, Wilma Cain, Carolyn Caldwell, Donald Carpenter, Larry A. Carpenter, Ronald Carpenter, Walter Willis Clark, Jr., Sandra Joyce Clifton, Robert Allen "Butch" Cochran, Robert Dale Cochran, Jr., Becky Coffindaffer, Sharon Irene Corley, Raymond Cox, David Crock, Kenneth Lane Davis, Roberta Sue Davis, Benny Demastus, Clara Jean DeMicco, Blaine William Devericks, Charlotte Elaine Dodd, Leo Glenn Dodd, Jr., Shirley Lynn Dolan, Gary Wayne Donahue, Norma Jean Doyle, Stephon Tomas Faherty, Roger Bruce Fankhauser, Tom Findley, Terry Joseph Fittro, Barbara Jo Forquer, Richard T. Fowler, Judith Ann Fox, William Albert Frum, Betty Mae Gaines, Carole Ray Anne George, Judith Ann George, Jack Gerrard, Nancy Louise Gerrard, Richard Gillis, Mike Gola, Steven P. Goolie, Pamela Sue Gray, Frank William Gregis, Dixie Gumm, Rodney Lee Hall, Marilyn Davisson Hamrick, Lynn Scott Herbert, Melissa Cam Harker, Aneita Dawn Harris, Sue Etta Harris, Patricia Elaine Hart, Bennie Hollar, Sandra Jean Fernandez Hollar, Sanda Kay Houillet, Alice Huntermark, Charlotte Iaquinta, Alannah Suzette Jennings, Howard Eugene Johnston, Maxine Johnson, Roger Wayne Johnson,  Ronald Lee Johnson,  Betty Jean Jones, Edward Kerns, Larry Kile, Roger William Kimble, Kathryn Knapp, Rick Knight, Sharon Lynn Knight, Anna Marie Lake, Carol Jean Lamb, Thomas Lambiotte, Jayne Lamm, Melanie Rae Lamm, Pamela Ann Lauderman, Charlotte Eileen Leep, Tina Genevieve Leon, Phyllis Rose Leone, Ginger Yalonda Lewis, Brenda Kay Lilly, George Michael Liptak, Charles Edward Lockett, Thomas Eugene Lockette, Gerald "Jerry" Losh, Patricia Lynn Lynch, Michael S. Malcolm, Judith Ann Marino, Roger Clinton Marra, Eleanor Sue Maston, Peggy Sue Maxwell,  Sherman Linsey Mayle, Jr., Alice Faye McAtee, Donna June McClung, Anna Mae McDaniels, Arthur Garfield McDaniel, Bernice McElroy, Archibald Thomas McInnes, Carolyn Sue McIntyre, Millicent McKillop, Bill McNemar, Shari Darlene McWilliams, Terry Lynn Medina, Wanda Sue Merill, Linda Merrill, Gary E. Middleton, Denzil Earl Miller, W. Steve Minigh, G. Edward Mittong, Tommy Joe Moffett, Ada Leola Moore, Charles Moore, Terry F. Moore, Charles William Morgan, Sandra Joyce Moschella, Ronald Lee Murphy, Larry Naus, Helen Verna Nay, Barbara Jean Nelson, Harold Nelson, Jr., Brenda Kay Nery, John M. Nicholson, Shirley Jean Ogden, Donna Jean Oldaker, Donna O'Neil, Donna Lockhart Patterson, John Paugh, John James Pendlosky, Mike Perri, Richard Duane Phillips, Barbara Ann Pierce, Worthy Earl Poe, James Robert Pokrzywa, Richard Wayne Poling, Diana Pollace, William R. Powell, Judith Ann Pratt, Judith Eleanor Putz, Jerry Charles Rebrook, Terry Lynn Reid, Jenny Lou Rhoades, Darlene Richards, Howard Delbert Riddle, Constance Salentro, Anthony Joseph Scalise, Diana Scalise, Roy Franklin Scott, Jr., Clifford Thomas Singleton, Eileen Smith, Thomas Michael Smith, Sharon Lee Snyder, Stanley Sommerville, Larry Joseph Spence, Nancy Carol Spencer, Michael Wayne Sprouse, Jimmie Mary Starr, Robert Hampton Stovall, Barbara Strother, James Owen Strother, Sherri Stutler, Charleen June Sutton, Linda Kay Talkington,  Norma Jean Talkington, Carolyn Tenney, Ellery A. Thorne, James R. Thorne, Jim Thornhill, Thomas Keith Tinney, Patricia Tomes, Barbara Daun Toothman, Esther Alleda Trimble, Danny Lynn Trunick, John Wayne Trusler, Mary Ann Verbick, Malcolm Edward Ward, Lois Darlene Warner, James Robert Watson, Mary Louise Weber, Sharon Kay Weber, Mary Lee White, Daniel F. Williams, Betty June Bunch Wilcox, Lucille Virginia Wilson, Barbara Jean Winans, Roy Eugene Whitney Winter, Janet Lee Woodburn, David Lee Wright, John Edward Wyatt.  1964 Victory Optic, Courtesy, Pamela Lauderman Nicholson, Class of 1964; Additions - Larry Knight, Class of 1959

Class of 1965                                                                                            

Sally Ann Alvarez, Jack Alonso, Jr., James Paul Alonso, Sally Ann Alvarez, Eddie Lee Anderson, Linda Marie Ankrom, Steve Arnett, Martin Eugene Atha, Mary Darlene Bailey, John Frank Barberio, Linda Carol Barberio, Pamela Rae Barker, Joyce Ann Bastin, Flora Mae Beasi, Sandra Kay Bee, Terry Allen Bee, Timothy Howard Bennett, Charles Black, Sonia Jean Bolle, Don Eric Bonazzo, Barbara Jean Bowers, Mary Lettecio Bragg, Terry Lynn Bramer, Gary Wayne Broadwater, Judith Lynn Brooks, Mary Alice Bunnell, Margaret Mary Burke, Eugenia Janet Butler, Linda Louise Campbell, Samuel Ray Capicola, Carmella Josephine Capozzi, Charles Franklin "Chuck" Carpenter, James Russell Carpenter, Jr.,  Francis Post Casto, Jerry Blair Childers, William Richard Childers, Teresa Mary Circosta, Allen Joseph Cody, Jerry Heinrick Compton, Ruth Ann Conley, Louie Christafore, Danny Cook, Kathy Elizabeth Corley, Daniel Paul Courtney, Edward Lloyd Cox, Pamela Kay Crislip, Linda Darlene Cross,  Gary Lynn Cross, Darwin Gary Daniels, Don Ray Davis, Harold Ray Davisson, Richard Eugene Davisson, Carole Ann Deems, Frank Andrew Dennison, Mary Ann Dennison, Edna Esther Derby, Nella Gay Dofflemyer, Walter Fontaine Dodd, Barbara Jean Dory (Sec.), Harold Eugene Douglass, Jr., Myrenda Louise Drumpus, John Edward Eakle, Jr., Mark Enke, Mary Mercehni Ervin, Carrie Lynne Fedio, Kenneth Michael Ferrando, Charles Edward Fincham, Zandera Kay Finley, Terry Lee Fisher, Henry Frederick Fitzpatrick, Terry Lynn Forman, Phyllis Carol Fortney, Jon Michael Fowler, Karen Louise Fowler, Larry Fowler, Linda Lou Fratt, Robert Pierre Gaines, Mark Wayne Gaskins, Linda Kay Gerrard, Barbara Ann Gillespie, Janis Ann Glaspell, Frances Elaine Glover, Dianna Carol Devericks Gocke, Richard Lee Godfrey, Arthur Edward Gore, James Elwood Gray,  Joy Lynn Gray, Cheryl Lynn Greynolds, Beverly Ann Harbert, Daniel Philip Harris, Thomas William Harrison, Pamela Grace Henegan, Linda Arlene Hickman, Molly Ann Hickman, Naomi Jean Hileman,  Allen Edward Hill, Richard Hill, Thomas Ralph Hilton, Janet Hornbeck, Linda Lea Hughes, James Richard Ice, Brenda Sue Insani, Jim Elmer Jackson, Bertha Elizabeth Johnson, Gale Russell Johnson, Connie Sue Junkins, Linda Louise Kennedy, Nancy Lee Kittle, Bertha Lou Knight, Charles Lee Knotts, Terry Lynn Koontz, John Kulick, Edward Leroy Kyle, John George Lachapelle, Thomas Lauderman (V.P.), David Leon Lawrence, Brenda Joyce Leeson, Martha Annette Lewark, Cheryl Ann Lewis, Marilyn Jean Linch, John Martin Linder, Darla Sue Linville,  Lorraine Linville, Charles Rodney Lowther, Catherine Lea Lynch, Patricia Darlene Lynch, Sabra Ann Lyon, Josette Rose Madia, Anita Louise Malinowski, Howard Charles Mall, JoAnne Marino, Tony Marino, Richard Lee Marks, Larry Anthony Marra, Ronald Lee Maseda, Sam Charles Maxson, Robert Maxwell, Martha Lou Mayle, Terri Jo McAtee, Toni Marie McClung, Linda Jean McIntyre, Patricia Jean McKinney, Diana Sue Menendez,  Barbara Joan Michaels, Paul Mark Mihaliak,  Judith Ann Skinner Moody, Janice Lucette Moore, Robert Lee Moore, Michael Ray Morris (Pres.), Ellen Marie Murphy, Terry Joan Murphy, Sara Sue Nery, Betty Domicela Newbrough, Leonard Sherwood Oldaker, Terry Lynn Palmer, Eddie Michael Pendlosky, Colleen Ann Pernell, Beverly Ann Phillips, George Robert Pitts, Judy Ann Plivelich, James Pratt, Linda Lou Pratt, Martha Katherine Pukey, Tommy Gail Quickle, Shirley Kay Richards, Norma Jean Rollins, Rhea Don Rome, Barton Rowe, Cynthia Salentro, James Anthony Salentro (Treas.), Gary James San Julian, Janet Ann San Julian, Louis Wayne Schmidt, Cheryl Ann Scotchie, Frank James Second, Steven Seckman, Linda Darlene Shaver, Carolyn Suzette Sheaffer, Charlene Louise Shinn, Robert Lee Singleton, Charlotte Faye Sisler, Connie Sue Smith, Patricia Sue Snodgrass, Sam Snopps, Carla Ann Springer, Sharon Jean Steel, George Randy Strogen, Jacqueline Sue Strother, Barbara Sue Summers, Randall Lane Sutton, Cheryl Faye Swiger, Richard Jackson Swiger, Mary Joretta Tarantino, Candace Erlene Tomaro, Sandra Louise Tumbry, Arnold A. Walker, Brenda Howardett Walls, John Thomas Walsh, Jr., Ralph Elwood Ward, Jr.,  David Elmer Warner, Linda Diane Waters, Constance Marie Weaver, Margaret Ann Weber, Stephen Brene West, Rita Rae Whaley, Lynn Milton Whisler, Jr., Gary William White, Dianna Jean Williams, Linda Lee Williams, Paulette Sue Williams, Barbara Marlene Wilson, Michal Diane Wolford, Prudence Ann Wolford, Vicki Jayne Youngman.  1965 Victory Optic, Courtesy, Larry Knight, Class of 1959;  Additions -  FGL

Class of 1966                                                                                        

Carol Jean Alasky, Pete Amodio, Charlene Kay Arbogast, Michael Steven Arnold, Carol Arnett, Alease Ashcraft*, Richard Gary Bailey, Karen Lee Barker, Gibson Lee Barnard, Judy Marie Bartlett, Charles Beachler, Joan Elizabeth Beavers, Gene William Bee, Larry Bennett, Carolyn Sue Beverly, Larry Bonnett*,  Kenneth Boyce, Charles Boyles*, Randy Brady, John Benjamin Bramer, Jr., Melvin Clyde Bramer, Rodney Michael Bramer, Linda Eyvonne Brown, Bonna Mae Bunch, David Porter Carder, Doris Lea Carpenter, Teresa Mary Circosta*, Ronald Hugh Clevenger, George Collins, Paula Darlene Conley, Danny Cook, Suzann Coulson, Cynthia Faye Cox, Karen Sue Cox, Sondra Cross, Starr Culbert, Jon Paul Cummings, Janet Sue Cunningham, Ray Cunningham, Terry Jay Cunningham, Stanford Cutright, Judith Lane Davis, Deborah Susan Davisson, Robert Davisson, Martha Virginia Demastus, Rebecca Sue DeMick, Sharon Kay Denham, Susan Carol Dixon, Roger Dodd, Kay Marlene Eaton, Laura Elliott, Marsha Louise Enke, Margaret Jane Falfas, Harry Paul Ferrell, Carolyn Ann Fincham, Rickey Fisher, Louis Leonard "Skeeter" Fittro, Jr., Suzanne Kay Fittro, Margaret Elaine Fitzpatrick, Linda Lavern Flannery*,  Geraldine Anne "Jerry" Floyd, David Lee Fowler, Terry Fowler, James Joseph Fredman, III, Beverly Jean Gaston,  Richard Gawthrop, Raymond Eugene Gay, Beverly Ann George, William F.  George, Judith Dianne Glover, Judie Marleen Goff, Richard R. Gordon, Donald Gore*, James Gore, Truman Gore, Judy Gray, Clifford Grimes, Barbara Kathleen Gould*, Debra Marie Hardman, Russell Hillard, Katherine Hammrick, Naomi Jean Harris, Brenda Harvey, Margaret Rose Hawkinberry, Phyllis Ann Hawkinberry, Cora Sue Hickman, Thomas Garland Hill, Susan Jane Hilton, Donald Hobbs, Donna Jean Houillet, Connie Kay Hughes, Ruth Elaine Hurst, Michael Hyre, Thomas Jenkins, Joyce Jerilynne, Robert Lee Jones, Jerilynne Joyce*, Judy Keener*, Sandra Kay Kennedy, Raymond Kile*, Doug Knight, Sharon Knotts, Raymond Kyle, Marie Ann Labdick, Patricia Margaret Lachapelle, Terry Edith Lachapelle, John Arnett Lamb, Philip Lamm, Phyllis Elaine Lamm, Richard Layfield, Larry Alan Linch, Sandra Kay Marino, Carol Ann Marks, Terry Marra, Larry Allen Matheny, Janice Marie Maxson, James McAtee*, Patricia Ann McCann, David Kent McCartney, David G. McCloud, Thomas G. McClung, Karen Eileen McWilliams, Blair McVaney, Ellyn Marie Meadows, Hansel Ray Means, Johnny Wayne Miller, Linda Jean Miller, Donna Lee Mills*, Nancy Jean Moore, John Robert Morgan*, John Morton, David Moser,  Charles J. Myers, Clara Jean Myers, John Nay, Robert Nay, Mary Lillian Newbrough, Frank O'Neil, Philip Nicholson, Barbara Joanne Pernell, Eugene Joseph Pokrzywa, Jr., Dianna Sue Poland, Charles Robert Posey,  Diana Lynn Prince, Gail Prince, Ralph Prince, Linda Pukey, Joseph Pumphrey, Charlene Marie Quickle, Della Jean Radcliff, John Victor Rapp, Dave Lee Reymond, Greg Rhoades, Linda Carol Richards, Phyllis Faye Rife, Howard Riffle, David Carl Ringer, Rita Rebecca Robinson, Judy Ann Rock, Velma Rowh, Brooks Sable, James Frederick San Julian, Joseph Scalise, Jr., Guy Scarnati, William B. Schetzel, Linda Shiffra, Karen Sue Scott, Pauletta Sears, Shirley Rosemary Sears, Joe Second, Lola Mae Sestrap, Thomas Shaw, Richard Shields, Peggy Shinn, Kenny Shreves*, Larry Smith, Sarah Virginia Snell, Donald Gale Snyder, Betty Spencer, Patricia Thomas Stamm, Linda Diane Steele, Stanley Stewart, Betty Jo Stout-Maxwell, Anthony Marvin Stovall, Dale Lee Sturm, Mary Ann Stutler*, David Talerico, William Lewis Tanzey, Victoria Ann Tarantino, Beverly Ann Taylor, Marie Technell, Larry Tenda, David Lee Tenney*, Terry J. Tharp, Ruth Ellen Thayer*, Charles Thomas, Charles Edward Thompson, Robert Allen Titchenal, Ruthlyn Ada Tichnell*, James Howard Todd, Jr.*, Virginia Tomes, Francie Tucker, Ruth Aurora Vasquez, Frank Ventura, Rene Ferdinand Vilain, Ruth Vincent, Connie Sue Walker, Howard Anderson Walls, II,  Lynda Watkins, Rita Watson, Carol Weber, Nancy Lee Weber*, David Allen White, Hubert Lee Wilcox, Louis Wilcox, Ronda Zanella Williams, Gary Wilson, Donald Wimer, Denver Winters, Pamela Sue Wiseman, Carolyn Wolfe, Rebecca  Sharon Worstell, Mary Rosella Wright, Eilene Yeater.  1966 Victory Optic, Courtesy Larry Knight, Class of 1959; Additions - FGL;  *- Earlier classmates

Class of 1967

Helen Adams*, Karen Albright, Joe Alvarez, Jim Armistead*, Judy Ashcraft, David Ashcraft, Larry Aylestock, Gary Baker, Homer Barkers, Steve Barnes, Alberta Barns*, Alan L. Bashnett, Bill Been, Larry Beezel, Shirley Bise, James Bland, David Block*, Melva Booth, John Bork*, Mark Boyce, Charles Boyles*, David Bragg, Melvin Brammer, Helena "TJ" Brown, Elaine Burnside, Barry Campbell, Joe Capozzi, Arthur Carpenter, Gary Carpenter, Peggy Carpenter, Vicki Chambers, Shirley Clevenger*, Jackie Clifton, John Clutter, Velma Cokeley, George Collins, Alan Compton, Gary Courtney, Karen Cox,* Jan Crawford, Cathy Cross, David D'Anselmi, Danny Davis*, Gary Davis, Jesse Davis, Mary Davis, Evelyn Davisson*, Linda Davisson,  Roger Dodd, Shirley Dodd*, Barbara Douglass, Glodell Duckworth*, Harold Earnest, Gary Elliot, Leslie Ellison*, Rebecca Eneix, Charles Estep*, Danny Eubank, Georgianna Fidler*, Jimmy Filler*, David Fittro, Kenneth Fittro, Larry Fittro, Mary Fitzpatrick, Stephen Frankhauser, Linda Frame, Robert Ferris, Jeff Fowler, Bill Fratto, Charles Freeman, Beverly Garrett, Robert Gay, Kay Gillespie, Kenneth Gillis, Dave Golden, Peggy Goodnight, Diane Gray, Shirley Greathouse, Judy Green*, Howard Grimes, Kenneth Grimes, Richard Grindstaff, Randy Hamrick, Nelson Harris, Margaret Hathaway, Douglas Haught, Jeff Haught, Dannetta Hayes, Robert Helmick*, Danny Hinkle*, Donna Hickman, Mary Hileman, William Hiney, Linda Hoover, Joy Houston*, Ralph Hurst, Randy Hurst, Terry Hyre, Francis Iaquinta, Richard Ingram, Delores Jackson*, Diane Johnson*, William(?) "Sonny" Johnson*, Rene Jones, James Karis, Donna Kawskay*, Rosa Kiner*, Ronald Knapp, Jack Koontz, Linda LaBenne, Larry Lamm*, Lewis Lamp, Debra Layfield, Karen LeMasters, Robert LeMasters, Pam Linder, Steve Linville, Larry Lockhart, Lexa Long, Margaret Long, Tony Losh, Steve Lyon*, J. B. Malfregeot, Dennis Mann, Sharon Marino, Chester Martin*, Thomas Matthews, Jane Mauller, Jean Mauller, Bonnie Mayes*, Delmas Mayle, Allen McAtee, Dave McAtee, Robert McAtee, Marsha McCartney, Jim McCoy*, Adamae McNemar*, Sue McQuain*, Josephine Menendez, Leo Menendez, Jr.<![if !supportFootnotes]>[75]<![endif]>, Brenda Merrill*, Alice Messinger, Lynn Montgomery, Loretta Miller, Mae Moore*, Deborah Moran, David Muniz*, Bonnie Murphy, Melvin Murphy*, Penny Murphy, Richard Napier, Beverly Nelson, William Nelson*, Debra Newlon, Frank Nicholson, Sheila Nicholson, Gary Parker, Vincent Patton*, Larry Pernell*, Marty Perri, David Pitts, William Poe, Debbie Poling, Barbara Powers*, Phillip Pringle, Eddie Rebrook, Darena Reed, Marty Reid*, Peggy Regester, James Rexrode,  Terry Reynolds, Earl Rhoades*, William Riddle, Violet Riley*, Donna Robinson, Anthony Rome, Brenda Romeo, Jimmy Sands, Charles Sanger, David Scalise, Ronnie Scalise, Diana Scardino, Ricky Schlicker, Marsha Schmidt, Wanda Scott, Linda Sears, Bernard See, Charles Shinn*, Patty Shinn*, Mike Skinner, Randy Skinner, Larry Smith*, Bill Snyder, Joseph Spatafore, Janice Spence, Roger Starkey, Sandra Stewart, Robert Stout, Roger Stout, John Strother, Anne Summers, Deborah Summerville, Beverly Sutton*, Brenda Sutton, Paula Sutton, Douglas Swiger, Janet Swiger, Sara Beth Swiger, Alice Talerico, John Alan Talkington, Roger Talkington, Teddy Talkington, Monica Tarantino, Gary Taylor, Maxine Taylor, Norman Thacker, George Thomas, Larry Thompson*, Virginia Tomes, Bobby Vincent, Vicki Vogel, Eunice Walls*, Jackie Walls, Sally Walsh, David Ward, Sharon Warren, Richard Watkins*, Alan Watson*, Jim Weaver, Danny Weber, Fred Westfall, Leon Westfall, Hubert Wilcox*, Charlie Williams, Robert Wiliams, Tom Williams, Bill Winning, Patty Winters*, Daniel Wright. 1967 Victory Optic, Courtesy Marsha Skinner Whisler, Class of 1968;   Additions - FGL;   * - Earlier classmates

 

Class of 1968

Darrell Adams, Nathan Allen, Nancy Anderson, Donna Arnett, Kenton Wayne "Kent" Ashcraft*, Sam Audia*, Bernard Aylestock, Anthony Joseph Barberio*, Richard Baker, Carol Beavers, Harold Beavers, Ed Beech, Mike Beezel, Robert Bland, Larry Bond*, John Bork, David Booth, Jane Bowers, Mary Brammer, Carol Brady, David Brinkley, Darlene Brooks, Mike Brown, Linda Bucklew, Brenda Bunner, Dean Burns, Stoney Butler, Angelo Capozzi, Priscilla Carpenter, Richard Carpenter,* Robert Clonch, John Cochran, Mattie Mae Cochran, Jeff Compton, Thresa Conch, Barbara Conley, Bill Courtney, Patty Crock, Terry Cunningham*, Larry Micheal Curry*, Joyce Davis, Warren Davis, Barbara Deems, Anthony DiMaria, Cheryl DeWitt, Gary Douglas, Evertt Drainer, Danny Duarte, Donny Duarte, Damon Eakles, John Edgell, Phil Evans, Cathy Fairman, Cathy Fankhouser, Mary Lou Fittro, Carl Floyd, Blaine Ford, Debra Fratt, Rose Marie Fittro, Ramona Frum, Leeanna Gain, Jackie Gaines, Terri Garrett, Carolyn Gaston, Randy Gray, Donnie Gaston, Judy Gerrard, Paul Glaspell, Delores Gore, Deborah Green, Claudia Griffith, Dina Griffith, Dale Grimes, Barbara Hamrick, Phyliss Hannah, Verlon Hanson, Bonnie Harbert, Janet Hardy, Bill Gorby, Danny Harker, Teresa Harris, Ronnie Hammond, Mike Hayes*, Gary Wayne Herbert*, Rick Hickman, Steve Hickman, Aaron Hileman, Cheryl Hughes, Marcia Hustead, Sam Hyman, John Jenkins, Terry Johnson, Bonita King, Tommy Knapp, Donna Knight, Carol Kyle, Virginia LaBeene, James LaChepple,  Timmy LaChepple, Donald Frank "Donnie" Lake*, Gary Layfield, Jack Leep, Deboroh Linville, Darla Long, Martha Long, Rick Lorretta, Mary Malcolm. Barbara Manners, Janice Marino, Linda Matheny, Sheila Maxwell, Paul McElroy, Patricia McGee, Steve McIntyre, Sue, McQuain*, Carol Meadows, Rick Messinger, Susan Miller, Dennis Moneypenny, Penny Moneypenny, Linda Moore, Pauletta Moore, Connie Morgan, Bill Morgan, Jeff Morgan, Terry Moore, David Muniz, Vickie Muniz, Luanne Murphy, Robert Napier, Kenneth Noah, Robert Nutter, Carolyn Patrick, David Pokrzywa, Elizabeth Post, Rosemary Pratt, Ben Quinones, Randy Radcliff*, Sharon Richards, Rick Rock, Gary Rogers, Steve Rogers, David Rowan, Roger Sandy, Micheal Saunders, John Scalise, Patricia Schaffer, Wayne Scott,  Beverly Sears, Melanie Lou Seckman*, Barbara Settles, Luther Settles,  Nedra Shingleton, Patty Shinn, Norma Shingleton, Neil Shingleton, Eric Shreve, Fred Sidwell, Terry Sisler*, Brenda Singleton, James Skinner*, Marsha Skinner, Cynthia Sleeth, Gloria Smith, Linda Smith, Jacqeline Spence, Patricia Stalensky, Ester Stout, William Stutler, Deborah Jean Swiger*, Edward Swiger, Lawerence Swiger, Linda Swiger, Gregory Tallman, George Thomas, Norman Thomas, Margaret Todd, Deborah Valentine, Jacqueline Van Horn, Barbara Vannoy, Priscilla Ventura*, Alan Wallace, Patricia Walsh, Sharon Waters, Catherine Waugh*, James Weber, Donald L. Whisler*, Judith Williams, Donald Williams, Melanie Lou Wilson, Robert Wilson, Annette Wise, Sharon Wiseman, Robert H. Wright, Tawny Yerkey. 1968 Victory Optic, Courtesy Marsha Skinner Whisler, Class of 1968;   A few names from  Robert H. Wright (Class of 1968),;    *- Deceased as of 6/3/2011

Class of 1969

William Aley, Jane Alonso, Helen Anderson, John Anguilli, Brenda Jo Ash, David Helms Ash, Sharon Bailey, Brenda Baker, James Barberio, Ann Barnett, Joseph Barberio, David Barker, Virginia Bartlett, Brenda Bennett, Wesley Bennett, Jr., Pamela Bird, Lee Black, Donald Bland, Earmel Blosser, Loretta Boyce, Margaret Boyles, William Brady, Darlene Brown, Roger Brown, Fred Bryan, Sharon Bumgardner, Twila Bunnell, William Caloccia, David Capicola, Monica Capozzi, Asbury Carpenter, III, Beverly Carpenter, Lacy Carpenter, Karen Casto, Sherry Casto, Cindy Chapman, David Chapman, Linda Chiccarella, Debra Clifton, Junior Cochran, William Cochran, Diane Cork, Steven Cox, Rocky Crites, Rebecca Cross, Denise Cunningham, Terry Cunningham, Larry Currey, Lilliam Daugneax, Naomi Davis, Roger Davisson, Ronald Faye Davisson, Richard Deffet, Barbara Dennison, Robert Dennison, Louis Diaz, Janette Douglass, Denzil Elliott, Charles Eneix, David Este, Gerald Estep, Robert Faherty, Perry Farnsworth, Delores Fernandez, Linda Beth Floyd, Deborah Fominko, Karen Ford, Steven Fowler, Debra Gaines, Tondalaya Garcia, Ralph Gill, Tom Gilespi, Ronnie Godfrey, Cheryl Gola, Leonard Gower, Sandra Greaver, Daniel Greynolds, Dale Grimes, Ronald Hammond, Paul Hamrick, Deborah Hardman, Randy Harris, Shirley Harvey, Doretta Hays, David Helms, Patricia Hickman, Joseph Hillard, Vicki Hodge, Dennis Hobbs, Mary Hurst, Randal Husk, John Hyman, Danny Hyre, Linda Rae Insani, Gary F. Jaggie, Sherry Jones, Margaret Karis, Roger King, Linda Knight, Lane Lauderman, Pam Layfield, Lawrence Leeson, III, Sherri Leeson, David Lockett, Frank Anthony Lucente, Remonda Lynch, Miriam Mall, Thomas Malfregeot, Charlotte Markley, Philip Martino, Bob Matheny, Carole Lee Matheny, Donna Mayle, Paul McElroy, Stanley McIntyre, Susan Meadows, Christine Miller, Alan Moran, Kathy Morris, Louis Nardella, Vickie Nay, Debbie Phillips, Randal Pierce, Deborah Reider, Sally Rebrook, Rodney Rebrook, Bradley Rebrook, Michael Pringle, Gary Prince, Martha Richards, Sharon Richards, William Riddle, Alice Riffle, Midra Robinson, Richard Rock, Geary Rollins, John Rosenau, David Rowh, Thomas Rowh, Terry Saas, Sarah Seville Lafferty, Brenda Schmit, Richard Sears, Ricky Shaw, Georgette Shields, Stephen Shipley, Brenda Shuttlesworth, Tony Spatafore, Judy Stalensky, Constance Stier, Charles Stier, Norman Stout, Lesa Summers, Randy Swiger, Anthony J. Talerico, Linda Talerico, Norman Thomas, Willard Ward, James Walls, June Watson, Catherine Waugh, Nelsona Waugh, Laura Westfall, Elizabeth Wilson, Linda L. Wilson, Sally Willison Tenda, Jacqueline Winnans,  Rhonda Lee Windon, Jackie Wycoff, Debbie Rose Young.   1969 Optic yearbook,  Courtesy, Paul & Patti Hamrick, both of Class of 1969, via FGL   <![if !supportFootnotes]>[76]<![endif]>

Class of 1970                                 

Leah Colleen Allen, Larry Joseph Amodio, David Paul Ash, Cathy Darlene Baker, Lawrence Dale Baker, Marvin Eugene Baker, Cora Mae Carrol Barnard, Michael Paul Barnes, Alan Wayne Barr, Kenneth Edward Bissett, Anthony Joseph Blidgett, Jr., Roseann Bombardiere, Linda Rose Booth, Milton Dean Bradley, Diana Lynn Brady, Rickey Wendel Brown, Michael Lee Bullough, Richard Lewis Bunnell, Barbara Ann Casto, Diana Louise Circosta, Charlene May Collins, Marlene Kay Collins, C. Mark Cork,  Sarah Marie Crites, Elizabeth Bell Davis, Lennis Blair Davis, Joeline Rose Dawson, David Lee Deems, David Lee Dennison, Jr., Aaron Brent Dodd, Dora Hickman Dodd, William Clyde Dunn, Jr., Debbie Lynn Dye, Bard James Eaton, Martha Ann Edgell, Bonnie Elliott, Charles William Estep, Beverly Ann Feathers, Carla Louise Fisher, Karen Sue Floyd, Sharon Kay Hileman Forquer, John Craig Fox, Robert Michael Garrett, John Paul Geso, Jr., Rose Marie Giaquinto, David Thomas Gillis, Marsha Ann Glover, David Blaine Gooden, William Michael Greaver, Debra Kay Griffith, James Michael Hawkinberry, Darletta Joan Hays, John William Hickman, Timothy Eugene Hill, Pamela Jo Hoover, Jeanne Marie Hummel, Joanne Marie Hummel, Roger Alan Hurst, James John J. Iaquinta, Daniel Robert Kane, Susan Gay Kovar, John Thomas Lamp, Jack Edward Leeson, Rebecca Ann Linville, Evelyn Louise Luchuck, John Lewis Marks, Jr., James Russell Marra, Charles Alan Matheny, David Eugene Matheny, Crystal Kay Maxwell, Pamela McAtee Brown, Rebecca Alice McAtee, Robert Stephen McClung, Charlotte Jean McGee, Robert Leonard McGee, Laura Diana McWilliams, Linda Marie Medina, Mark Randall Mikes, Debra Kay Miles, Paul Richard Miller, Lydia Sue Mingyar, Dora Lorraine Moore, Karen Sue Moore, Vera Belle Morgan, Janel Lee Myers, Randall Paul Newlon, Melinda Kay Nichols, Robert Dale Nicholson, William Roy O'Field, Jr., Betty Lou Owens, Jacqueline Burnadine Payne, James Fleming Peet, II, Cathy Jane Perri, Diane June Perrine, Larry Paul Poindexter, Roger Dale Pierce, John Wesley Quickle, Nicoletta Ann Quinones, Alice Joyce Rapp, Mark Stephen Reid, Sheila Ann (Barker) Rexrode, Jeneal Diane Robinson, Robert Lewis Romeo, David Lynn Rowh, Sandra Sue Sands, Lana Jo Schlicker, Kathy Annette Seckman, Linda Grace Shaw, Donna Ann Shields, Patricia Jo Shields, Deborah Kay Shingleton, Marilyn Kaye Shipplett, Nicole Shreve, Deborah Ellen Simmons, Anthony Paul Sirianni, Jr., Charles Ray Small, Joseph Brent Smith, Barbara Jean Snodgrass, Arthur Blaine Spencer, Lawrence Dwight Starkey, Stephen Jack Sterling, John Joseph Stopiak, Karen Elaine Stout, Loberta Jean Stout, Debra Marlene Strother, Blaine D. Swiger, Stanley Warren Swiger, Mary Frances Tarantino, Sylvia Ann Thomas, Susan Marie Thompson, Donna Paulette Thorne, Patricia Ann Tonelli, Jimmie Richard Trent, Jr., George Everett Trotter, Margaret Ann Vannoy, Vala Kae Vogel, Richard Walsh, Erma Lee Watkins, Jack Mason Weaver, Pamela Zoe Wolford, William Lewis Woofter, William Lewis Wright, Donna Jean Wright.  1970 Victory High School Diploma List, Commencement, Courtesy, Eva L. Newlon, mother of Randall Paul Newlon,  Class of 1970.   <![if !supportFootnotes]>[77]<![endif]>

Class of 1971                                

Charleen Allen, David Allen, Dolly Allen, Michael Allen, Chris Ashcraft, Becky Barberio, Gary Barker, Donna Barker, Gary Bates, Nancy Barrett, Doris Baumgardner, Martha Beavers, Nile Bee, Beverly Beezel, Melvin Black, Adrean Blosser, Margaret Boals, Ronald Brady, Melvin Bragg, Robert Bragg, Sheila Bramer, Clifton Earl Britton, Deborah Brown, Denise Brown, Dixon Brown, Robert Brown, Steven L. Brown, Dominick Brunetti, Susan Bumgardner, Shelley Bunch, Virginia Bunnell, Flora Butler, Dennie Cain, Dolly Cain, Carol Caloccia, Dremia Calvert, Rodney Campbell, Robert Garcia Cano, Sue Cardner, Barbara Carpenter, Susan Clayton, Ina Clevenger, Tommy Clutter, Euglania Cochran, Mike Cokley, Beverly Collins, Dale Collins, John Cook, Brennda Conner, Marshall Cox, Gregory Cross Helen Cropp, Brenda Cross, Loretta Cutright, Don Davis, Eddie Davisson, Wilma Davisson, Rodney Dean, Dean Nelbert, Francis DeMaria, Linda DeMick, Russell Dennison, John Diaz, Richard Dottellis, Tom Drummond, Debbie Demastus, Andy Dussart, Susie Earnest, Debra Eaton, Judy Eaton, James Elliott, Mark Fairman, Albert Fincham, Emma Flanagan, James Floyd, Sandy Fominko, Antoinette Frame, Jeff Freeman, Harold Gains, Fred Gallo, Pat Garrett, Terry Eugene Glaspell, Joyce Godfrey, Marie Gola, Bob Gooden, Terry Greaver, Dennis Greynolds, Elaine Griffith, Ronnie Gross, Wanda Hamrick, Stephen Hardman, Diana Hardman, Nanette Hayes, Russell Hefner, Dave Henthorne, Barbara Ann Hickman, Barbara Hickman, Bradley Hickman, John Hiney, Diana Hyatt, Cecelia Hyman, Debbie Hyre, Beth Insani, Linda Jenkins, Margaret Johnson, Marlene Johnston, Vivian Jones, David Justice, Jeana Karakiozis, Mary Kawskay, Edward Kells, Virginia Kerzak, Michael Kidd, Sheila Kidd, Michael Kirk, Patty Kirkpatrick, Ronald Kirkpatrick, Norman Knotts, John Knotts, Helen Knotts, Ricky Knight, Eddie Knight, Earnest Knight, Debbie Knight, Patty Knapp, Tommy Lee Kovar, Jake Lamb, Michael Lamp, Jack Lawson, Barbara Layfield, Donald Leggett, Steve Lenhardt, Cecilia Lewis, Karen Lucas, Margaret Luchuc, Harriet Mall, Michael Marris, Barbara Matheny, Darlene Matheny, Denise McAtee, Jennifer McClung, Charles McDonald, Carolyn McGee, Melanie McIntire, Margaret McNeamer, Shirley June McVaney, Tom Meadow, Sharon Messinger, Dave Mick, Jennifer Milotte, David Miller, Charles Moore, Kathy Moore, Rose Mary Moore, Teresa Jo Mustachio, Monalisa Myers, Roy Newbrough, Eddie Nicholson, Ray Nicholson, Jeffrey Nutter, Kathy Owens, Anthony Paletta, Barbara Pandora, John Patterson, Ronnie Posey, Marlene Postlewaite, Vickie Prince,  John Pumphrey, Richard Pumphrey, Rosa Lee Purvis, David Rebrook, Sandra Regester, Diana Reider, Patty Rhoads, John Richards, Tom Richards, Deanna Riddle, Renee Ritter, Becky Roberts, Dave Robinson, Leonard Robinson, Janice Rowan, Beth Saccone, John Salentro, Robert San Julian, Brenda Sandy, Danny Sandy, Donald Schmidt, Carla Sendling, Cheryl Sendling, Jim Second, Susan Shaffer, Gary Shaw, Fred Shipplett, Leslie Shreve, Linda Shuttleworth, Terry Skinner, Kenneth Ray Smith, Roger Snell, Cyrus Snyder, Cindy Spence, Barry Sprouse, Paula Sprouse, Becky Steele, Nancy Summers, Patty Sprouse, Michael Swick, Jeannine Swiger, Raymond Swiger, Kenneth Swisher, Lindsey Sutton, Eric Tallman, Debbie Talerico, Mike Talerico, Nola Tarantino, Phyllis Torch, Sheila Valentine, Christine Varsak, Steven Ventura, Jeffrey Walker, Meggin Walker, Roger Walls, Susie Walls, Eugene Ward, Kenneta Warren, Sandra Warren, Debbie Washington, Eugene Watson, Doris Waugh, Mary Weaver, Judy Weber, Woody Weekly, Martha Welch, Davy Wetzel, Steve White, Paul Whitehair, Paula Williams, Mike Winans, Barbara Wise, Pamela Wiseman, Carla Wright, Mike Wright, Susan Yerkey. 1969 Victory Optic - "Sophomores", Courtesy, Paul & Patty Hamrick, both of Class of 1969;  via FGL  7/18/2008    <![if !supportFootnotes]>[78]<![endif]>

Class of 1972                                                                                           

Julianne Kay Alasky, Karen Allison, Flossie Jean Anderson, Alice Ann Barberio, Richard Barberio, Edward Barnes, Gary Bates, David Lee Been, Cathy Lynn Bennett, Norene Rae Bianco, George Bird, Judy Bland, Sheila Kay Blake, John Bland, Lawrence Boals, David Bernard Bowen, Marlene Bresson, Rodney Alan Broadwater, David Edward Brown, Dixon Brown,,Mary Demetra Brown, Arthur Allen Bundy, Romeo William Caloccia,,Randy Channel, Robert Manual Christafore, Nancy Clevenger, Robert Clutter, Thomas Collins, Joseph Marcus Conch, Robert Charles Conner, David Cork, Robin Rene Corley, John Joseph Cortese, James William Cox, Terry Cox, Charlene Crock, Mary Elizabeth Cummings, Steve Cummings, Karleen Marie D'Anselmi,  Michael Allen Dean, Larry E. Devericks, Edward N. Drummond,  Crystal Edgell, Regis Miles Ellis, Judith Ann Estep, Stephanie Ann Falfas, Edith Ann Fincham, Timothy John Findley, Barbara Joan Fitzpatrick, Donald Lee Fleming,  James William Fleming, Ronald Lee Fleming, Delores Ann Flowers, Lettie Lou Floyd, Michael Floyd, Charles Henry Ford,Pamela Sue Gallo, James Glaspell, James L. Goldsmith, Mark Alan Goodwin, Kenneth Lee Gower, Robert Griffith, Frances Irene Grubb, Danial Hammond, Larry Hammond, John Dennis Hamric, Jr., Daniel Hardman, Stephen Heaster, Robert Heaton, Pamela Helmick, James Robert Henthore, Ladonna Sue Hughes, Daniel Hurst, Margaret Rebecca "Peggy" Hustead, Enrico Insani, Buddy A. Jaggie, Carol Darlene Johnson, Constance Marie Johnson, Sandra Lynn Johnson, Pamela Kay Johnston, David Justice, Fleta Darlene Kennedy,  Randy Ernest Kerns,  Marie Lynette Kimball,  Arno E. Kish, Earl Knight,  Deborah Lynn Layfield, Stephanie Iown Layfield, Harvey A. Leeson, Donald Leggett,  Lou Ann Lenhardt, Ruth Ann Leuliette, Donna Lewis, Jerry Lewis, Bonnie Lou Lilly, Jonathan Lockett, Nancy Jane Lockhart, James David Loser, Barbara Jeane Lough, John Allen Lowther, Richard Lowther, Timothy Duane Lucente, David Malcolm, Mike Marozzi, Terry Kent Marshall, Roger Matheny, Neil Linn Maxson, Cathy Diane Maxwell, Sherry McIntyre, Jeffery McVaney, Larry Michael Medina, Jeffery Kim Merriner, Jennifer Mick,  Charles Mikes, Benny Ross Miles, Randall Glenn Miller, Alan Moore, Terry Moore, Brian F. Morgan, Gary Wayne Nichols, Sandra Pauline Nicholson, Stanley Addison Nutter, Randall Lynn O'Field, Michael Oldaker, Samual John Paletta, Cheryl Anne Palmer, David Lee Patrick, Bertha Jane Morris Pierce, Patricia Darlene Pierce,  Kathryn Ann Plaugher, Edward Michael Portaro, Kathy June Powers, Charlotte Kay Pringle, Christine Ann Pulice, Wilford Gerald Rexroad, Kathy Jo Riffle, Rickey William Rome, Janice Lou Rowan, Debra Jean Sanders,  Jeanne Louise San Julian, Donna Lee Sendling, Bradley Glen Shiflet, Randall Keith Shingleton, Marsha Shipley, Michael Shiplett, Walter Darvin Shockley, William Earl Shuttleworth, Debra Jean Smith, Edward Allen Southern, Allison Arol Starkey, Nancy Lynn Starkey, Linda Sue Stopiak, Mary Ann Stout, Wanda Marie Strother, Robert James Summers, Mike Talerico, Toni Ann Tarantino, Charles Ray Taylor, Thomas Franklin Thomas, Donald Ray Todd, Ronald Todd, Charles Trent, Steve Ventura, Randy Wallace, Debra Lynn Watkins, Debra Faye Watson, Eugene G. Watson, Robert Watson, Julia Wetzel, John Rogers Williams, John Wilson, Terri Alayne Windon, Shelley Lynn Winters, Martha Ann Wiseman, James Worthy Woofter, Terry Wright.   1972 Victory Optic, Courtesy, Jeanne San Julian, Class of 1972.

Class of 1973                               Last Graduating Class:      

Eileen Elizabeth Ann Aley, Virginia Aley, Peggy D. Allowat, Frank Arnett, Rick Ashcraft, Debra Jo Baker, Denna Ball, Mark Barberio, Patricia Sue Barberio, Robin Barker, Mary Jo Bombardiere, Starla Jeannine Bond, LuAnne Boyce, Rebecca Annette Brady, James Edward Brady, Rodney Lyle Bragg, Robert Wayne Bright, Marsha Broadwater, Jodi Lynn Brooks, John Brown, R. Michael Brown, Donna Jean Bumgardner, Donna Ruth Bunnell, Anne Elizabeth Burleigh, Donna Darlene Bush, Terry Louise Butcher, John Cain, Carrie Ann Coloccia, Donna Jean Carpenter, Mary Francis Carroll, Donald Carter, Brenda Circosta, James Clevenger, Vicki Jeanne Clonch, Randy Cochran, Debra Lynn Conner, Sarah Ann Cortez, Paula Cortney, Betty Jean Cox, Cathy Jean Crislip, Teresa Cummings, James Cutright, Lewis Davisson, Charlene Ann Dawson, Pam Demastus, Terri Lynn DeMick, Gregory Nile Dodd, David Drummond, Randy Elliot, Joseph B. Ellison, Pam Fittro, Dorothy Feathers, Louis Anthony "Bubby" Ferrari,  Robert Ferrell, Jayne Filippine, Darlene Fincham, Larry Fincham, Donna Jean Floyd, Edith Mae Fratto, Glenna P. Ganoe, Shirley Marilyn Gay, Randy Gaynor, Mary Ann Giaquinto, Roxann Lorraine Gill, Michael Dominic Gola, Cathy Pamela Goldizen, Kathryn Ann Gooden, William Kent Goodwin, Edmund Jude Gore, Phillip Green, Benny Lee Guido, Debra Cheri Hamric, Terri Hardman, Robert Richmond Harold, Trina Hathaway, William Hawkinberry, Christopher William Henthorne, Gary Hitt, James Holtz, Clifton Hurst, Keith Hurst, Aaron Jackson, Joy Jenkins, Darlene Johnson, Debra Ann Johnston, Rebecca Ray Jones, William Kacinec, Chuck Kennedy, Sherman Kesling, Stephen Bruce Kuhar, Tom Kulick, Larry Kyle, Denise Ann LeFevre, Kathryn Jean LeFevre, Deanna Lynn Leggett, Bonnie Faye Linch, Melvin Lockett, Vickie Lee Lowther, Lois Jean Malcom, David Lee Marple, Lois Matheny, Kenny Maxwell, John Franklin Michael Mazzie, Brenda Joretta McAtee, Larry Wayne McCann, Constance McCauley, Doug McGee, Alice McGraw, Barbara Jo McIntyre, Linda Marie Means, Monica Louann Medina, Rose Mary Medina, Johnny Lee Merriner, Christopher David Mingyar, David Michael Moore, Ronald Morgan, Katrinka Marie Morris, James Mark Muniz,  Roy Murphy, Pamela K. Musgrave, Bernard Nay, Mary Sheila Noe, Rick Nutter, Anthony Cosimo Ovies, Mike Pasternak, David Floyd Patterson, Joshua Joseph David Peet, Becky Pernell, Jim Pratt, Debra Sue Radcliff, Sue Riech, Judy A. Ritchie, Rochelle Roach, Carmen Richard Romano, Mike Rowh, Patty Sands, Lenarda Gae Sandy,  Sue Ann Marie Scalise, Angela Rose Scarnati, Rose Marie Scolapio, Jesse Schlicker, John Frank Scotchie, Thomas William Scott, Debra Suzanne Seckman, Janet Sue Seckman, Vicki Sendling, Brenda Dianne Shaffer, Candy E. Shaffer, Jeanne Marie Shaver, Larry Shiflet, Darlene Kay Shreve, Dolly Jeane Siders, Charles Bradley Shingleton, Darlene Kay Shreve, Cheryln Rose Sirianni, John H. Smith, John R. Smith, Diana Marie Spatafore, Richard Spatafore, Nina Marie Spence, Katherine Marie Sprouse, Donald Eugene Stackpole, Stanley Joe Stalenski, Vickie Kay Stickle, Stephen Bruce Stopiak, Rickey Lee Stout, Carson Strother, Lyle Bradin Stutler, Randy Swiger, Richard Lee Swiger, Louie Talerico, Joseph James Tarantino, Sharon Marie Thomas, James Thompson, Kent Alan Trusler, Julianne Elizabeth Vargo, Sabrino Kim Walls, Charles Walsh, Karen Diane Williams, James Mark Williams, Ruth Ann Williams, Carol Ann Wise, Randy Wiseman, Regina Wolfe, Brenda Wright, Linda Wright.  1973 Victory Optic, Courtesy, David L. Layman, Liberty H. S. Class of 1974,  via FGL;   Additions, Larry Knight, Class of 1959.  <![if !supportFootnotes]>[79]<![endif]>

END - VICTORY HIGH SCHOOL

===============================================================

First Graduating Class of Liberty High School

Liberty High Class of 1974            Victory High School's Junior Class when the school closed:  

Jeff Albright, Dwight Allen, Mark Allen, Linda Anania, Doug Anderson, Beth Antoine, Kay Antoine, Suella Atha, Mary Baker, Raymond Baker, Stephanie Balhatchet, Brenda Barnes, Jeff Bates, Terri Baxter, Mike Beech, Kathy Been, Janet Bennett, Kim Bennett, Sue Bland, Chauncey Boggs, Larry Bombardiere, Debbie Bright, LuAnn Bright, Delbert Brittain, Charlie Brown, Glen Brown, Mary Butcher, Paula Butcher, Leita Caloccia, Joe Carbacio, Brenda Casto, Doris Channell, Paul Christafore, Barbara Collins, Jim Cork, James Corley, Debby Cortese, Randy Courtney, French Cox, Daleen Cunningham, Frankie Davisson, Jeff Denham, Twyla Derby, Dana Dewez, Stanley DeWitt, Jill Dodd, Kay Dunn, Brenda Eaton, Karen Ezzo, Richard Farnsworth, Dianne Fernandez, Debbie Flanagan, Tara Flowers, Roy Forquer, John Fox, Betsy Garrett, Dale Garrett, Debbie Gaston, Bill Gaston, Rick A. Gerrard, Rick N. Gerrard, Athena Gillespie, Charlotte Glover, Janet Gooden, John Greaver, Kenneth Greynolds, Billie Sue Griffith, Valinda Grubb, Donna Hamric, Bruce Harvey, Tresa Henning, Susan Henthorne, Nancy Hickman, Kathy Hileman, Rick Hunter,  Dwight Hurst, John Hurst, Phyllis Iconis, Amanda Insani, Becky Jenkins, John Jenkins, Lester Johnston, David Kacinec, Cheryl Kesling, Ronald Kight, Debbie King, Mickey Knight, Frank Kovar, Mike Kovar, John Labenne, Maria Lada,  Frederick Lamb, Mike Lane, Terry Layfield,  David Lee Layman<![if !supportFootnotes]>[80]<![endif]>, Debbie Leggett, Charlie Long, Rick Loser, John Marple, Jim Martin, Jim Matheny, Douglas Marrozzi, Sabina Mawyer, Trena Mawyer, Tim Maxwell, Rita Mazzie, Phyllis McClung, Bonnie McIntyre, Cathy McIntyre, James McIntyre, Jim Medina, Claudia Merriner, Susie Miller, Hayward Minear, John Mitchell, Melinda Moran, Lemeul Muntz, Penny Nichols, Kim Nutter, Mark Nutter, Veronica Oldaker, David Oliverio, Sharon Ovies, Regina Pandora, Allen Parker, Donna Perine, Pam Perri, Michael Plaugher, Jack Plivelich, Rick Post, Harold Probasco, Gary Pulice, Elzie Pumphrey, Pete Quickle, Pat Rebrook, Leslie Reed, Robert Richards, David Robey, Jeff Robinson, Ritchie Rogers, Connie San Julian, Bryant Savina, Kathy Scalise, Doug Schetzel, Susie Secreto, Jeanette Shaver, Connie Shiffra,          C. Allan Shingleton, John Sinnett, Melinda Shipley, Rusty Shreve, Steve Shriver, Christy Sigler, John Sirianni, Wendy Skinner, Rick Smith, Donna Marie Snell, Michael  Southern, Brenda Stackpole, Andrew Stewart, Diana Swiger, William Swiger, Arline Talerico, Russell Talerico, Saundra Talerico, Judy Talkington, Cathy Thompson, Alice Turnbaugh, Robin Walker, Rusty Wallace, William Weekly, William Wells, Ginger Whitehair, Debby Williams, Debbie Winters, James Yeater. 1974 Liberty High School yearbook  Courtesy, David L. Layman (Liberty H.S. Class of 1974)  via his father, Fred G. Layman 1/11/11  <![if !supportFootnotes]>[81]<![endif]>

Liberty High Class of 1975           

Victory High School's Sophomore Class when the school closed:

Paget Allison, David Alonzo, Teresa Anania, Ralph Anderson, Janet Ash, Jeff Ash, Cheryl Ashcraft, Percy Ashcraft, Roderick Auvil, Cindy Barberio, Bruce Barker, Pueblo Bianco, Kenny Blake, Alice Boals, David Bowers*, Regina Bragg, Richard Bramer, Terry Broadwater, Ron Brown, Twila Brown, Arthur Bundy*, Tim Bunnell, Patti Butcher, Jeff Cain, Dirk Caloccia, Dee Dee Calvert, Tom Capicola, Bruce Carey, Linda Channell, Dottie Clay, Pam Clevenger, Patty Cochran, Tonia Conley, Delania Conner, Janice Cork, David Crutchfield, Bill Cunningham, Susan Cutright, Jackie Davis, Billy Davisson, David Davisson, Lonnie Davisson, Rhonda Dean, Michael DeMico, Deborah Devericks, Dana Dewez, Douglas Dewez, Eddie Dixon, Edward Drummond*, Cheryl Earnest, Anthony Feathers, Leasa Fitzpatrick, Mary Fleming, Melanie Flowers, Donnie Floyd, Betty Freeland, Richard Fury, Donita Gain, Mike Gallo, Rhonda Ganoe, Betsie Garrett, Bill Gaynor, Deborah Gensel, Richard Gladwell, Reginia Gower, Greg Gooden, Mark Greathouse, Tim Griffith, Vera Griffith, Stephanie Hamilton*, Steve Hamric, Jeff Hamrick, Bob Harris, David Harris, Mike Haught, Barbara Hawkinberry, Cindy Hawkinberry, Jeff Heaster, Sharon Henning, Don Hickman, John Howell, Dave Hufford, Charmaine Hurst, Rex Hurst, Terry Hurst, Peggy Hustead*, Tina Iaquinta, Susan Iconis, Beth Jett, Bob Johnson, Tom Johnston, Randy Jones, Vicki Karakiozis, Mark Kennedy, Elaine Kesling, Marsha Kesling, Charolette Kidd, Ronnie Kirk, Matt Kisner, Cheryl Knapp, Larry Knapp, Isa Knight, Greg Kuhar, Kathy Lawson, Page Layfield, Sharon Layfield, Steve Layfield, Randy Lefevre, Debbie Linville, Regina Lopez, Mark Loy, Allen Martin, Mark Matheny, Joyce McClung, Machelle McIntyre, Mike Medina, Sabina Medina, Margret Menendez, Pamela Merrill, Shelley Merriner, Lisa Mikes, Alice Mingyar, Marion Mitchell, Cheryl Moore, Kulua Moore, Diane Moore, Buzz Moore, Benjamin Muniz, Cathy Murphy, Patty Murphy, Joe Nardelli, Spence Nichols, Jeff O'Field, Peggy Osborn, David Owens, Gary Palmer, Marlene Parker, Deborah Patterson, Dennis Payne, James Payne, Gisele Pernell, Joyce Plaugher, Rodney Plaugher, Greg Pulice, Ronnie Quickle, Jim Radcliff, Tim Radcliff, James Rebrook, Rick Reed, Pam Reich, Connie Rife, Pamela Robilliard, Marie Robinson, Gail Robinson, Bob Rogers, Brenda Rogers, Mike Rogers, Joe Romano, Regina Rome, Rickey Rome*, Stephen Rowh, Mark Salfia, Bob Sandy, Kathy Saville, Terri Seckman, John Sedlock, Pam Sendling, Jim Shaffer, Carl Shiflet, John Shipley, Kathy Shreves, Dave Smith, David Smith, Steven Smith, Daniel Southern, Belvia Spino, Carol Sprouse, Dave Stackpole, Randall Stalnaker, Vicki Steele, Trina Stickel, Dave Stout, Mark Stutler, Don Summers*, Patty Surock, Diane Sutton, Bill Swiger, Patty Swiger, Jack Tanzey, Henry Taylor, Mike Thorp, Cherie Trusler, Diana Turnbaugh, Mary Louise Vargo, Cathy Vincent, Marianne Walsh, Maria Watkins, Kevin Watson, Betty Waugh, Cheryl Weekley, Pam Wheeler, Terry Westfall, Rick White, Peggy Whitehair, Cathy Williams, Darlene Williams, Wanda Williams, Rick Wilson, Steven Wilt, Kenny Wiseman, Vicki Wright, Kim Wyckoff.  1973 Victory Optic - "Sophomores", Courtesy, David L. Layman, Liberty H.S. Class of 1974, via his father Fred G. Layman;   * - FGL Additions  

===================================================== Updated  5/28/2011

CLASSES STILL NEEDED:           1932, 1933, 1934

Even if you only know ONE name, please share it with us by email or mail.  Lists of names  can be handwritten, typed, or you can simply xerox yearbook pages, graduation programs, diploma lists, or  reunion mailing  lists.  Please cite your source if known.  You will be credited for your contribution.
Unless a female student was married during school, only her maiden name

 

will be used.

 

           

Please write the maiden name inside parenthesis to avoid confusion..

Any information, additions, or corrections are most welcome!

  

Many lists were compiled using "Junior" or "Sophomore" lists from yearbooks for surrounding years.

 

You can improve upon this list by submitting missing names.

 

 
THE PURPOSE OF THESE LISTS IS TO REVIVE OLD MEMORIES.   IT IS NOT AN OFFICIAL LIST OF GRADUATES, BUT INCLUDES ALL STUDENTS WHO ATTENDED VICTORY HIGH SCHOOL AT ANY POINT IN  TIME.   IF YOU OR SOMEONE YOU KNOW IS NOT INCLUDED IN A CLASS, PLEASE CONTACT US  AND GIVE A BRIEF ACCOUNT.  YOU WILL BE CREDITED FOR YOUR CONTRIBUTION.
 <![if !vml]><![endif]>
Sharon Sprouse Bramhall (Class of 1960)

5312 Devon Drive

North Olmsted, OH 44070

EMAIL:  sharon.bramhall@yahoo.com

Fred G. Layman (Class of 1946)

Rt. 3, Box 64-C

Clarksburg, WV 26301

EMAIL: FGL1946VHS@aol.com
ALL IN THE FAMILY - THREE GENERATIONS AT VICTORY
Here is a fine example of three generations who attended Victory High.
Information and photos submitted by Elaine Griffith Westfall, Class of '71
<![if !vml]>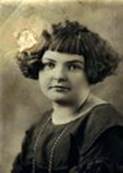 <![endif]>FIRST GENERATION:
Husband: Wilmer Scott, Class of 1921  (2nd graduating class)   
Wife:       Lelia Forinash, Class of 1925  (pictured, right)
CHILDREN:
1. Sarah Belle Scott, Class of 1954
2. Kenneth Scott, Class of 1962
3. Carolyn Scott, Class of 1963
GRANDCHILDREN:  Children of Carolyn Scott Griffith
1.  Jean Griffith, Class of 1968 (d/o Carolyn Scott Griffith)
2.  Elaine Griffith, Class of 1971 (d/o Carolyn Scott Griffith)                                    Lelia Forinash
            Leon Westfall, Class of 1967 (Elaine's husband)
3.  Vera Griffith, Liberty High School, Class of 1975;  Completed her sophomore year at Victory in 1973, when it closed, and completed her high school years at the new Liberty High School.
<![if !vml]>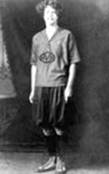 <![endif]>  Elaine Griffith Westfall's great aunt Pearl (Scott) Johnson, VHS Girls Basketball Team