Layman, Fred G.
Date of birth: Dec. 12, 1928 - Date of death: Mar. 2, 2012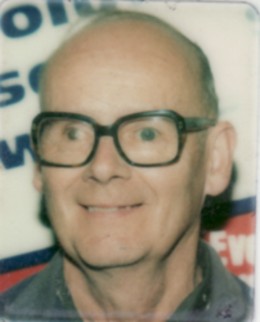 Fred G. Layman, age 83 of Rt.3 Gore, WV departed this life on Friday,
Mar. 2, 2012 at his residence.

He was born in Harrison County, WV on Dec. 12, 1928, a son of the late
William A. Layman and Willa (Gwynne) Layman.

Surviving are his wife, Peggy (Lantz) Layman, whom he married on July 11, 1953, one son, David L. Layman, Gore, WV, one daughter, Barbara L. Wildman, Lake Floyd, WV, one sister, Jo Ann Hoskinson, Big Flint, Doddridge County, a granddaughter, Amanda Jo Showalter and her husband Brendon, Coatsville, PA and a great grandson, Trevor Joseph Showalter.

He also was preceded in death by three brothers, Robert, Jack and Ronald Layman.

Mr. Layman was a retired employee of Harrison County Courthouse with
over forty years service. He was a life time member of the Harrison County Emergency Squad and a former Civil Defense Director.

He graduated in the Class of 1946 from Victory High School.
Mr. Layman was a local historian and avid photographer.

Friends will be received at the Davis-Weaver Funeral Home, 329 East Main St., Clarksburg from 2-4 & 6-8 p.m. Monday where a funeral service will be held at 10 a.m., Tuesday, March 6, 2012 with the Rev. Kevin Bender presiding.
Interment will be in the Greenlawn Masonic Cemetery.
Memorials may be made in memory Mr. Layman to Peoples Hospice,
327 Medical Park Dr., Bridgeport, WV 26330.