ABOUT THE CREATOR OF THIS WEBSITE
Sharon Sprouse Bramhall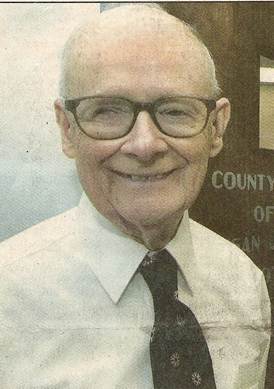 Is there anyone who knows more about Victory High School than Fred G. Layman?   I don't think so.    Freddie graduated with the Class of 1946  - The class that has class - as he likes to say.  His lifelong dedication to the preservation of Victory High School and Harrison County memorabilia is widely known.  His encyclopedic knowledge of  VHS and Harrison County facts, as well as its many contemporary tales, has earned him VIP status among the citizens of north-central West Virginia.  Fred has frequently  been the subject, as well as the source, of many newspaper articles through the years.
Years ago, when there was a mass closing of old Harrison County schools due to merging schools throughout the state -  the order came down from the top to dump all of the large Junior and Senior High School class pictures without benefit of auction.  For a great majority of us, these portraits, which had hung in the school hallways for decades,  were priceless - a source of  pride, accomplishment, and local history.  Citizens were absolutely outraged!  Across the county, there were tales of dumpster-diving behind schools in the black of night,  as neighbors scrambled to save treasured relics  from the elements and the trash collector. For many, it was too late.  It was Freddie who fought a valiant battle to save many of the large Victory High School class portraits, trophies, and memorabilia.  But, alas, even he was able to save but few.  Over the years, folks donated items to him, and his Victory High School collection grew until it needed a room of its own.   
Photo Bob Shaw, Clarksburg Telegram, 2007
In 1998, as part of the Victory Lane Committee, Freddie helped set up and work the funding project for a new brick circular drive to be built in front of old Victory High School, that would serve as a safe drop-off for Adamston school children now using the school.  Engraved bricks with names of veterans, alumnus, and students  were sold. The brick project was so successful, that the committee also created nearby  walls to showcase additional bricks. Orders still trickle in to this day.  
Frederick Gwynne Layman was born in Harrison County in the winter of 1928, to William Audrey Layman and Willa Hudson (Gwynne) Layman, and was raised on a 152-acre farm below Dawson Mine Camp, along with his older siblings: JoAnne (the only surviving sibling, now 89), Robert G. "Bob", William A. "Jack", Jr., and Ronald E. Layman. Fred was the "baby" in the family. In the 1940s, his parents suffered the losses of two sons.

First, young Jack, in 1942, when the brakes of the coal truck he was driving gave way. He jumped, but tragically, the sixteen-year old was not able to avoid harm's way. Then, at the conclusion of World War II, the family received word of Bob's death by letter. Bob had joined the Navy in 1941, after graduating from Victory, and was guarding a naval warehouse in Munich, Germany when he was shot by a sniper. He was laid to rest at Arlington National Cemetery.




Fred served as HC Civil Defense Director

1979-1983
Both of Freddie's paternal grandparents hailed from neighboring Taylor County - Rufus Elmer Layman, in Fetterman, and  Ida Josephine (Payne) Layman, in Rosemont. His maternal grandparents, William Marsh Gwynne and Sadie Ann (Guest) Gwynne, were both born in Parkersburg, West Virginia.   

Fred  attended Hepzibah Grade School and Adamston Junior High before going on to Victory High School.  Inspiration that sparked his interest in preserving history came from his high school English teacher, Helen Dew Davissson, who encouraged him to begin a collection of World War II items.  He took her advice and selectively collected only those items he thought might increase in value over time. Fast-forward sixty years when he found himself short of storage space for his many collections, he auctioned off the greatest portion, and thus profited from Miss Davisson's advice. 
After high school, Fred found work at the Chicago Dairy and Baking Company and the Workingman's Store in Clarksburg proper.  His ties to the Harrison County Courthouse in Clarksburg began in 1947, when he was hired as an elevator operator - a job that acquainted him with the most influential people in Harrison County.  In 1961, he was appointed building engineer for the HC Courthouse and Jail; and for 40 years (1966-2006), he was entrusted with the responsibility of delivering election equipment (voting booths, tables, chairs) to every precinct in the county" - all 135 of them in the beginning.  In 1979, he also served a four-year term as Civil Defense Director, a vital, though non-paying,  position.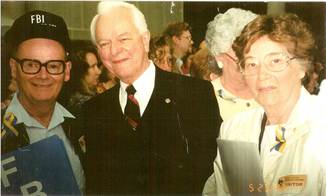 In 1953, Fred married Peggy Lantz (VHS Class of '49) and had two children, David and Barbara.  Now that he is retired, enjoying some leisurely time with his children and grandchildren are satisfying benefits, as well as church, gardening, coffee with old friends, and serving in his long-time post as Chairman of the Class of 1946 reunions.  For years, it has been his daily practice to assist overwhelmed friends and neighbors through small deeds of kindness.  Fred and Peg, with the help of their  son, David, also take pleasure in sharing the bounty of their large vegetable garden. His energy seems boundless!  Even at age 80, Fred was doing  the work of a young man for a community project.  Despite an occasional health set-back, Freddie just "keeps on keeping on".  He is like a hound on the run; he will go to great lengths to supply an answer to even the smallest of questions when it comes to local history!                                                                                    
Fred,  Sen. Robert C. Byrd, and Peggy Layman
"My grandmother told me years ago to try and help and be kind to someone every day … haven't been doing too bad."  - FGL
THANKS, FREDDIE!  Your life's work will be appreciated for generations to come.